Raymond W. Smith Is Pitt's Honors Convocation Speaker Feb. 27
Issue Date:
February 2, 2009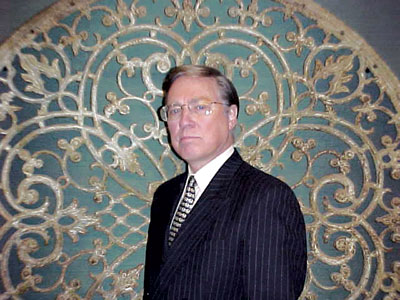 Raymond W. Smith, an alumnus of Pitt's Joseph M. Katz Graduate School of Business (KGSB) and a former University trustee, will be the keynote speaker at the University of Pittsburgh's 33rd annual Honors Convocation, to be held at 3 p.m. Feb. 27 in Carnegie Music Hall, 4400 Forbes Ave., Oakland. Smith's address is titled "Heisenberg's 'Certainty' Principle."
Pitt Chancellor Mark A. Nordenberg will bestow an honorary doctoral degree on Smith during the convocation, which recognizes undergraduate, graduate, and professional student academic achievement; student leadership; and faculty accomplishments.
Smith, who in 2008 was elected a Fellow of the American Academy of Arts and Sciences, began his career as an engineering trainee at Bell of Pennsylvania in 1959. During his tenure, Smith held various positions in the company, earning the title of president and chief executive officer in 1983. When the company merged to become Bell Atlantic in 1985, he was named vice chair and chief financial officer, rising to chair, president, and CEO in 1989, positions he held until 1998. At Bell Atlantic, he oversaw the acquisitions of NYNEX and GTE, two of the largest transactions in business history. In 1999, Smith became chair of Verizon Ventures. He also founded Arlington Capital Partners and became chair of Rothschild, Inc., the oldest international investment banking firm in the world.
In 2005, Smith was named a Pitt Legacy Laureate; he was formerly recognized with the University's Bicentennial Medallion of Distinction. He served on the President's Committee on the Arts and Humanities, the National Forum on Education and Technology, and advisory boards of the U.S. House of Representatives and the Library of Congress.
A longtime supporter of civil rights, Smith launched a campaign at Bell Atlantic to help major civil rights and social justice organizations create a presence on the World Wide Web, as well as to raise awareness of racist activity on the Web. Smith is the first recipient of the Mickey Leland Award for Diversity in Telecommunications from the National Association of Black Telecommunications Professionals. The NAACP honored him for his continuing service to equal opportunity, and Harvard Business Review recognized him as a pioneer in the transformation of corporate cultures.
Among Smith's other honors are being named CEO of the Year by CNBC, Top Manager of the Year by Business Week, and Outstanding Corporate Leader and CEO of the Year by Financial World. He also became a fellow of the American Academy of Excellence in 2000 and received the Spirit of Achievement Award from the National Center for Learning Disabilities in 2005. He has served on scores of corporate and charitable boards, including the Rockefeller and Carnegie Foundations.
An actor in high school and college, Smith has written and produced a dozen plays. He also has written a family history; a series of short stories set in Dormont, Pa., where he was raised; and a scientific mystery novel set in the Sudan.
In addition to earning an MBA degree at KGSB in 1969, Smith received Bachelor of Science degrees in industrial engineering in 1959 and in electrical engineering in 1960, both from Carnegie Mellon University (then Carnegie Tech), and studied English literature in 1962-64 at Duquesne University.
Other Stories From This Issue
There are no stories for the issue at this time.
On the Freedom Road

Follow a group of Pitt students on the Returning to the Roots of Civil Rights bus tour, a nine-day, 2,300-mile journey crisscrossing five states.
Day 1: The Awakening
Day 2: Deep Impressions
Day 3: Music, Montgomery, and More
Day 4: Looking Back, Looking Forward
Day 5: Learning to Remember
Day 6: The Mountaintop
Day 7: Slavery and Beyond
Day 8: Lessons to Bring Home
Day 9: Final Lessons