Remarks from Chancellor-Elect Gallagher : "A Culture of Excellence"
Issue Date:
February 17, 2014
(This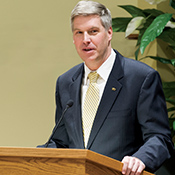 is University of Pittsburgh Chancellor-Elect Patrick D. Gallagher's remarks to Pitt's Board of Trustees, following the board's Feb. 8 vote to name him as the successor to Chancellor Mark A. Nordenberg, effective Aug. 1.)
Let me begin with the obvious. Let me thank all of you for this tremendous vote of confidence and this tremendous honor, and more than anything else, this privilege you've given me to serve this great institution. This is one of the highlights of my life already, and I know this journey is just beginning. I also want to extend my thanks again to Eva Tansky Blum and all of the search committee members. It was a learning experience, I'm sure, for all of us, but I may have learned the most of all from you as we went through this. My appreciation for Pitt has continued to grow and deepen as we've gone through this process.
The charge that you have given me is clear: to advance Pitt's academic mission and make this one of the finest universities in the world. I enthusiastically accept that charge, and I look forward to advancing our mission of excellence in education, deepening our reputation in research, promoting the value of education to our students, supporting and growing our communities—which is so important—securing all the resources and support that make a great institution like this function, and, of course, so important today, extending our global reach. I'm looking forward to the challenges, and what makes me so enthusiastic is knowing I have such a great and capable team that will be working with me to help along the way.
I also want to add a special thanks to Chancellor Mark Nordenberg. He may not believe he played a direct role, but he played a decisive role for me. It was very important to me when I began looking at this, that Pitt was on a remarkable journey of progress. I think that journey is a real testament to a culture of excellence that Mark has cultivated, which reflects really core values and a commitment and love of this institution. I wanted to be part of that. So it meant a lot to me that I would be joining an organization that had embraced this culture of excellence and had so many great opportunities in front of it. I know I share many of Chancellor Nordenberg's values, and I frankly hope to emulate a lot of his style and approach as we continue to look at the new opportunities we'll face and the new challenges—and move forward together. I also look forward to not letting Mark relax and am hoping to find a lot of ways to continue to put his tremendous talents and experience to work.
And finally, let me just say that as a lifelong public servant—I mentioned this in my [2013 Pitt] commencement address—I've always been motivated most by a desire to contribute and to make a difference. Particularly to make a difference in the service of a really great mission. And I have to tell you, a university has probably the greatest mission of all—to provide the education that will open doors and make such a difference to the whole world. I know we're going to work together on many of the things that contribute to this great mission. We'll be talking about research, and facilities, and athletics, and resources, and everything else. But I wanted to finish with the thought that I will never lose focus that, at the heart of this mission, are the students. And I commit to you that I will keep our undergraduate and graduate students first and foremost in everything I do.
Let me just finish by saying it's great to be back in Pittsburgh, and I'm really looking forward to working with all of you. Thank you.
Other Stories From This Issue
There are no stories for the issue at this time.
On the Freedom Road

Follow a group of Pitt students on the Returning to the Roots of Civil Rights bus tour, a nine-day, 2,300-mile journey crisscrossing five states.
Day 1: The Awakening
Day 2: Deep Impressions
Day 3: Music, Montgomery, and More
Day 4: Looking Back, Looking Forward
Day 5: Learning to Remember
Day 6: The Mountaintop
Day 7: Slavery and Beyond
Day 8: Lessons to Bring Home
Day 9: Final Lessons