Renny Clark: A Man of the Community
By Sally Ann Flecker
Issue Date:
June 15, 2015
Looking back on his career of 50 years, G. Reynolds "Renny" Clark jokes that he's had more than one job assignment described to him as a "work-in-progress." No matter. He has always thrown himself—heart, soul, intelligence, and personality—into whatever challenge he was asked to tackle, and the result has been abundant success. At the end of this month, he will retire from his University of Pittsburgh role as vice chancellor and special assistant to the chancellor.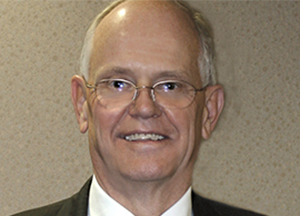 The first time he accepted a to-be-determined function was during his 34-year career at Westinghouse. He started with the company in 1966 as a projectionist in the audiovisual department and rose up the corporate ranks. In the early 1980s, William Rush, executive director of corporate communications, called him into his office and told him corporate leaders had noticed Clark's active personal and volunteer role in the community. Clark carried with him a sense of obligation to give back—a sensibility modeled by his parents and one he'd cultivated as a teen while working to achieve the rank of Eagle Scout. Later, he served in the Pennsylvania Army National Guard from 1965 to 1973, completing his service with the rank of 1st lieutenant as a field artillery officer.
His list of service is impressively long. He has been a member of the Franklin Park Volunteer Fire Company for 37 years—including 18 years as fire chief. When he retired from that position in 2007, the company membership created and bestowed upon him the title "Fire Chief Emeritus." He was mayor of Franklin Park for two terms. He chairs the boards of the Regional Industrial Development Corporation and Pittsburgh Gateways Corporation and has been active with Family House, Salvation Army of Southwestern Pennsylvania, Pittsburgh Civic Light Opera, Allegheny County Parks Foundation, United Methodist Foundation of Western Pennsylvania, and many others.
Back then, Rush asked him to be the official representative of Westinghouse in the community. What's the position description look like, Clark asked. "Well," Rush answered. "it's a work-in-progress."
In 1998, Clark was asked to take over the reins of the Westinghouse Foundation. "I still had my community affairs hat," he says. "When I finally retired in 2000, I was Executive Director of Corporate Services and Community Affairs and Chairman of the Westinghouse Foundation. How's that for a title?" His professional and personal contribution to the corporation as well as to the community was recognized in 1989 when he was awarded the "Westinghouse Order of Merit," the corporation's highest employee award. In the company's 114-year history, only 455 have ever been awarded.
But a real retirement was not to be. When then-Chancellor Mark A. Nordenberg heard of Clark's plans, he immediately reached out. He envisioned creating an office to bring together Pitt's government relations and community relations, which were then in different departments. After talking it over with his wife, Linda, Clark told Nordenberg he would take the job for two years. "So I've been here for 15," he laughs.
"Renny Clark is one of the best-known, well-liked, and highly respected people in Western Pennsylvania," says Chancellor Emeritus Nordenberg. "We first met when he was chair of the Westinghouse Foundation, and I was begging for money for Pitt. We hit it off, and I was quickly impressed with his sense of community and his approach to assessing potential investments of impact. He brought all of that to Pitt, first as vice chancellor for community and governmental relations and then as my chief of staff.
"In that latter role, his greatest strength may have been his wide visibility and the high regard in which he was held by virtually everyone. He was an invaluable member of the team as we moved through very challenging times in terms of governmental relations. I could not even estimate the number of trips that we made to Harrisburg together, but those turnpike drives always were more pleasant when Renny was a part of the traveling party."
And ... when Clark stepped into the newly created role of chief of staff, what was his job description? "It's going to be a work-in-progress," he was told.
John Wilds, assistant vice chancellor for community relations says, "Renny came to the University with a portfolio of accomplishments. He knows everybody in the City of Pittsburgh and beyond. He has a passion for reaching out and helping others, and that's evidenced by the fact that he served on many, many boards within the city. He's a man for all seasons." One example of Clark's commitment to the community is that he cochaired Pitt's annual employee United Way campaign for 14 years. The United Way of Allegheny County recognized him as its Outstanding Community Volunteer in 2009.
Paul Supowitz, vice chancellor for community and governmental relations, adds, "The University's profile, our interrelationships with community groups, and the collaborations that take place are a direct result of the things that Renny put in place."
He also recalls a comment that may help to explain so many of Clark's successes through the years: "Renny said that one thing his father taught him was to leave things better than when you found them."
Clark and his wife have two grown children and a 9-year-old grandson. They intend to travel, starting with trips to their cottage in North Carolina's Outer Banks, and a week in August with the entire family in the Virgin Islands to celebrate their 50th wedding anniversary. This time Clark intends to make his retirement stick. Odds are, though, it will be a work-in-progress.
Other Stories From This Issue
There are no stories for the issue at this time.
On the Freedom Road

Follow a group of Pitt students on the Returning to the Roots of Civil Rights bus tour, a nine-day, 2,300-mile journey crisscrossing five states.
Day 1: The Awakening
Day 2: Deep Impressions
Day 3: Music, Montgomery, and More
Day 4: Looking Back, Looking Forward
Day 5: Learning to Remember
Day 6: The Mountaintop
Day 7: Slavery and Beyond
Day 8: Lessons to Bring Home
Day 9: Final Lessons