Representatives of Regional Campus Advisory Boards Endorsed for Election as Trustees
Issue Date:
June 25, 2007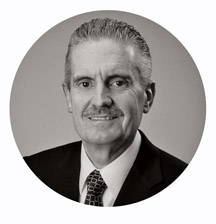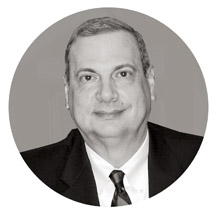 David Tilstone (left) and Emil M. Spadafore Jr. (right)
Members of the advisory boards of two of Pitt's regional campuses will be advanced by the Board of Trustees' Nominating Committee for election as trustees during the board's June 29 annual meeting. They are David Tilstone, president of Extrude Hone Corporation, a subsidiary of Kennemetal Inc. and a member of the Pitt-Greensburg board, and Emil M. Spadafore Jr. (CAS '71), a partner in the Meadville, Pa., law firm of Thomas, Spadafore, Walker & Keenan and chair of the Pitt-Titusville advisory board.
Prior to becoming president of Extrude Hone Corporation, Tilstone served as vice president and director of Kennametal's global metalworking sales and marketing operations. With more than 25 years of industrial marketing and management experience, Tilstone has managed domestic and international operations and has developed and implemented growth strategies for the Asia-Pacific region. He has established and managed marketing, sales, and engineering organizations in China as well as a multimillion-dollar manufacturing facility in China.
Tilstone has been a member of the Pitt-Greensburg Advisory Board since 1999. He earned a BA in biology and a BS in chemical engineering at the University of Connecticut in 1976 and 1978, respectively. In 1989, he earned a Master of Management Science degree at North Carolina State University, where he was accepted into the Phi Kappa Phi Honor Society for academic excellence.
Over the past four decades, Extrude Hone Corporation has grown into a leading international developer and supplier of advanced manufacturing processes, machine tools, and contract machining services for deburring, polishing, and surface finishing. Extrude Hone is a major provider of engineered finishing solutions to the automotive, aerospace, fluid power, food processing, semiconductor, medical, and mold and die industries worldwide. Extrude Hone joined the Kennametal family of companies in 2005.
Spadafore has been a partner in the law firm of Thomas, Spadafore, Walker, and Keenan in Meadville, Pa., since 1989. He previously owned Spadafore, Vardaro, Walker, and Johnson (1981-89) and served as an associate in the firm of Bozik, Thomas, and Johnson (1976-81), as an investigator for the Allegheny County Court of Common Pleas (1975-76), and as a junior law clerk to the Honorable Louis L. Manderino of the Supreme Court of Pennsylvania (1973-75).
He was elected chair of the Pitt-Titusville Advisory Board in January 2007, after having served as vice chair.
Spadafore earned his BA at Pitt in 1971 and a Juris Doctor degree at Duquesne University's School of Law in 1976. For the past six years, he has served as an adjunct faculty member at the Titusville campus, teaching the courses Business Law, Introduction to Criminal Justice, Critical Issues in Criminal Justice, Introduction to Criminology, Courts and the Law, Society and the Law, and Law and Politics. Spadafore also has taught at Penn State-Behrend and the American Institute of Banking and has lectured for the Pennsylvania Bar Institute and the Commonwealth of Pennsylvania.
He has experience in education law, civil litigation, administrative litigation, business transactions, commercial litigation, real estate transactions, and municipal law.
Other Stories From This Issue
There are no stories for the issue at this time.
On the Freedom Road

Follow a group of Pitt students on the Returning to the Roots of Civil Rights bus tour, a nine-day, 2,300-mile journey crisscrossing five states.
Day 1: The Awakening
Day 2: Deep Impressions
Day 3: Music, Montgomery, and More
Day 4: Looking Back, Looking Forward
Day 5: Learning to Remember
Day 6: The Mountaintop
Day 7: Slavery and Beyond
Day 8: Lessons to Bring Home
Day 9: Final Lessons