Research Opportunities Draw Ravi Triplets to the University
By Sharon S. Blake
Issue Date:
August 22, 2016
The excitement has been building intensely in the Ravi household in South Brunswick, N.J. That isn't completely unusual—after all, it's home to Sreyas, Samhita, and Sanjay Ravi, 18-year-old triplets. But it is a tad atypical that all three of the busy siblings are going in one direction this fall: to the University of Pittsburgh. And as the sister and two brothers find their footing on campus this week, they will be preparing to focus on the sciences and math for academics—and on music for pleasure.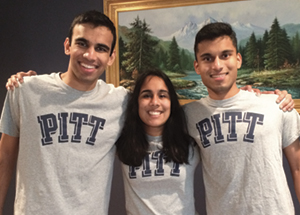 It was Pitt's "research opportunities galore" that helped seal the deal for the three freshmen, Sreyas said. He plans to major in bioengineering and will follow the pre-med track, working to become an orthopaedic surgeon. An active bicyclist and long-distance runner, Sreyas tore his ACL, a knee ligament, in high school. It was during his recovery that he became more attuned to musculoskeletal injuries.
"I think one of the best careers would be giving injured people the ability to return to the activities and hobbies they love," Sreyas said.
Samhita, who said she is "passionate about science," will also follow a pre-med track, majoring in the biological sciences. Coincidentally, she tore her ACL during the same year as her brother, and the injury led her to contemplate a career in medicine or science.
Sanjay, who wants to be an investment banker, intends to double major in math and economics. Key to his decision to enroll at Pitt was the math-economics joint major offered by the Dietrich School of Arts and Sciences. In addition, he thought, the University's urban setting provides ample opportunities for networking and internships.
As for nonacademic interests, all three are athletic and each plays an instrument— Sreyas, the upright bass; Samhita, the trombone; and Sanjay, the cello.
"Music has always been a way for me to stay focused, and it's an especially good break from math and science," said Samhita.
Sreyas and Sanjay, meanwhile, recently performed at Carnegie Hall in New York. (See video, http://tinyurl.com/ravi-trio) The brothers and one of their friends play in a trio of two cellos and one bass, and they have competed in regional and national competitions. Their Carnegie Hall experience was the top prize in a 2016 MusicFest national competition.
This week, the Ravi siblings will be settling into their rooms and getting to know the campus.
They certainly liked the looks of it during their visits last August and in March of this year. Samhita, an avid runner, immediately noticed joggers on campus and felt a sense of vibrancy. All of the siblings met with faculty members and sat in on several classes.
No doubt, the trio will have different experiences over the next four years. But while they share a healthy sibling rivalry, they never lose sight of their bond.
"We compete in nearly everything, but we always have each others' backs," said Sreyas. "We know that each one of us has his or her own strengths, and we like to work together to use them effectively."
Other Stories From This Issue
There are no stories for the issue at this time.
On the Freedom Road

Follow a group of Pitt students on the Returning to the Roots of Civil Rights bus tour, a nine-day, 2,300-mile journey crisscrossing five states.
Day 1: The Awakening
Day 2: Deep Impressions
Day 3: Music, Montgomery, and More
Day 4: Looking Back, Looking Forward
Day 5: Learning to Remember
Day 6: The Mountaintop
Day 7: Slavery and Beyond
Day 8: Lessons to Bring Home
Day 9: Final Lessons