Richard Rauh Gift Is First in Matching Campaign for Undergraduate Scholarships
By Sharon S. Blake
Issue Date:
August 4, 2014
Revenue affiliated with the historic $125 million gift to the University of Pittsburgh from William S. Dietrich II in 2011 is now being used to create a fund to match pledges for scholarships for undergraduate students in Pitt's Kenneth P. Dietrich School of Arts and Sciences.
The 2011 gift—the largest ever in Pitt's history and the inspiration for naming the University's arts and sciences school after Dietrich's father—has been used for Dietrich School initiatives such as the William S. Dietrich II Chair in Political Science and the William S. Dietrich II Endowment Fund for Graduate Support. The new Dietrich Matching Campaign for Undergraduate Scholarship Endowments marks the first time the funds will be used in a one-to-one match for undergraduate student scholarships. It will be done so through a revenue stream from The Dietrich Foundation, which manages assets associated with Dietrich's historic gift.
The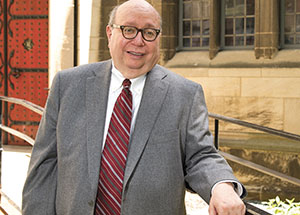 first gift in the matching campaign, launched July 1, is from local actor Richard E. Rauh, who received his bachelor's and master's degrees from Pitt in 1962 and 1964, respectively, and who is pledging $75,000 over a three-year period. Income generated from his gift will be matched by an identical amount from The Dietrich Foundation Endowment Fund for William S. Dietrich II Undergraduate Scholarships. Together, they will create the Dietrich-Rauh Endowed Scholarship, which will be available for undergraduate students in the Dietrich School majoring in theatre arts.
"Richard's leadership gift is exceptionally generous and builds on his earlier gifts that add to the artistic strength of the Department of Theatre Arts by positioning future students to take advantage of the riches of the department," said N. John Cooper, the Bettye J. and Ralph E. Bailey Dean of the Dietrich School. "We hope that many others seize the opportunity offered by the Dietrich match to give back generously and help future generations of students benefit from Pitt strengths that matter to them," he added. The matching campaign is running through Dec. 31, 2015.
Rauh, who has had an extensive career on stage and in film, is the son of Richard S. Rauh, who founded the Pittsburgh Playhouse in 1934. His mother, Helen Wayne Rauh, acted at the Pittsburgh Playhouse from 1935 to 1973 and performed in many major hits, including Oh Dad, Poor Dad, Mamma's Hung You in the Closet and I'm Feelin' So Sad (1962-63); Middle of the Night (1959); The Importance of Being Earnest (1949); Blithe Spirit (1945); and Bye Bye Birdie (1963). The younger Rauh has been acting locally from 1966 to the present at the Pittsburgh Playhouse, Little Lake Theater, and City Theater. He has had roles in Krapp's Last Tape (1999), Little Shop of Horrors (1986), Proof (2004), Last of the Red Hot Lovers (1979), A Thousand Clowns (1974), and many other productions. He ran the Playhouse Film Series from 1979 to 1994 and was a drama critic for the Pittsburgh Post-Gazette from 1995 to 2000.
Rauh has strong ties to Pitt. They include being among the group of Pitt students who, in 1962, helped launch Pitt's student-run radio station, which then had the call letters WPGH; serving as WPGH's general manager for a semester; creating the Richard E. Rauh Teaching Artist-in-Residence in Pitt's Department of Theatre Arts; and donating his family's papers—the Pittsburgh Playhouse Collection—to the Curtis Theatre Collection in the University Library System's Special Collections Department. Rauh also teaches film at Carnegie Mellon University and film and theater at Point Park University.
Other Stories From This Issue
There are no stories for the issue at this time.
On the Freedom Road

Follow a group of Pitt students on the Returning to the Roots of Civil Rights bus tour, a nine-day, 2,300-mile journey crisscrossing five states.
Day 1: The Awakening
Day 2: Deep Impressions
Day 3: Music, Montgomery, and More
Day 4: Looking Back, Looking Forward
Day 5: Learning to Remember
Day 6: The Mountaintop
Day 7: Slavery and Beyond
Day 8: Lessons to Bring Home
Day 9: Final Lessons