Ronald B. Herberman, UPCI Founding Director, Dies
Issue Date:
June 17, 2013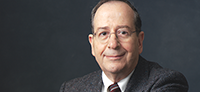 Ronald B. Herberman, the founding director of the University of Pittsburgh Cancer Institute (UPCI) and a visionary who is credited with shaping it into one of the nation's leading National Cancer Institute (NCI)-designated Comprehensive Cancer Centers, died June 2.
Herberman was recruited to the University of Pittsburgh in 1985 for the express purpose of building a world-class cancer institute using philanthropic funds donated by the Richard King Mellon Foundation. Within three years, he succeeded in securing funding for the institute as well as its designation as a NCI Clinical Cancer Research Center. In 1989, he led the successful effort to obtain UPCI's designation as a NCI Comprehensive Cancer Center.
During the next 15 years, Herberman oversaw the expansion of UPMC's clinical oncology services throughout Western Pennsylvania, Ohio, and West Virginia, and he spearheaded the opening of the Hillman Cancer Center in Shadyside in 2002. UPCI has continued to flourish, aided significantly by transformational gifts from Henry L. Hillman and the Hillman Foundations that allowed UPCI laboratory research to be located alongside UPMC clinical oncology care. In recognition of Herberman's many contributions to UPCI, the UPMC Shadyside Cancer Pavilion's second-floor conference center was named the Ronald B. Herberman Conference Center, and the annual Ronald B. Herberman Staff Appreciation Award was established.
"We at the University of Pittsburgh, UPCI, and UPMC Cancer Center owe so much to Dr. Herberman, whose dedication and vision shaped us into what we are today—one of the nation's leading National Cancer Institute (NCI)-designated Comprehensive Cancer Centers, with strong programs in basic, translational, clinical, and population science research," Arthur S. Levine, senior vice chancellor for the health sciences and dean of the School of Medicine at Pitt, and Nancy E. Davidson, Pitt's Hillman Professor of Oncology and director of UPCI and UPMC Cancer Center, wrote in a letter to the Pitt community.
Herberman also contributed to the greater University of Pittsburgh community in several ways. He served as associate vice chancellor for cancer research within the School of Medicine and Pitt's other five schools of the health sciences. He was the Hillman Professor of Oncology, as well as professor of medicine and pathology within the School of Medicine. And he was chief of the Division of Hematology-Oncology within the medical school's Department of Medicine.
Herberman was an internationally recognized tumor immunologist whose discoveries increased the understanding of tumor development and progression and led to novel approaches for preventing the metastatic spread of cancer. He was responsible for discovering natural killer (NK) cells and characterizing NK-mediated cytotoxicity of malignant and virally infected cells. He also was a pioneer in the development of biological response modifiers, such as interferons and interleukins, to augment the actions of NK and other immune cells.
Herberman graduated summa cum laude with a bachelor's degree in biology and received his medical degree, both from New York University. He completed his internship and a year of residency in internal medicine at the Massachusetts General Hospital and a clinical fellowship at the National Institutes of Health in Bethesda, Md.
In 1968, Herberman joined the NCI's Immunology Branch as a senior investigator, and, in 1971, he became the head of the NCI's Laboratory of Cell Biology, which was part of NCI's new Cellular and Tumor Immunology Section. Subsequently, he was appointed director of the NCI's Immunodiagnosis Contract Program, chief of the NCI Laboratory of Immunodiagnosis and of the NCI Biological Therapeutics Branch, and acting associate director of the NCI Biological Response Modifiers Program.
Herberman authored more than 700 publications, and he was one of the most frequently cited biomedical investigators during the 1980s. He served on many editorial boards and advisory committees and was the recipient of numerous awards, including the Governor of Pennsylvania's Award for Excellence in Science and Medicine, a Lifetime Science Award from the Institute for Advanced Studies in Immunology and Aging, the Carnegie Science Center Award for Excellence in Biomedical Research, and the Solomon A. Berson Medical Alumni Achievement Award in Clinical Science from New York University.
In late 2007, Herberman announced his desire to step down from his administrative roles and devote more time to his research interests. He worked closely with Nancy E. Davidson, his successor, to ensure a seamless leadership transition in February 2009.
Herberman retired from Pitt in August 2009 to pursue the next phase of his career, serving as the chief medical officer for oncology at Intrexon Corp., Germantown, Md., from 2009 to 2012. At the time of his death, Herberman was serving as senior vice president and chief medical officer at TNI BioTech, Inc. in Bethesda, Md.
He is survived by his wife, Harriett, and his children, Holly and Steven, and their families, who held private burial services for him in Pittsburgh on June 3.
Other Stories From This Issue
There are no stories for the issue at this time.
On the Freedom Road

Follow a group of Pitt students on the Returning to the Roots of Civil Rights bus tour, a nine-day, 2,300-mile journey crisscrossing five states.
Day 1: The Awakening
Day 2: Deep Impressions
Day 3: Music, Montgomery, and More
Day 4: Looking Back, Looking Forward
Day 5: Learning to Remember
Day 6: The Mountaintop
Day 7: Slavery and Beyond
Day 8: Lessons to Bring Home
Day 9: Final Lessons