Rory Cooper Featured in NBC Videos on Science of the Olympics, Paralympics
By Chuck Finder
Issue Date:
August 21, 2012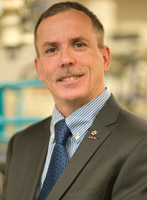 Rory Cooper, a renowned University of Pittsburgh expert on assistive technology and wheelchairs, was featured in three online NBC videos as part of the network's coverage of the 2012 Olympic and Paralympic Games. The five-minute educational videos, part of NBC's "Science of the Olympics" series, highlighted athletes including Oscar Pistorius, double-amputee sprinter, and Jenny Simpson, a steeplechaser turned 1,500-meter runner.
Cooper—Pitt FISA and Paralyzed Veterans of America Chair and Distinguished Professor in the Department of Rehabilitation Science and Technology, director of the University's Human Engineering Research Laboratories (HERL), and professor of bioengineering, mechanical engineering, physical medicine and rehabilitation, and orthopaedic medicine at Pitt—was interviewed by NBC regarding biomedical science and biomechanical engineering and technology surrounding athletes in the Games.
"I hope that when people see these programs," Cooper said, "it will encourage more people from underrepresented minorities, especially people with disabilities, to pursue careers in science, technology, engineering, and mathematics."
Cooper is a leading authority on paralyzed veterans, wounded warriors, and on many other military matters who is invited to advise presidential cabinet members and has been honored at a U.S. Marines parade. In addition to being an engineer, a scientist, a researcher, and a professor, he is a veteran and a medal-winning international athlete whom General Mills honored with a photo and writeup on a Cheerios cereal box.
Cooper and Pitt doctoral student and HERL physical therapist Justin Laferrier were featured in the following three NBC videos, which remain online:
• The story behind and the engineering/athleticism surrounding Oscar Pistorius, the double-amputee sprinter known as "the Blade Runner" who competed in Olympic track relays for his native South Africa. ["Science of the Summer Olympics: The Strength and Flexibility of Oscar Pistorius" http://science360.gov/obj/video/d2783a15-2880-4c1d-b6b4-d795c129aae2/science-summer-olympics-strength-flexibility-oscar-pistorius];
• Jenny Simpson, a steeplechaser turned 1,500-meter runner, who has used technology and biomechanical engineering to train for the 2012 London Summer Games running on a treadmill in an air bubble—to relieve the pounding of a healing stress fracture. ["Science of the Summer Olympics: The Impact of Jenny Simpson" http://science360.gov/obj/video/f2a96021-7c9a-410a-b6ee-8b26f3b925a1/science-summer-olympics-impact-jenny-simpson]; and
• The engineering of mobility devices for such Paralympics events as wheelchair basketball. ["Science of the Summer Olympics: Engineering for Mobility" http://science360.gov/obj/video/d6ed8536-61aa-43d9-9822-f2ca072ca718/science-summer-olympics-engineering-mobility].
"I am really pleased to see the Paralympics get this level of attention," said Cooper, a former bronze medalist at the 1988 Seoul Paralympics and recently a five-time gold medalist at the National Veterans Wheelchair Games. "The athletes are truly Olympians and have achieved amazing heights of athleticism."
Cooper is the codirector of the National Science Foundation (NSF) Engineering Research Center. Moreover, he currently serves as the principal investigator of an NSF Innovative Graduate Education and Research Training (IGERT) grant, an NSF Research Experience for Undergraduates grant, and an NSF Experiential Learning for Veterans in Assistive Technology and Engineering grant. He also served as the principal investigator on one of the first NSF-funded Minority Engineering Program grants addressing the needs of people with disabilities.
Cooper attended California Polytechnic State University, San Luis Obispo, where he earned both his bachelor's and master's degrees in electrical engineering. He earned his PhD in electrical and computer engineering from the University of California, Santa Barbara. He did his postgraduate fellowship at the VA Rehabilitation Research and Development Center in the Edward Hines Jr. Veterans Affairs Hospital in Hines, Ill. He came to Pitt in 1994 and helped establish HERL.
The idea for the video series was proposed early this year at a national meeting of the American Association for the Advancement of Science, where Cooper—there to receive one of two Mentor Award honors—saw a similarly produced educational video on the science behind hockey. Cooper, with ties to the NSF for roughly 20 years, heard at that meeting about the NSF and NBC partnering on a mirror project involving the Olympics, He suggested the idea of a Paralympics video, and with assistance from his program officer, Susan Kemnitzer, his idea became reality: By spring 2012, he was being interviewed on camera at Pitt.
Other Stories From This Issue
There are no stories for the issue at this time.
On the Freedom Road

Follow a group of Pitt students on the Returning to the Roots of Civil Rights bus tour, a nine-day, 2,300-mile journey crisscrossing five states.
Day 1: The Awakening
Day 2: Deep Impressions
Day 3: Music, Montgomery, and More
Day 4: Looking Back, Looking Forward
Day 5: Learning to Remember
Day 6: The Mountaintop
Day 7: Slavery and Beyond
Day 8: Lessons to Bring Home
Day 9: Final Lessons