The Rose Has Teeth (By Terrance Hayes)
Issue Date:
March 17, 2014
Written by celebrated poet and Pitt professor of English Terrance Hayes, this poem was read by him during Pitt's Feb. 24, 2014, Black History Month event, A Celebration of the Arts. The lyrical reading was accompanied by the music of Geri Allen, internationally renowned pianist, composer, and director of Pitt's Jazz Studies Program.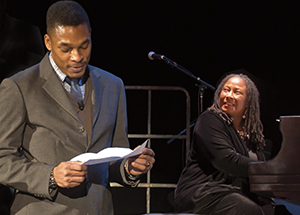 I was trying to play the twelve bar blues
with two bars. I was trying to fill the room
with a shocked and awkward color,
I was trying to limber your shuffle, the muscle
wired to muscle. I wanted to be a lucid hammer.
I was trying to play like the first mechanic
asked to repair the first automobile.
Once, Piano, every man-made song could fit
in your mouth. But I was trying to play Burial's
"Ghost Hardware." I was trying to play the sound
of applause by trying to play the sound of rain.
I was trying to mimic the stain on a bed,
the sound of a woman's soft, contracting bellow,
the answer to who I am. Before I trust the god
who makes me rot, I trust you, Piano.
Something deathless fills your wood.
Because I wanted to be invisible, I was
trying to play like a woman blacker
than an unpaid light bill, like a white boy
lost in the snow. I wanted to be a ghost
because the skull is just a few holes
covered in meat. The skin has no teeth.
I was trying to play what I felt singing
in the mirror as a boy. I was trying to play
what I overheard: the old questions, the hunger,
the rattle of spines. The body that only loves
what it can touch always turns to dust.
What would a mother feel if her child sang
"Sometimes I feel like a Motherless Child"
too beautifully? A hole has no teeth.
A bird has no teeth. But you got teeth, Piano.
You make me high. You make me dance.
You make me believe there is good in me.
My lady, she dreams I am better than I am.
I was trying to play like strange fruit hanging
in a tree. A tree has no teeth. A horn has no teeth.
Don't chew, Piano. Don't chew, sing to me
you fine-ass lounging harp. You fancy engine
doing other people's work. I was trying to play
the sound of an empty house because
that's how I get by when the darkness in my body
starts to bleed. I was trying to play "Autumn Leaves"
because that's what my lady's falling dress
sounds like to me. Before you, Piano, I was just a rap
of knuckles on a window sill. I am filled with the sound
of my lover's breathing and only you can bring it out of me.
Other Stories From This Issue
There are no stories for the issue at this time.
On the Freedom Road

Follow a group of Pitt students on the Returning to the Roots of Civil Rights bus tour, a nine-day, 2,300-mile journey crisscrossing five states.
Day 1: The Awakening
Day 2: Deep Impressions
Day 3: Music, Montgomery, and More
Day 4: Looking Back, Looking Forward
Day 5: Learning to Remember
Day 6: The Mountaintop
Day 7: Slavery and Beyond
Day 8: Lessons to Bring Home
Day 9: Final Lessons