Rubin, University Plastic Surgeon, Honored With Presidential Award
By Amy Dugas Rose
Issue Date:
November 5, 2007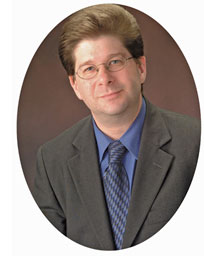 University of Pittsburgh plastic surgeon J. Peter Rubin (right) received the 2007 Presidential Early Career Award for Science and Engineering (PECASE) during a ceremony Thursday in Washington, D.C. The PECASE is the nation's highest honor for scientists who are early in their research careers.
National Institutes of Health (NIH) Director Elias A. Zerhouni said the PECASE is given to recognize and support researchers whose early work shows "exceptional promise" for scientific leadership during the 21st century.
Rubin, assistant professor of plastic and reconstructive surgery in Pitt's School of Medicine, was recognized for his groundbreaking research on using fat-derived stem cells to engineer soft tissue.
Awardees are nominated by one of eight federal departments, which provide the researchers with up to five years of funding to further their research.
Rubin was nominated by the NIH, which supported his research grant, "Injectable Engineered Tissue for Cancer Reconstruction."
This technology may one day be used to generate replacement tissue for breast cancer survivors, Rubin said.
"When exposed to specific conditions in the laboratory, fat-derived stem cells have been shown to transform into the same cell types found in fat, bone, cartilage, nerve, muscle, and blood vessels," he said.
The use of stem cells to treat disease or regenerate tissue holds promise because of their potential to both actively participate in the healing process and develop into different specialized cell types, Rubin said.
Rubin also is director of the Life After Weight Loss Surgical Body Contouring Program at the University of Pittsburgh Medical Center and codirector of the Adipose Stem Cell Center in the Pitt/UPMC McGowan Institute for Regenerative Medicine.
Rubin received his medical degree from Tufts University and completed training in plastic surgery at Harvard University. He is a fellow of the American College of Surgeons and serves as chair of the American Society of Plastic Surgery's Post-Bariatric Task Force.
He is a founder and past president of the International Federation of Adipose Therapeutics and Science, a group of scientists worldwide who are on the cutting edge of studying fat stem cell biology.
Rubin is one of 12 PECASE winners supported in 2006 by the NIH. "We look forward to continued innovation from these outstanding investigators as they push the frontiers of medical research during this pivotal time for scientific discovery," Zerhouni said.
In all, Flock said, 58 researchers were chosen by the White House Office of Science and Technology Policy to receive the PECASE. Since the program began in 1996, NIH has funded a total of 129 PECASE recipients, she said.
Other Stories From This Issue
There are no stories for the issue at this time.
On the Freedom Road

Follow a group of Pitt students on the Returning to the Roots of Civil Rights bus tour, a nine-day, 2,300-mile journey crisscrossing five states.
Day 1: The Awakening
Day 2: Deep Impressions
Day 3: Music, Montgomery, and More
Day 4: Looking Back, Looking Forward
Day 5: Learning to Remember
Day 6: The Mountaintop
Day 7: Slavery and Beyond
Day 8: Lessons to Bring Home
Day 9: Final Lessons