By E. J. Borghetti
Issue Date:
September 17, 2007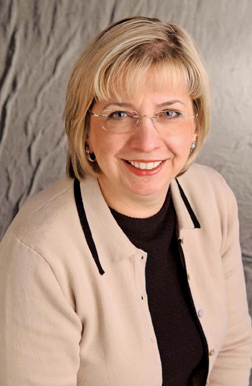 Donna Sanft
Donna Sanft, Pitt's senior associate athletic director for administration, student life, and compliance, has been appointed interim athletic director by Chancellor Mark A. Nordenberg. Sanft assumes the duties of Jeff Long, who on Sept. 11 accepted the athletic director's post at the University of Arkansas.
"When Jeff Long accepted my offer to become the athletic director at the University of Pittsburgh in the spring of 2003, the very future of our conference was in doubt," Nordenberg said. "I always will be grateful to him for the determination that he showed during that challenging time, as we worked together to rebuild the Big East and to secure the future of Pitt athletics. In the years that have followed, Jeff and I worked closely on a broad range of other important matters. He is a principled professional who has made key contributions to our progress. As he leaves Pitt to assume his next assignment in what already has been a varied and distinguished career, we thank Jeff for his important contributions and wish him and his family the very best.
"As we move forward, I am very pleased that Donna Sanft has agreed to serve as interim athletic director, a position she will assume immediately," Nordenberg continued. "Donna has been a major figure in Pitt athletics since she arrived on campus as a student-athlete. As a Panther gymnast, she served as team captain, was selected as its most valuable performer, and was honored as the University's outstanding scholar-athlete of her graduating class. More recently, based both on her accomplishments as an athlete and her contributions as a professional, she was honored by Pitt's Varsity Letter Club as an Awardee of Distinction.
"After serving as a gymnastics coach here at Pitt for 12 years, Donna became a member of the athletics department staff. As senior associate athletic director for administration, student life, and compliance, she has broad-ranging responsibilities that touch on virtually every aspect of the work of the athletic department, and she has played a central role in advancing our overall agenda and in strengthening the student-centered values that guide our department.
"Donna is known throughout the country for her professionalism and has long been a highly regarded representative of the University of Pittsburgh," the chancellor added. "Within the athletic department itself, no one enjoys a higher level of respect than Donna Sanft. I know that her appointment to this new office will energize other members of the staff and that Donna now will play an even more visible role in promoting the progress of Pitt athletics, which already has been her life's work."
Sanft said, "I love the University of Pittsburgh, and I am incredibly grateful for the opportunities I have been given as a student, athlete, and employee at Pitt. Through the leadership of the chancellor and the hard work of hundreds of people, Pitt continues to achieve extraordinary things every day, and it is an honor to be part of this outstanding institution.
"I want to thank Chancellor Nordenberg for the opportunity to continue to serve the University. The Pitt athletic department has enjoyed many successes over the years, and our future is incredibly bright. I am confident in the abilities of our coaches and athletic department staff as we continue to strive for greatness in all of our programs, and I look forward to my continued work with all of them as we move forward."
Sanft holds one of the longest tenures in Pitt's athletic department, including service as a student-athlete, head coach, and, for the past two decades, administrator.
As senior associate athletic director, Sanft has been significantly involved in the department's strategic planning and staff development. She also has been responsible for coordinating Pitt's compliance and NCAA rules-education programs and overseeing the Panther Game Plan, a student-athlete life skills program.
Earlier this year, she was named a recipient of the Chancellor's Awards for Staff Excellence in service to the University. The awards selection committee lauded Sanft's commitment and dedication to Pitt and its student-athletes as "truly exceptional." She was also praised for her volunteer work on assignments outside her typical job duties. Those endeavors included organizing and staffing the Panther Zone, an alcohol-free social gathering for student football fans, and PAWS, which gives young people in the Oak Hill Community opportunities to attend weekly sport clinics and life skills educational programs led by Pitt student-athletes.
The selection committee also noted Sanft's management of the University's successful NCAA certification project, during which the NCAA peer review team described many areas of Pitt's program as "models for others to follow."
While coaching Pitt's gymnastics team from 1974 to 1986, Sanft compiled an 82-50-1 record and was twice selected the Eastern Collegiate Coach of the Year. She helped produce Pitt's only NCAA champion in women's gymnastics, Lisa Shirk.
A 1974 graduate of Pitt with bachelor's and master's degrees in health and physical education, Sanft was a member and three-year captain of the gymnastics team. She was named Pitt's Female Scholar-Athlete of the Year in 1974. In 1999, Sanft became the first woman to be honored by the Pitt Varsity Letter Club as an "Awardee of Distinction."
No timetable has been set for appointing a new permanent athletic director, but a search committee, appointed by Nordenberg, has begun work. Chaired by Jerome Cochran, Pitt's executive vice chancellor and general counsel, the committee also includes Susan Albrecht, a professor and associate dean in Pitt's School of Nursing who is the University's NCAA faculty athletic representative; Tom Bigley, a member of Pitt's Board of Trustees and a former chair of the board's athletics committee; Marcus Bowman, Pitt director of athletic business operations and a former Pitt student-athlete; Kirk Bruce, Pitt assistant athletic director for Olympic sports and a former Pitt student-athlete; John Conomikes, chair of the trustees' athletics committee; and Carol Sprague, Pitt senior associate athletic director.
Other Stories From This Issue
There are no stories for the issue at this time.
On the Freedom Road

Follow a group of Pitt students on the Returning to the Roots of Civil Rights bus tour, a nine-day, 2,300-mile journey crisscrossing five states.
Day 1: The Awakening
Day 2: Deep Impressions
Day 3: Music, Montgomery, and More
Day 4: Looking Back, Looking Forward
Day 5: Learning to Remember
Day 6: The Mountaintop
Day 7: Slavery and Beyond
Day 8: Lessons to Bring Home
Day 9: Final Lessons