Sara Goodkind Advocates, Builds Bridges For Female Leadership
By LaMont Jones Jr.
Issue Date:
April 11, 2016
It's an unseasonably mild winter day, and researcher Sara Goodkind is interviewing young women in high school about the messages they receive regarding female identity.
Social media, according to Goodkind's research, appears to significantly influence how teenage girls perceive themselves in terms of womanhood. This work is part of a larger research study about teen-dating violence, which so far suggests that teen boys who behave in "hyper-masculine" ways do so because "they think that's what girls expect," says Goodkind, an associate professor in Pitt's School of Social Work.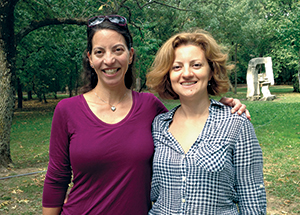 This sort of research, where youth and social work intersect, is what Goodkind enjoys most, and it's one of her academic trademarks. She is passionate about researching assumptions, expectations, and beliefs about gender, race, and sexuality among youth, especially girls. She is also an advocate, helping youngsters navigate increasingly complex sociocultural milieus.
"Her focus on girls and gender has been a real asset to the school," says Larry E. Davis, dean of the School of Social Work and the University's Donald M. Henderson Professor. "She really champions the rights of young girls."
Goodkind's advocacy for young women predates her arrival at Pitt a decade ago. While serving as a Peace Corps volunteer in Romania in the mid-1990s, she and two other female volunteers—all secondary school English teachers—observed a dearth of female participants in the Eastern European country's politics. In response, they created a leadership program called Camp GLOW (Girls Leading Our World.) The weeklong summer initiative involved 80 girls and was funded by the campers' families along with a $1,500 grant from the U.S. Democracy Commission.
Peace Corps volunteers elsewhere replicated the program, which is now in nearly 60 countries. In 2012, then-Secretary of State Hillary Clinton made news when she visited Camp GLOW in Malawi.
"Everywhere it's being done, it's being adapted to the needs and interests of the girls there," says Goodkind. "I didn't imagine it becoming so widespread. It's gratifying and wonderful to see that."
Cultural context is an important consideration in social work and education, something Goodkind became aware of as a youngster growing up in Albuquerque, N.M. She attended an ethnically and economically diverse public high school, where about 20 percent of the students were White and only about one-third of its graduates went on to college.
For Goodkind, who was raised by college-educated parents, higher education was a given. And she already was thinking like a sociologist.
"Some of my questions about why people went in different directions and how they were shaped by the home, neighborhood, and broader environment were interesting," she recalls. "I started to recognize that it wasn't about the individual, but it was about their situations that helped shape where they were going."
The insights propelled Goodkind toward a career in social work. In 1993, she graduated from Amherst College magna cum laude with a bachelor's degree in sociology. She later attended the University of Michigan, earning a master's degree in social work in 1999, a graduate certificate in women's studies in 2003, and a PhD in social work and sociology in 2005.
Much of Goodkind's research and practice focuses on the critical issues of youth involvement in the child welfare and juvenile justice systems. Her work goes beyond descriptive research and offers empirically supported prevention and intervention strategies. Her research tracks the dynamics between youth and the social, structural, and institutional factors that influence their lives.
Noel Busch-Armendariz, associate dean for research in the School of Social Work at the University of Texas at Austin, has known Goodkind since their Peace Corps service in Romania. Goodkind's scholarship, she says, "furthers our critical understanding, fills gaps in our knowledge, encourages evidence-based services, and promotes local, national, and international program and policy development."
Outside work, Goodkind enjoys running and spending time with her two children. She also does pro bono work and advocates with direct-service organizations for social change. For example, she has been instrumental in volunteer efforts to press for implementation of the principles of the United Nations' Convention on the Elimination of All Forms of Discrimination against Women. The United States signed the 1979 document, but is the only industrialized nation that has not ratified it.
"Sara is deeply committed to calling out issues of power and privilege with the intent to influence systems and those that work in those systems," says Busch-Armendariz, who serves with Goodkind on the editorial board of AFFILIA: Journal of Women and Social Work.
Goodkind, she adds, is "a keen and critical thinker, scholar, and advocate. In a rather unassuming way, she disrupts traditional ways of thinking that contribute to our understanding of marginalized and vulnerable groups."
Other Stories From This Issue
There are no stories for the issue at this time.
On the Freedom Road

Follow a group of Pitt students on the Returning to the Roots of Civil Rights bus tour, a nine-day, 2,300-mile journey crisscrossing five states.
Day 1: The Awakening
Day 2: Deep Impressions
Day 3: Music, Montgomery, and More
Day 4: Looking Back, Looking Forward
Day 5: Learning to Remember
Day 6: The Mountaintop
Day 7: Slavery and Beyond
Day 8: Lessons to Bring Home
Day 9: Final Lessons