School of Social Work Reimagines Its PhD Program
By Reid R. Frazier
Issue Date:
January 20, 2009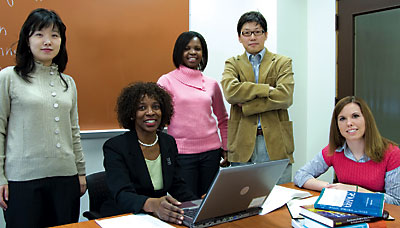 Michael Lindsey met many children like 12-year-old Lionel when he worked at a community-based mental health center in Washington, D.C., in the mid-1990s. Lionel, one of Lindsey's clients, was depressed and antisocial, and he resisted treatment. Eventually, Lindsey could see that the clinical methods he was using to help Lionel weren't working.
"If Lionel didn't receive the mental health attention he needed to address his depression, anger, and oppositional behavior, he would have a short time to live on this Earth," Lindsey says he remembers thinking.
Lindsey came up empty-handed in his search for scholarly research on other interventions that might help Lionel, so Lindsey, already armed with a master's degree in social work, decided to pursue his doctorate and do some of the research himself. "I was compelled to pursue an advanced degree to help me better understand and address these kinds of issues," says Lindsey, who received his PhD degree at Pitt in 2002 and is now an assistant professor in social work and psychiatry at the University of Maryland, Baltimore.
Lindsey chose the University of Pittsburgh on the recommendation of a mentor. Pitt has one of the nation's oldest schools of social work and a reputation for training academic leaders, says Lindsey. It also had resources tailored to his academics interest: The school was then in the midst of creating a center for mental health services research, funded by the National Institutes of Health (NIH). His dissertation, which examined the impact social networks have on how young African Americans with depression access mental health services, was funded by an NIH grant.
"I had an incredible experience at Pitt, and it was a great launch-pad for my career," says Lindsey. He had come to Pitt with a desire to address a glaring problem and graduated with a set of tools that could help kids like Lionel.
Long History, New Initiatives
The Pitt School of Social Work and its doctoral program turned 60 this year. The fifth-oldest school of social work in the nation, it is a trailblazer in the study of how to address some of society's greatest issues: poverty, mental illness, drug and alcohol abuse, and racial disparities in health, education, and employment. It also has a long and distinguished history of educating academic leaders in social work. (See accompanying list on page 6).
And the school continues to forge ahead with an ambitious retooling in its effort to remain one of the top social work programs in the country. The school still offers a wide range of training for social work practitioners through its bachelor's and master's programs, but its PhD program is undergoing a historic transformation.
Under the stewardship of Dean Larry E. Davis, the school has recruited faculty with an impressive record of doing research.
"Social work is now very empirically based," says Davis, who also is the Donald M. Henderson Professor of Social Work and founding director of Pitt's Center on Race and Social Problems (CRSP). "You need scholarship, and you need faculty skilled at bringing in funding. That's the name of the game if you want to be competitive with the very top programs in the country."
Davis holds a Bachelor of Science degree in psychology from Michigan State University and a master's degree and doctorate in both social work and psychology from the University of Michigan. He was the first African American to graduate, in 1977, from this U-M dual-degree program. He taught at Washington University in St. Louis for more than 20 years before coming to Pitt in 2001. Both Michigan and Washington University are among the top-ranked social work programs in the country, and Davis came to Pitt with significant expertise in developing social work research programs.
Under Davis, Pitt's School of Social Work has embarked upon no-holds-barred effort to recruit top doctoral students, train them in the leading-edge areas of research, and mentor them as they pursue career opportunities upon graduation.
The University has placed a high priority on doctoral education in social work, committing to provide enough money to fully fund doctoral students for four years instead of two. The added funding allows the program to recruit and enroll the best and brightest students, says Gary Koeske, a Pitt professor of social work and former director of doctoral studies. "That's making us more competitive with students whom we see as having potential to develop into research scholars. This new funding, combined with curriculum changes over the years, has resulted in making our students' PhD dissertations comparable to the best at any other top school in social work and in the allied disciplines of sociology and psychology."
Davis also has recruited faculty from the country's top research programs to raise the school's academic research profile. "With the faculty we've brought in, I feel like I've brought in the Marines. They all know what it takes to develop a robust research and writing program," Davis says.
A Balancing Act
In some respects, developing a strong school of social work is an elaborate balancing act: The school and its social programs are visible in the broader community, yet the school is not a social service agency. Since its inception in 1948, the Pitt School of Social Work has been a crucial link between the University and the more than 400 social service agencies around Allegheny County—in prisons, hospitals, cancer centers, and group homes.
That is one reason why the school is so critical to the University's overall mission, says Pitt Provost and Senior Vice Chancellor James V. Maher. "The School of Social Work is probably one of the most visible faces of the University in Pittsburgh and in Allegheny County," says Maher. "In a very real sense, it is making Pittsburgh a better place to live, and it is improving the lives of the thousands of people who rely on the services of the cooperating agencies."
The PhD program in the School of Social Work educates social work practitioners and scholars by immersing students in the field's most up-to-date research and ensuring that intellectual rigor is applied to the discipline. Another aspect of a thriving program is the training of scholars to assess the effectiveness of what social workers do.
In many ways, social work is perhaps the most applied of all academic disciplines, according to Davis.
"Social work is real-world based; it asks questions in a real-world setting," Davis says. "In social work research, you always have to be able to answer the question, 'So what?' The effectiveness of a program is measured by its real-world application."
Historically, the social work field was so "applied" that for years many of its practitioners, including faculty in Pitt's School of Social Work, shied away from research. Leaders in the field worried that too much scholarship made social work too much a part of the "ivory tower" and too removed from the front lines. Gradually, academics like Joseph Eaton, a Pitt emeritus professor of social work and a former director of Pitt's doctoral education program, prevailed, and social work professionals came to understand that scholarly research improved the practice of social work.
"Now more than ever, we need top-flight researchers in social work to navigate the best practices in the field for practitioners," Maher says. "These are the people who will be making the field better and improving outcomes for the people who need its services. We all benefit from strong social work research, and Pitt is committed to training the scholars and leaders who can ensure this work will get carried on to future generations."
Training Researchers
In academia, doctoral students are considered the stewards of a discipline, and the core of a doctoral program is providing those students with the skills needed to conduct research and teach. Valire Carr Copeland, a professor of social work and director of the Pitt School of Social Work doctoral program, says learning how to do research will help Pitt PhDs in whatever facet of social work they pursue—whether as a researcher, social work educator, or administrator at a social service agency. In these roles, doctoral graduates will guide social work practitioners, Copeland says.
"One of the many roles of social work practitioners is to facilitate the problem-solving process with their clients," says Copeland, who earned her PhD at Pitt in 1989. "We can't help individuals change their behaviors unless we understand why people engage in behaviors that are detrimental to them."
Whether working with individuals and families, administering a program, or developing social policy, PhD-level social workers need to know how to conduct research and appreciate the value of science-based practices, Copeland says.
"Our research should inform our practice, and our practice should inform our research," says Copeland. "We're training Pitt doctoral students to engage in the rigors of research that will help them address the questions and problems that people bring to the social services agencies."
The social work world is not neat and tidy, Copeland says. Being a social worker often means being a client's safety net while at the same time understanding that client's strengths. Clients may be poor, incarcerated, elderly, or disabled; what might work for one client might not work for another. So being able to digest research and apply it to various situations is key to improving outcomes.
"I have to find therapeutic strategies that are helpful to you. I have to understand what's going to make a difference for you. I have to understand what your beliefs are, recognize where you are developmentally, know something about your demographics (race, gender, class, etc.)," Copeland says.
"Each client is unique," he continues." We don't always know where to start unless we read and use research that allows us to make inferences that will answer these questions."
Paying Dividends
These new initiatives are paying off in doctoral graduates like Kyaien O. Conner, who received her PhD in social work earlier this year and is a postdoctoral scholar at Western Psychiatric Institute and Clinic (WPIC) at the University of Pittsburgh Medical Center. She is currently conducting research on barriers to mental health care among older African Americans.
The study is a continuation of research she did for her doctorate, in which she surveyed 248 older African American and White adults with depression. Conner went back to the study's original participants and interviewed 37 African Americans on their views of the health care system. "We found older African Americans have more negative attitudes toward the mental health care system than Whites," Conner says.
"There is a belief among many Blacks that struggling is just a part of life, so what's a psychiatrist going to be able to do?" she says. Understanding these cultural barriers, Conner adds, will help mental health practitioners provide better care to people who might normally stay away from the system.
Like Lindsey, Conner was drawn to the Pitt School of Social Work's joint- degree program with Pitt's Graduate School of Public Health. While at Pitt, Conner was first author on three articles published in peer-reviewed scholarly journals, and she gave 10 presentations on her research at national conferences. In addition to assisting in her search for an academic position, these experiences also helped Conner achieve a better understanding of the critical role research plays in the human services field.
"Social workers ask the question, 'How can we apply this intervention to different populations? Can it be applied to African Americans as well as to Whites?' It's incredibly important for social workers to develop our own research," Conner says. "We're training people to go out and provide interventions. It's important that the information we're providing them with is accurate and up-to-date, culturally competent, and backed by evidence."
Pitt's rich research emphasis attracted Shaun Eack, who came to the University after completing his Master of Social Work degree at the University of Illinois at Urbana-Champaign. Eack was interested in studying mental health and intrigued by the prospect of collaborating with faculty at WPIC on projects led by social workers.
"It seemed like a great environment to learn all the things you need to know to become a researcher," Eack says. He recently defended his dissertation about a form of treatment that involves brain exercises for patients suffering from schizophrenia.
Eack learned how to be a researcher while doing his PhD work—everything from developing a research topic to testing a hypothesis, collecting data, and publishing in major social work and interdisciplinary journals.
"They don't let you leave this program until they know you can do all these things, until they know you can stand on your own," Eack says.
Expanding Opportunities
In addition to taking classes and pursuing their own research, social work doctoral students can tap into a rich academic life by taking advantage of guest lectures and other special events. The school runs a speaker series, in which top researchers from around the country share their work with students, faculty, and community partners. These researchers also have breakfast with the doctoral students beforehand, and during one of these breakfasts, Conner had the opportunity to discuss her research on cultural barriers to mental health services with Arthur Whaley, one of the leading experts in that field. "I know my work was improved by this," Conner says.
The school also houses CRSP, a valuable asset in attracting students interested in working in the area of race. Created in 2002, the center is the first race research center in the country housed in a school of social work and brings visiting scholars on race to discuss their research. (See accompanying article.)
Ties That Bind
While chemists work in laboratories, social work scholars do their research in schools, shelters, hospitals, prisons, and other "frontline" locales. It is there that doctoral students reap the benefit of the School of Social Work's deep roots in the Pittsburgh community.
Comm-Univer-City of Pittsburgh, a pilot project in Homewood directed by Pitt Professor John Wallace, exemplifies the School of Social Work faculty's commitment to the community. The project, still in its formative stages, is a comprehensive community initiative designed to help children in an at-risk neighborhood.
Wallace, working in partnership with numerous community organizations, government, and local residents, will apply the methods of a similar project in New York City, Harlem's Children's Zone, in which a comprehensive social services "cradle-to-college" program helped improve the lives of almost 10,000 young people. "Basically we take the best of what we know and ask, 'Can we replicate it here?' Or is it idiosyncratic to New York?" Wallace says. Ultimately, Wallace envisions a project that helps the community while providing rich avenues for research, as well as hands-on training for Pitt social work students. It's one of many community projects where students can study real-world problems and find solutions. That's the unique element of social work research—every question must have a real-world, applied answer. "Social work is beyond the lab, it's beyond the office," Wallace says. "It's 'out there.'"
Looking Into the Future
Several years ago, Lindsey was watching the news on TV and recognized a young man charged with murder and armed robbery. It was Lionel, his former client from Washington, D.C. "I said, 'That's the kid I said needed help, and if he didn't get it, he would hurt someone or be hurt himself.' It just reinforces the fact that there's a great need out there," Lindsey says.
Lindsey, who has continued the research he began at Pitt, is currently conducting an NIH-funded study to help kids with depression get into treatment.
He knows that his research has one aim: to help the next Lionel before it's too late.
Stories like these are what drive doctoral education at the University of Pittsburgh, Davis says. There will always be problems—for individuals, families, and communities. Pitt trains those who assume the mantle of societal problem-solver.
"With social work, you're never going to arrive," Davis says. "It's always a work in progress. You're never done."
Other Stories From This Issue
There are no stories for the issue at this time.
On the Freedom Road

Follow a group of Pitt students on the Returning to the Roots of Civil Rights bus tour, a nine-day, 2,300-mile journey crisscrossing five states.
Day 1: The Awakening
Day 2: Deep Impressions
Day 3: Music, Montgomery, and More
Day 4: Looking Back, Looking Forward
Day 5: Learning to Remember
Day 6: The Mountaintop
Day 7: Slavery and Beyond
Day 8: Lessons to Bring Home
Day 9: Final Lessons