Science as Art Ponders What Researchers Create—and Discard
By Amy Whipple
Issue Date:
October 20, 2014
Tucked into a corner of Alumni Hall's Connolly Ballroom, the Science as Art exhibit was a stranger in a strange land at Science 2014—Sustain It!
Or maybe it wasn't such a stranger after all. Pitt's annual Science conference, which showcases the University's science and technology, has given space to the intersection of the two disciplines since 2006.
"A lot of scientists are artists because they're creative by nature," says Donna Beer Stolz, an associate professor of cell biology and pathology, who has coordinated the conference's art exhibit since its inception.
This year's artful entries are a bit different from previous years due to Science 2014's emphasis on making science sustainable, a nod to researchers' curiosity and drive to make the unknown known.
"We were [more] generous with our interpretation," says Stolz. "What we wanted to do was use pieces of things that were made into other things."
To that end, Stolz reached out to local artist Erika Johnson, who runs Pittsburgh's Center for Creative Reuse, a nonprofit full of odds and ends perfect for myriad arts and crafts.
"I'm really interested in art as science and science as art," says Johnson. One of Johnson's pieces at the exhibit, "We Live Here," uses a salvaged plastic test tube and reconstituted pond water, among other recycled materials. She's been working on a larger artistic investigation of water, looking at how "when change happens at the microscopic level, it affects humans as well."
Johnson adds that she's "also interested in scientific surplus as art. When laboratories get rid of stuff, it can be used in really evocative ways."
A piece by Stolz—a self-identified "queen of reuse"—utilized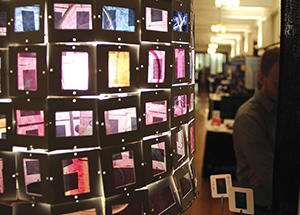 this very technique in "Histology Kodachrome Lampshade" by repurposing Kodachrome slides that are no longer used professionally because the images have been digitized.
Seeing projects like Stolz's "can help scientists think about their surplus or obsolete equipment as creative material," says Johnson. Other pieces in the exhibit included test tubes that held sand and dirt from memorable vacations and earrings made from computer resistors.
Stolz also encourages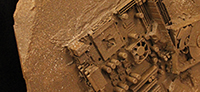 members of her lab to get involved each year. One of her technicians, Jonathan Franks, produced the exhibit's most traditional art piece, "Fossils of Technology," which contains old computer parts painted to look as if they've been brushed out from under desert rock. The piece is less about showing actual reuse and more about asking people to consider what happens when technology becomes obsolete.
The exhibit was on display during Science 2014's recent three-day conference, making it possible for science-minded people to be art-minded as well.
Other Stories From This Issue
There are no stories for the issue at this time.
On the Freedom Road

Follow a group of Pitt students on the Returning to the Roots of Civil Rights bus tour, a nine-day, 2,300-mile journey crisscrossing five states.
Day 1: The Awakening
Day 2: Deep Impressions
Day 3: Music, Montgomery, and More
Day 4: Looking Back, Looking Forward
Day 5: Learning to Remember
Day 6: The Mountaintop
Day 7: Slavery and Beyond
Day 8: Lessons to Bring Home
Day 9: Final Lessons