Science & Technology: Monkey Uses Brain Power to Feed Itself With Robotic Arm
By Michele D. Baum
Issue Date:
June 9, 2008
Pitt School of Medicine innovation could benefit people with paralysis and spinal-cord injuries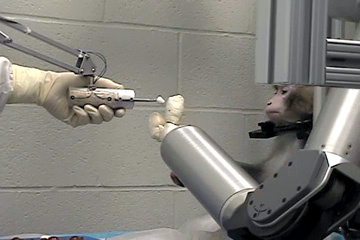 A monkey has successfully fed itself with fluid, well-controlled movements of a human-like robotic arm by using only signals from its brain, researchers from the University of Pittsburgh School of Medicine report in the journal Nature. This significant advance could benefit the development of prosthetics for people with spinal-cord injuries and those with such "locked-in" conditions as amyotrophic lateral sclerosis (Lou Gehrig's disease).
"Our immediate goal is to make a prosthetic device for people with total paralysis," said Andrew Schwartz, senior author and professor of neurobiology in Pitt's School of Medicine. "Ultimately, our goal is to better understand brain complexity."
Previously, work has focused on using brain-machine interfaces to control cursor movements displayed on a computer screen. Monkeys in the Schwartz lab have been trained to command cursor movements with the power of their thoughts.
"Now we are beginning to understand how the brain works using brain-machine interface technology," said Schwartz. "The more we understand about the brain, the better we'll be able to treat a wide range of brain disorders, everything from Parkinson's disease and paralysis to, eventually, Alzheimer's disease, and perhaps even mental illness."
Using this technology, monkeys in the Schwartz lab are able to move a robotic arm to feed themselves marshmallows and chunks of fruit while their own arms are restrained. Computer software interprets signals picked up by probes the width of a human hair. The probes are inserted into neuronal pathways in the monkey's motor cortex, a brain region where voluntary movement originates as electrical impulses. The neurons' collective activity is then evaluated using software programmed with a mathematic algorithm and then sent to the arm, which carries out the actions the monkey intended to perform with its own limb. Movements are fluid and natural, and evidence shows that the monkeys come to regard the robotic device as part of their own bodies.
The primary motor cortex, a part of the brain that controls movement, has thousands of nerve cells, called neurons, which fire together as they contribute to the generation of movement. Because of the massive number of neurons that fire at the same time to control even the simplest of actions, it would be impossible to create probes that capture the firing pattern of each. Pitt researchers developed a special algorithm that uses limited information from about 100 neurons to fill in the missing signals.
"In our research, we've demonstrated a higher level of precision, skill, and learning," explained Schwartz. "The monkey learns by first observing the movement, which activates his brain cells as if he were doing it. It's a lot like sports training, where trainers have athletes first imagine that they are performing the movements they desire."
In addition to Schwartz, authors include Pitt neurobiology professor Meel Velliste and Sagi Perel, M. Chance Spalding, and Andrew S. Whitford, all Pitt bioengineering graduate students.
The study was funded by the National Institute of Neurological Disorders and Stroke at the National Institutes of Health.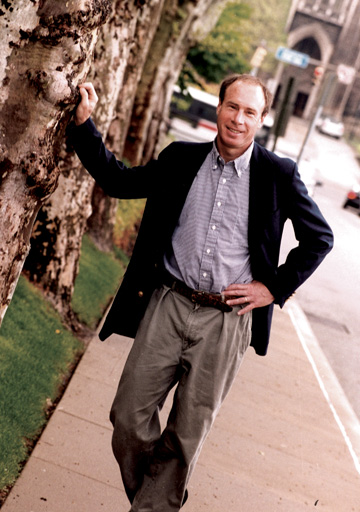 Other Stories From This Issue
There are no stories for the issue at this time.
On the Freedom Road

Follow a group of Pitt students on the Returning to the Roots of Civil Rights bus tour, a nine-day, 2,300-mile journey crisscrossing five states.
Day 1: The Awakening
Day 2: Deep Impressions
Day 3: Music, Montgomery, and More
Day 4: Looking Back, Looking Forward
Day 5: Learning to Remember
Day 6: The Mountaintop
Day 7: Slavery and Beyond
Day 8: Lessons to Bring Home
Day 9: Final Lessons