Science & Technology/Beating Pulse
By Morgan Kelly
Issue Date:
July 9, 2007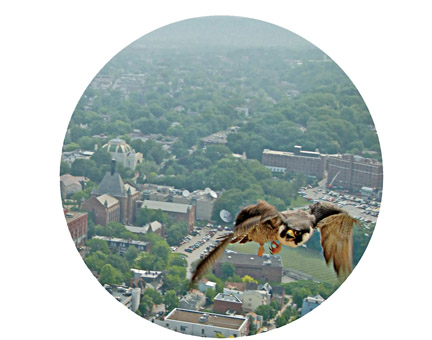 Weathered, flattened corpse of rival falcon from Cleveland found when Cathedral of Learning nest removed for restoration project
The male peregrine falcon that launched a failed takeover of the nest atop Pitt's Cathedral of Learning in March came from the Cleveland area, but as natural justice would have it, he won't be going back.
Caretakers of the Pitt nest discovered the interloper's withered and nearly decapitated body in a water drain on the Cathedral's 40th floor July 2 as they removed the falcons' nest so that restoration crews can clean the tower's top.
The fallen bird's tracking band identified him as being named Pulse, born at the Hilliard Road Bridge in Lakewood, Cuyahoga County, Ohio, in 2004. His body finally explains how his daring, early morning invasion on March 18 ended. Web camera images of the row show Pulse and Erie, the paterfamilias of the Pitt nest, slashing each other with their talons and beaks for 20 minutes before rolling out of the nest and out of view.
Those who monitor the nest pronounced Erie the victor because of the familiar manner in which the triumphant male and the female falcon Dorothy subsequently behaved. Pulse was assumed to have flown away in defeat when he was unable to claim the mate, nest, and perch.
A slide presentation of the fight is available on the Western Pennsylvania Conservancy's Web site at www.paconserve.org/rc/peregrine-07-images/index.html. The images provide a rare glimpse into how adult falcons seize an occupied nest, a common occurrence.
For an earlier report on March 18's falcon fracas, see the March 26 Pitt Chronicle, available online at www.chronicle.pitt.edu/?p=79.
Although dead, Pulse could still provide important information on the behavior and living conditions of peregrine falcons, said Anthony Bledsoe, a lecturer of biological sciences in Pitt's School of Arts and Sciences who helps monitor the falcons. An analysis of the remains could reveal the levels of toxins and air pollutants he was exposed to in life. Such information could shed light on the environments in which falcons live and threats to their survival. Peregrine falcons are a protected species in Pennsylvania.
By determining the cause of death—which currently appears to be a massive wound to the neck—researchers can gain insight on how falcons fight and defend themselves, Bledsoe said. In this case, an interesting component is that the nine-year-old Erie bested a three-year-old challenger, an outcome that defies conventional reason, he said.
Pulse also holds potential clues about local falcon behavior. Falcons in Western Pennsylvania and Ohio seem to interact frequently, said Kate St. John, a volunteer for the Western Pennsylvania Conservancy (WPC) who monitors the Pitt falcons and who also found Pulse's body. Erie hails from Columbus and many of his Pittsburgh-born children have flown west to Cleveland, Toledo, and Youngstown, among other cities. That seems sensible, except that Dorothy comes from far-off Wisconsin. By knowing Pulse's identity and origin, Bledsoe said, it might help to determine if peregrine falcons maintain a regional pattern in how they breed and seek out nests.
Erie and Dorothy have lived on the Cathedral since 2002 and raised 22 chicks, including four that left the nest for good last month. Erie and Dorothy most likely will continue living at the Cathedral as the $4.8 million restoration project progresses toward the tower's summit, Bledsoe said. Erie and Dorothy claim the entire 42-story Gothic-revival building as their territory and rarely visit the nest outside of the early spring nesting season.
Cost Company, which was hired by Pitt to clean off more than 70 years' of industrial soot and preserve the structure, rearranged its cleaning schedule earlier this year as to avoid the falcon nest until the chicks hatched and flew away on their own. A new nest for Erie and Dorothy will be installed after the restoration project concludes in September.
Other Stories From This Issue
There are no stories for the issue at this time.
On the Freedom Road

Follow a group of Pitt students on the Returning to the Roots of Civil Rights bus tour, a nine-day, 2,300-mile journey crisscrossing five states.
Day 1: The Awakening
Day 2: Deep Impressions
Day 3: Music, Montgomery, and More
Day 4: Looking Back, Looking Forward
Day 5: Learning to Remember
Day 6: The Mountaintop
Day 7: Slavery and Beyond
Day 8: Lessons to Bring Home
Day 9: Final Lessons