Science & Technology/Weekly Dose of Osteoporosis Drug Prevents Bone Loss Associated With Breast Cancer, Pitt Research Finds
By Michele D. Baum
Issue Date:
September 24, 2007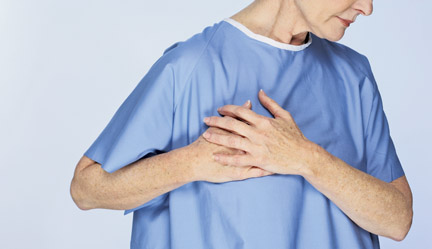 Breast cancer survivors who took a weekly dose of risedronate, sold as Actonel, lost significantly less bone than those who did not take the drug, according to a two-year study by researchers in Pitt's School of Medicine.
Pitt Professor of Medicine Susan Greenspan, director of the Osteoporosis Prevention and Treatment Center and Bone Health program at the University of Pittsburgh Medical Center, and colleagues evaluated 87 women (mean age: 50) enrolled in the Prevention of Osteoporosis in Postmenopausal Women with Breast Cancer Following Chemotherapy study.
ll participants in the randomized, double-blind trial received calcium and
vitamin D supplements. However, half took 35 milligrams of risedronate once a week while others took a placebo.
"Chemotherapy drugs and other medical treatments for breast cancer are known to induce menopause, which can kick-start bone loss, putting survivors at risk for osteoporotic fractures," said Greenspan, an internationally renowned osteoporosis researcher. "This study also looked at changes in spine and hip bone mineral density, as well as evidence of bone breakdown."
Ninety-seven percent of study participants had normal or low bone mass at enrollment. At baseline, many were taking tamoxifen, a breast cancer drug aimed at estrogen-sensitive tumors. Taxoxifen also is sometimes used as a preventive therapy for women at high risk for breast cancer.
While tamoxifen can have a positive impact on bone in postmenopausal women, a small percentage of women were taking aromatase inhibitors (also used for prevention), which can have a negative effect on bone. During the second year of the study, about half the women began taking aromatase inhibitors and stopped taking tamoxifen.
"After 24 months, women in the placebo group had significant bone loss in the spine and hip that we didn't see in women taking risedronate," Greenspan noted. "In fact, women taking risedronate had a bone density much higher in the spine and hip than women in the placebo group." The researchers also observed that the greatest bone loss was found in women on aromatase inhibitors. Even so, risedronate continued to be successful in preventing bone loss.
Weekly doses of risedronate improve bone density and prevent excess bone loss in breast cancer survivors, the researchers concluded.
The Pitt research was presented last week during the 29th annual meeting of the American Society for Bone and Mineral Research, held in Honolulu. 
Other Stories From This Issue
There are no stories for the issue at this time.
On the Freedom Road

Follow a group of Pitt students on the Returning to the Roots of Civil Rights bus tour, a nine-day, 2,300-mile journey crisscrossing five states.
Day 1: The Awakening
Day 2: Deep Impressions
Day 3: Music, Montgomery, and More
Day 4: Looking Back, Looking Forward
Day 5: Learning to Remember
Day 6: The Mountaintop
Day 7: Slavery and Beyond
Day 8: Lessons to Bring Home
Day 9: Final Lessons