Senior Profile / Alexandria Grant: A Sign of Things to Come
By Joe Miksch
Issue Date:
April 28, 2014
Alexandria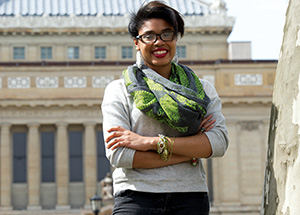 Grant's passion for American Sign Language is "a complete and utter fluke."
She graduates today with a bachelor's degree in psychology and an A average. She holds the title of Outstanding Resident Advisor of the Year as well as a certificate in American Sign Language (ASL)—and her future includes graduate school at Pitt and continued involvement with Pittsburgh's deaf community.
Grant recalled sitting in a meeting with her academic advisors during her freshman year at Pitt. The Marlton, N.J., native was considering electives.
"You could take sign language," an advisor told her, listing a litany of other options. But that idea caught her attention. "I thought, 'I'll try it. It's four credits and maybe I'll do well.'"
When the first day of ASL class rolled around, the beginning seemed inauspicious. In retrospect, what happened was a kick-start. "All the teachers here are deaf or hard of hearing," said Grant, who is not deaf. "And when class started, the PowerPoint presentation wasn't working. The rule in class is 'voices are off.' Suddenly, you're immersed. And that was very interesting."
Becoming proficient in ASL wasn't easy, she says. It's not just making hand signals that look like the thing, idea, or action they represent. "People say it's just English and all you need to do is make hand movements and that's it. That's not it whatsoever. It has its own grammar and though there are signs that look like the word meaning, most signs have nothing to do with that."
Debra Hast, Pitt's ASL program coordinator, said Grant was a spark plug of a student and teaching assistant. "When I think of her, I see her smile and it makes my day," Hast said in an email. "She is always ready and eager to learn. And when she was a teaching assistant, the other students loved her. She was always ready to teach and to be there if they needed tutoring."
As Grant became increasingly proficient in ASL, she became more deeply involved in deaf culture. This, to her, is one of the program's greatest gifts.
"I've become an advocate. We took a lot of deaf culture classes, and I found that Pittsburgh has a large deaf community," she said. "I became president of the Pitt ASL club, I've set up events, and I've been able to learn about people's lives and needs."
And Grant found that one of the greatest needs in Pittsburgh's deaf community is education, which led her to an internship in the psychology department of the Western Pennsylvania School for the Deaf in Edgewood. "When I started in the fall, I was scared to death. I was afraid they were going to shut me out," she said. "But they stuck with me and made me realize that this is something I really want to do."
In addition to learning about psychology as it relates to the deaf community and learning about the deaf community itself, Grant found herself getting involved with education as a tutor.
"I found that deaf students' reading scores can be low," she said, starting to sign to her interviewer, before realizing he is ASL illiterate. "That's because English is not their first language," Grant continued. "So I offered support and tutoring. I brought them over here [to Pitt] and helped with reading and math tutoring." She also invited students from the School for the Deaf to Pitt's campus to introduce them to college life and the fact that college is, indeed, for them.
When asked if being a hearing person in a deaf person's world was difficult or met with negativity, Grant paused, and then said: "Negativity? No. Though you are afraid as a hearing person coming into the deaf community. Really, there's been so much positive feedback, especially from the kids. 'You want to learn my language?' The kids think, 'This is someone who wants to learn this,' and then they learn from what I have to say. It has been very positive."
Come fall, Grant will be back in Pitt's classrooms pursuing a master's degree in Applied Developmental Psychology with a concentration in behavioral health. Her goal, she said, is to learn more about the psychology of deaf and hard-of-hearing youth.
"There isn't a 'cookie cutter' deaf kid," she says. "But there's not been a lot of research. Some kids have behavioral and emotional health disorders, and there's very little research out there. Almost none. What's the best way to counsel these children? How do you raise a psychologically healthy deaf child? That's what I want to know. That's what I want to get into."
Other Stories From This Issue
There are no stories for the issue at this time.
On the Freedom Road

Follow a group of Pitt students on the Returning to the Roots of Civil Rights bus tour, a nine-day, 2,300-mile journey crisscrossing five states.
Day 1: The Awakening
Day 2: Deep Impressions
Day 3: Music, Montgomery, and More
Day 4: Looking Back, Looking Forward
Day 5: Learning to Remember
Day 6: The Mountaintop
Day 7: Slavery and Beyond
Day 8: Lessons to Bring Home
Day 9: Final Lessons