Senior Profile / Chelsea Davis: A Life-Changing Six Weeks
By Sharon S. Blake
Issue Date:
April 28, 2014
Even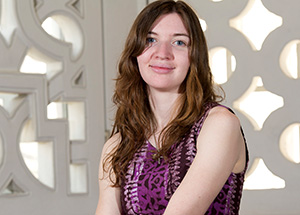 as a high-school tenth grader in New Castle, Pa., Chelsea Davis knew that she wanted a career focused on children.
Her decision to attend Pitt's School of Social Work was a natural. "It was a perfect fit for me, with its research and child welfare education programs," she said.
All was proceeding perfectly as planned: get into college, develop a child-focused career, create a life in Pittsburgh. But then she ventured forth—in a big way—after her sophomore year at Pitt. With help from the Vira I. Heinz Scholarship Program for Women in Global Leadership, Davis hopped on a plane for a six-week study-abroad program in Accra, the capital city of Ghana, on Africa's West Coast.
Her world has never been the same.
She returned to Pittsburgh, finalized her decision to double major in social work and Africana Studies, and began working as an events and media coordinator for the African Studies Program within Pitt's University Center for International Studies. Today, she graduates with a 3.90 GPA, a bachelor's degree in social work, and certificates in African Studies and Children's Literature. She has her sights set on returning to Ghana later this year.
"Maybe I keep going back to Ghana because it's the first country I ever traveled to—but regardless of my choices, I believe I would've gotten there eventually and loved it as much as I do now," Davis said. "Accra is a bustling city, but the people take time to commune with one another, which suits my lifestyle."
Keith Caldwell, Davis' adviser and director of the Bachelor of Arts in Social Work Program, said his mentee is an example of a student who has taken advantage of all Pitt has to offer.
"The social work profession is based on an appreciation of the dignity and worth of all people and a genuine commitment to social justice. Chelsea came with those character traits already in place," he said. "Through her hard work, they are now professional skills that will serve her throughout her career."
Davis, the only child of supportive and hard-working parents, smartly sought the Vira I. Heinz scholarship, which is specifically intended for young women who have never before traveled outside the United States. While in Africa, she took a course on politics and one on Ghanaian music and dance at the University of Ghana. She lived with a host family of 10 and witnessed the deep traditions of strong family ties. In her spare time, she volunteered at Beacon House Orphanage, tutoring children in math. She learned that the orphans under her care did have parents. They just couldn't afford to take care of their children. Davis developed a growing concern about family stabilization issues.
During her half-hour walks to the university, she grew to appreciate Ghana's landscapes, its bustling markets, ocean breezes, and even driving rainstorms.
By the time she departed—happy, fulfilled, and strongly attached to Ghana's people and culture—she knew she would return.
Davis went back to Accra last summer, attending school with local children, learning to speak Twi, the most commonly spoken traditional language in that region.
And her love for the region deepened.
"It's so laid back there and so non-materialistic," she said. "Things don't seem as complicated."
Davis' compassion for children has also left its mark on the Pittsburgh region. She participated in the CareBreak program for three years as a volunteer and for one year as an intern. She would visit the homes of families with young children who had developmental disabilities, such as autism, giving the parents some respite time.
"I started with one family, but I've taken on two more," said Davis, who herself feels like a member of these families. She finds it rewarding in many ways, not the least of which is when she hears excited young voices in the house yelling out her name after she rings the doorbell.
"Kids give me a lot of hope," she said. "They are so resilient. They bounce back. They have their whole lives ahead of them and I want to be there to support and guide them."
Through AmeriCorps' Jumpstart Program, Davis helped preschoolers build literacy skills and increase their desire to read. That experience led her to Operation Better Block, where she and others worked to address the problem of blighted property near Faison Elementary School in Homewood.
Soon, a desire to work for social justice was born. The girl who grew up in New Castle became deeply entrenched in the needs of Homewood residents.
"It was a community vastly different than the one I grew up in," she noted. "But working with the residents toward positive change piqued my interest in engaging with marginalized groups outside the United States as well."
Davis has been blogging (socialworker4change.wordpress.com) about social injustice in the United States, and she plans to write about Ghanaian social issues upon her return to Accra.
"I came across an organization that's working to stop placing children in orphanages and trying to stabilize existing families. It's also begun a foster care community in a rural area near Accra," she said.
That is one of the many directions she is considering upon her return to Accra. A number of other opportunities related to social entrepreneurship are possibilities as well.
The world awaits.
"Ghana as a whole is on the rise, and I'm excited to see what the future holds for this country, as well as for the continent of Africa," Davis said.
Other Stories From This Issue
There are no stories for the issue at this time.
On the Freedom Road

Follow a group of Pitt students on the Returning to the Roots of Civil Rights bus tour, a nine-day, 2,300-mile journey crisscrossing five states.
Day 1: The Awakening
Day 2: Deep Impressions
Day 3: Music, Montgomery, and More
Day 4: Looking Back, Looking Forward
Day 5: Learning to Remember
Day 6: The Mountaintop
Day 7: Slavery and Beyond
Day 8: Lessons to Bring Home
Day 9: Final Lessons