Senior Profile / Gordon Louderback: The Lesson of Leadership
By John Fedele
Issue Date:
April 28, 2014
Life's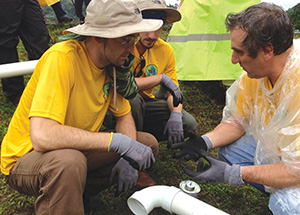 necessities—and the obstacles to obtaining them—came into sharp focus for Gordon Louderback last fall.
Louderback and a team of 17 other students from Pitt's Swanson School of Engineering traveled to Kuna Nega, Panama, as part of a volunteer effort by the international organization Engineers Without Borders-Panama. They went because Kuna Nega's 1,500 residents were never sure if water would be available in their village—or if their makeshift plumbing systems would hold the water when it was available.
"The homes are made of recycled wood, bricks, and sometimes just tarps," said Louderback. "They have no waste collection system so raw sewage runs along the streets directly into the river, untreated."
Prior to the group's departure from Pittsburgh last October, team members worked for three months in the Swanson School, designing a new water storage tank and pipe system to distribute water efficiently to the village's homes.
But the conditions in Kuna Nega necessitated major revisions to the Swanson team's original water-system design. The country's changing terrain, previously unknown physical obstacles, and inaccurate maps required the students to make changes on the fly.
Each morning, the team would leave their hotel at 6 a.m. to make the 45-minute trip to Kuna Nega, returning to the hotel around 8 p.m. The work was hard manual labor: digging trenches to lay the pipe, setting rebar and pouring concrete, connecting and sealing pipes and valves throughout the village. But at the end of the 10-day trip, the villagers of Kuna Nega had a more reliable source of clean water.
"In Panama, Gordon was teamed up with a few other students and that group worked nonstop for seven days until they finished," said Dan Budny, a Swanson School professor of civil and environmental engineering, who led the team's efforts. "When they finished, each person was proud of what the group did, not what each person did—but the group. It takes a special talent to get people to work together for the good of the project and not just the good of the individual. Gordon has the ability to make that happen."
A native of Chester Springs in suburban Philadelphia, Louderback earned his Bachelor of Science degree in civil and environmental engineering in December. He accepted a job as a field engineer with Turner Construction Company in Denver, Colorado, last month.
He credits his leadership skills to his participation in Pitt's Emerging Leaders Program, the Outside the Classroom Curriculum, and the Pittsburgh Association for Leadership and Success (PALS).
PALS seeks to improve student life at the University by leading campus initiatives and encouraging volunteerism. "It was a small group, and it was just starting out, so there was a lot of opportunity to get involved in leadership positions," said Louderback, who joined PALS his freshman year at Pitt. It was through PALS that Louderback met James Landreneau (ENG '13), who preceded Louderback as president of Pitt's Student Government Board and who encouraged him to run for board president.
Louderback did run for the office—and won—and he discovered that the position allowed him and other students to effect change at Pitt.
"I found that the Office of Student Affairs and the Pitt administration really liked, really welcomed student feedback," he said. "For students who put the time in and do research and advocate for better services and amenities at Pitt—which is what student government does—there are people listening. There are people ready to help you out. Students do have the power to change a college campus."
Louderback believes his biggest accomplishments as Student Government Board president were advocating for and working with the University's Computing Services and Systems Development to expand wireless access in the residence halls—and helping to create the Traditions Committee with fellow Student Government Board member Megan McGrath. The Traditions Committee reignited the "Panther Pitt" for Pitt football games at Heinz Field, seeking to create the same level of enthusiasm found in the Oakland Zoo, the renowned student cheering section for Pitt basketball games in the Petersen Events Center.
"Leadership isn't something you can perfect," said Louderback, adding that even as people age, they continue to perfect their skills every day.
It's clear that the leadership skills, negotiating savvy, patience, and resilience he learned on Pitt's campus helped him in Panama, where operating conditions were rougher and much different than expected. In the end, the lesson reached far beyond any classroom.
"We realized that this trip meant a lot more than an engineering assignment," said Louderback recently about the experience. "It provided an everyday necessity and changed the lifestyle of hundreds of people for the better."
Other Stories From This Issue
There are no stories for the issue at this time.
On the Freedom Road

Follow a group of Pitt students on the Returning to the Roots of Civil Rights bus tour, a nine-day, 2,300-mile journey crisscrossing five states.
Day 1: The Awakening
Day 2: Deep Impressions
Day 3: Music, Montgomery, and More
Day 4: Looking Back, Looking Forward
Day 5: Learning to Remember
Day 6: The Mountaintop
Day 7: Slavery and Beyond
Day 8: Lessons to Bring Home
Day 9: Final Lessons