Senior Profile / Harinee Suthakar: Connected to the Pulse of the World
By Anthony M. Moore
Issue Date:
May 2, 2016
Harinee Suthakar has embarked on a global journey, and some of her stops have been just outside Oakland's door.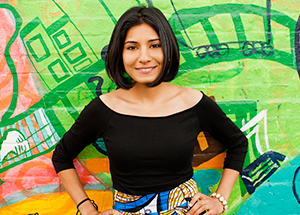 She has learned, for example, about the neighborhoods of Downtown, the Hill District, and North Side, through an internship with City Councilman R. Daniel Lavelle. A volunteer position with Pitt's Keep It Real service organization taught her about life in Pittsburgh's Somali Bantu community. And serving as a program assistant here in the United States for the Rukmini Foundation, she learned about the struggle to ensure that underprivileged girls in Nepal receive education.
"I've always been a naturally curious person, and the University of Pittsburgh has given me the flexibility and freedom to experience many aspects of Pittsburgh," says Suthakar. "Pitt's campus is closely connected to the pulse of the city. And that has given me a greater understanding of how the world works—and what I can do to help it work better."
Suthakar graduates today with a bachelor's degree in rehabilitation science from Pitt's School of Health and Rehabilitation Sciences. A recipient of a 2016 Fulbright grant, she will pursue a master's degree at the University of Sussex in England this fall in international development and gender studies.
Suthakar came to Pitt in fall 2012 as a neuroscience major who was considering becoming a doctor. Her experiences in Pittsburgh have shifted her plans.
"My work has led me to conclude that there's more to health care than just being a doctor. By no means have I written off the possibility of medical school. But I'm taking time to explore my options," she says, adding she envisions a career that, in part, would help people gain better access to health care.
Those who have worked closely with Suthakar believe she will find success. Just ask Terri Baltimore, director of neighborhood services for the Hill House Association, where Suthakar volunteered and developed an alternative spring break program to give area college students the chance to do service projects and learn about the history of the city's Hill District neighborhood.
"Harinee Suthakar is a quiet force of nature," says Baltimore. "She came to us with a sincere desire to create meaningful relationships with the Hill House Association and the residents of this community. She was a tireless worker who brought fresh ideas to the table on a daily basis. I was frequently impressed by her selflessness, dedication, and a sense of perspective that is far beyond her age."
Suthakar also has volunteered extensively in the Hospital Elder Life Program at UPMC Shadyside and with the local community organizations Global Brigades and Gwen's Girls.
She has been equally as engaged on Pitt's campus, serving as a student mentor for the Women's Leadership Initiative, the advocacy chair for the South Asian Student Association, and a student ambassador for the Global Studies Center, the Nationality Rooms, and the University Honors College.
Praise and acknowledgments of her work—both inside and outside of the classroom—have been a mainstay of Suthakar's undergraduate career. She recently received the inaugural David C. Frederick Public Service Award from Pitt's University Honors College. Named for Pitt's first Rhodes Scholar, the award recognizes high-achieving students who have been active volunteers and aspire to leadership positions. Suthakar also won a 2015 Creativity and Innovation Fellowship from the Atlantic Coast Conference Academic Consortium as well as the 2014 Helen Pool Rush Grant from Pitt's Nationality Rooms.
With the Creativity and Innovation Fellowship, Suthakar helped develop and curate the multimedia mental health art exhibition Stories Untold. Intended to promote positive discussions on mental illness, the exhibition was displayed last semester in the Frick Fine Arts Building's University Art Gallery. It is permanently showcased online at www.pittstoriesuntold.com.
Through the Helen Pool Rush Award—named for Pitt's first female vice chancellor—Suthakar studied at the Ghokale Institute of Politics & Economics in Pune, India, during summer 2014. A native of India, Suthakar immigrated to the United States at the age of three. While she has visited India several times, she hopes to return again while in graduate school. With varying levels of proficiency in French, Hindi, and Tamil, Suthakar plans to make world travel a key part of her life in the coming years.
"I'm confident my experiences will lead me somewhere near the intersection of community health development, global development, and public policy. I am walking away from Pittsburgh having learned a great deal about myself, our society, and the broader world."
Other Stories From This Issue
There are no stories for the issue at this time.
On the Freedom Road

Follow a group of Pitt students on the Returning to the Roots of Civil Rights bus tour, a nine-day, 2,300-mile journey crisscrossing five states.
Day 1: The Awakening
Day 2: Deep Impressions
Day 3: Music, Montgomery, and More
Day 4: Looking Back, Looking Forward
Day 5: Learning to Remember
Day 6: The Mountaintop
Day 7: Slavery and Beyond
Day 8: Lessons to Bring Home
Day 9: Final Lessons