Senior Profile / Jesse Israel Exilus: A Focus on International, Immigration Law
By LaMont Jones Jr.
Issue Date:
May 2, 2016
For his Haitian-born parents and others trying to navigate U.S. immigration laws, young Jesse Israel Exilus was an invaluable resource. He was among the first generation of his family to be born in the United States and to grow up here. And, he served as a cultural ambassador, of sorts, to those around him.
"My family would usually rely on me to help them understand their immigration documents, general contracts, or even a cookbook," says Exilus.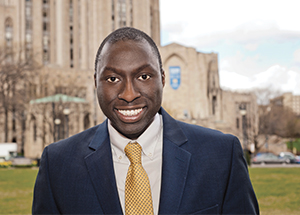 In particular, he recalls the challenges of his parents' naturalization process, which took years to complete. "It always seemed difficult for them culturally and linguistically," says Exilus, a Miami native. "I would see them get frustrated if they didn't understand a particular form or if they couldn't understand how the process worked. As I would help my family more, their friends would ask me to assist them."
Those experiences, he says, pushed him to learn more about immigration law—a lot more. "As I got older, I learned about the legal field, and it really appealed to me how much a lawyer can help those in need."
Exilus, now age 28, will graduate May 8 from the University of Pittsburgh School of Law. His volunteering and work portfolios have been full. He served a year as president of the Black Law Students Association, along with a stint on the law school's Student Moot Court Board. He held a summer internship at PPG Industries, worked at Pitt's Immigration Clinic, assisted with the annual Derrick Bell Community Legal Clinic, and for the past year has been a certified legal intern at Pittsburgh's Neighborhood Legal Services Association.
"It's really been enriching," he says, adding that Pitt has equipped him well for a successful legal career.
Kevin Deasy, the law school's associate dean of students, predicts "really big things" for Exilus, whom he taught in two upper-level writing classes. The student was also part of Pitt's winning team in a client-counseling competition that made it to the regional semifinals in Michigan.
Deasy says that Exilus' exceptional interpersonal and communication skills and impressive work ethic will serve him well as an attorney.
"He's a very talented young man, and he really stood out in his ability to work with clients and to make them feel comfortable. He gathers the right information and provides salient feedback. He's good at getting to the heart of the matter and making people feel comfortable talking with him, even about difficult subjects."
After graduating next week, Exilus will begin studying for the Pennsylvania bar exam. He expects to practice immigration or commercial law in Pittsburgh.
His interest in international law, he says, was sparked not only by his family's experiences but also by a love of international issues and exploring other cultures. He holds a bachelor's degree in multinational business from Florida State University and a master's degree in international business from Florida International University. As an undergraduate minoring in French, he studied language at the Institut Catholique in Paris, France, as an exchange student in 2009. He also has traveled extensively, including in Haiti, India, and the Netherlands.
"I was pushed out of my comfort zone in a unique way each time," he says. "Traveling abroad taught me to respect other cultures and allowed me to build skill in navigating cultural differences when interacting with others."
It also helped Exilus understand why international law can be very complex.
"As an American student traveling abroad, I came to see how each country has a different mind-set—and that leads to different laws and different interpretations. I know that when dealing with a client from another country, I have to take their country's law, culture, and socioeconomic conditions into account to fully understand their perspective."
All of these experiences informed Exilus' Pitt law studies. In particular, he says, his time at the School of Law's Immigration Clinic was "really interesting and invigorating," as he helped individuals on the path to U.S. citizenship. "When I am at the clinic and talk to clients, they remind me of why I chose to be a lawyer in the first place."
It's no surprise, then, that—while Exilus is grateful for a strong legal education—he says he will most remember the relationships he cultivated at Pitt.
"I have been very fortunate to create so many friendships through class, student organizations, and work," he says. "I can honestly say that I would not have been able to survive law school without my friends. Whether it was to complain about coursework, deal with personal issues, or try out new restaurants, my friends have been there for me. I'm sure the memories will last a lifetime."
Other Stories From This Issue
There are no stories for the issue at this time.
On the Freedom Road

Follow a group of Pitt students on the Returning to the Roots of Civil Rights bus tour, a nine-day, 2,300-mile journey crisscrossing five states.
Day 1: The Awakening
Day 2: Deep Impressions
Day 3: Music, Montgomery, and More
Day 4: Looking Back, Looking Forward
Day 5: Learning to Remember
Day 6: The Mountaintop
Day 7: Slavery and Beyond
Day 8: Lessons to Bring Home
Day 9: Final Lessons