Senior Profile / John Downs: All in Good Time
By Amy Whipple
Issue Date:
April 28, 2014
It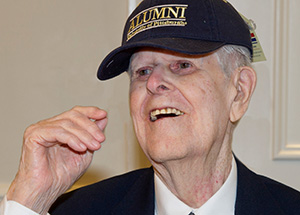 has been a whirlwind few weeks for John C. Downs, a 90-year-old Army Air Corps veteran who will celebrate today his Bachelor of Arts from the University of Pittsburgh's Kenneth P. Dietrich School of Arts and Sciences. Surprisingly, the whims of fate postponed this moment for more than 60 years.
As Downs's five daughters began in January to prepare for their father's 90th birthday party, they shuffled through a box of memorabilia. One of the daughters, Denise Edgar, discovered a letter from the University of Pittsburgh dated March 3, 1950, which instructed all eligible Pitt seniors to complete a required form in order to graduate. That was the only Pitt memento in the box—no diploma. Life happened—and Downs never applied.
All these years later, Downs says he doesn't remember receiving the original Pitt notice, requesting information for graduation—even though his daughter found the 1950 letter inside an already-opened, doodled-on envelope. But he does know that as his classmates graduated on June 14, 1950, he was across the river on the South Side, working for the mill-and-mine Chandler-Boyd Supply Company. There, he spent his time as a salesman, while also wooing JoAnne DuScheid, a stenographer in the office who, a year later, would become his wife.
"We think he fell in love with Mom and forgot about everything else," said Dianne Lynch, another of Downs's daughters.
Downs nodded. "Oh, yeah," he said emphatically.
As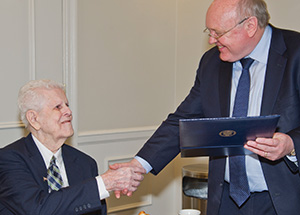 a youngster, Downs grew up in Wilkinsburg, a neighborhood not far from the site of the Cathedral of Learning's construction. The building was dedicated just before he started as a student at Central Catholic High School, where he would look up at the building and think, "Gee, that is such an impressive campus."
He graduated from high school in 1943, then became a radar mechanic with the Air Force during WWII. Upon returning to Pittsburgh, he attended Pitt on the GI Bill between 1946 and 1950, pursuing a major in history.
After his daughters began poking through memorabilia and found the Pitt letter, they made a phone call to philanthropist John M. Petersen (BUS '51), who helped them make a connection with Pitt administrators—and soon the process for Pitt to review Downs's 64-year-old academic record was underway. At his March 8 birthday party in Bethel Park, the 90-year-old received an unexpected gift: news that he would officially earn a Pitt history degree.
While Downs received his diploma during a small luncheon at Pitt earlier this month, he will attend commencement dressed in full graduate regalia—and he will appreciate the blessing of being surrounded by his large and loving family.
"Pitt has been unbelievably wonderful throughout this process. The University has treated us like royalty!" said Downs's wife, JoAnne.
After his years at Pitt, and several interesting sales positions, Downs concluded his sales career as a pen specialist for J.R. Weldin and Company—the oldest business in Downtown Pittsburgh, founded in 1852, and a place that allowed him to indulge his love of history. He and his wife raised their five daughters and now have 21 grandchildren. He spent his summers rooting for the Pirates. He served as an usher at weekly mass, survived cancer twice—and eventually retired from sales.
Recently, Downs joked, "Who needs a degree at 90?" But he is pleased to have officially finished his studies. "It's nice to be out of college!"
Other Stories From This Issue
There are no stories for the issue at this time.
On the Freedom Road

Follow a group of Pitt students on the Returning to the Roots of Civil Rights bus tour, a nine-day, 2,300-mile journey crisscrossing five states.
Day 1: The Awakening
Day 2: Deep Impressions
Day 3: Music, Montgomery, and More
Day 4: Looking Back, Looking Forward
Day 5: Learning to Remember
Day 6: The Mountaintop
Day 7: Slavery and Beyond
Day 8: Lessons to Bring Home
Day 9: Final Lessons