Senior Profile / Kyle Ciccone: Translating His Passions into a Path
By Liberty Ferda
Issue Date:
May 2, 2016
Kyle Ciccone has fine-tuned his worldview, extending from his childhood in a comfortable Delaware suburb to his forays into life and learning at Pitt and in Pittsburgh. Soon, his vista will broaden even more as Ciccone departs for his dream job: teaching English in Malawi with the Peace Corps.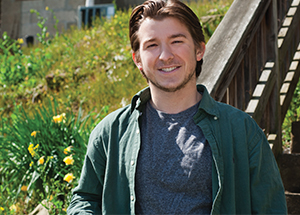 Malawi, ranked as the world's poorest nation by the World Bank, will be Ciccone's home for 27 months. "I'll live on the same salary as the residents—so about $226 per year," says Ciccone. "I'm excited for how it will open my eyes. I'll be seen as an outsider, but I'm ready to immerse myself in the community, culture, and language to show that I'm there for and with the people."
Initially uncertain of his career direction, Ciccone discovered his many interests and ideals as an undergraduate. He is graduating today with a bachelor's degree in political science and certificates in African Studies and Western European Studies from Pitt's University Center for International Studies.
"Pitt provided an atmosphere of advocacy and passionate professors and advisors who helped me find what I wanted to do with my life. I had an idea but didn't know specifics, and Pitt allowed me to create them on my own," he says.
Ciccone's family moved to Pittsburgh when he was 11 years old, and, a few years later, he attended Central Catholic High School in Oakland. There, his worldview expanded tenfold, Ciccone recalls. The student body was diverse, and his friends included people from all kinds of backgrounds. Visiting friends in neighborhoods across the city, he encountered real stories of racism and poverty. These experiences made him realize that he hoped one day to help remedy such problems.
When it came time for college, Ciccone chose the University of Pittsburgh because of its highly ranked academics and its close-to-home appeal. But while he harbored an eagerness to change the world, he had no idea how to translate his passions into an academic major or career path.
So, he took classes that gave him insight into and knowledge about the issues that mattered to him. He took African Studies courses. Curious about the countries that colonized Africa, he took courses in European culture and history. He explored issues that traversed socioeconomics and geopolitics. Beyond Pitt's classrooms, he traveled to Italy to study during the spring semester of his junior year. While there, he volunteered at an elementary school, helping 8-year-olds with their English lessons.
On campus, Ciccone joined Keep It Real, a student-run organization that provides in-home tutoring and mentoring in Pittsburgh's Somali Bantu refugee community. For three years, he ventured once or twice a week to the home of a Somali Bantu family, helping the children with homework and playing soccer with them. The Pitt undergraduate also helped the parents with practical things like paying bills. Wanting to share his own life and culture, he brought the kids home for his mother's special spaghetti dinner. He recently organized a "Day in the Life of a Refugee" event to raise awareness on campus about what it's like to be a refugee.
Ciccone decided to major in political science so he could learn about the public policy and legislative decision-making that relate to social issues. It was the perfect fit for an aspiring advocate, who also began working for the environmental advocacy group Clean Water Action Pittsburgh.
When the story broke in 2015 about lead-contaminated water in Flint, Mich., Ciccone worked within the advocacy group organizing petitions to send to legislators and calling Flint residents about their rights and options. Within months, he was promoted to a manager position and currently runs campaigns to regulate hydraulic fracking to keep drinking water safe.
"Kyle is such an awesome go-getter," says Anna-Maria Karnes, an African Studies advisor who helped steer him toward getting certificates in African Studies and Western European Studies from the University Center for International Studies. "I'm looking forward to seeing what he'll do with his life and the people he'll impact. I could see him pursuing politics or becoming an advocate for those in need."
As Ciccone prepares for Malawi, he, too, wonders where the experience will lead. But he knows his quest for a world that is better, more equal, and more fair, will continue.
Other Stories From This Issue
There are no stories for the issue at this time.
On the Freedom Road

Follow a group of Pitt students on the Returning to the Roots of Civil Rights bus tour, a nine-day, 2,300-mile journey crisscrossing five states.
Day 1: The Awakening
Day 2: Deep Impressions
Day 3: Music, Montgomery, and More
Day 4: Looking Back, Looking Forward
Day 5: Learning to Remember
Day 6: The Mountaintop
Day 7: Slavery and Beyond
Day 8: Lessons to Bring Home
Day 9: Final Lessons