Senior Profile: Michael Cunningham, bioengineering student, brings music into the lab
By Danielle Cameron
Issue Date:
April 28, 2013
Michael Cunningham made his musical debut before he could even walk—or talk, for that matter. His mother, a choral singer, performed the National Anthem at a Cincinnati Reds game in 1990. "She was pregnant with me at the time, so we always joke about how it was my first on-screen debut," he laughs.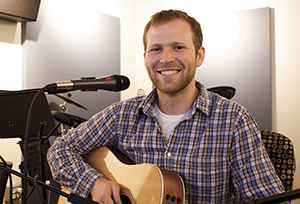 Cunningham has dual interests in music and science. He graduated April 28 with a Bachelor of Science degree in bioengineering from Pitt's Swanson School of Engineering. He has squeezed many music classes into his schedule over the past four years. Attending Pitt on a full-tuition Honors College Scholarship, Cunningham holds a 3.6 GPA in the Swanson School and, in 2010, was awarded the Best Paper in the Session at the school's Freshmen Engineering Conference. He interned at the Pitt-UPMC McGowan Institute for Regenerative Medicine, where, as a sophomore, he studied skin regeneration. He also interned at Cincinnati Children's Hospital Medical Center, where he helped develop a drug-screening technique that would more effectively stimulate the brain. He was also involved in research seeking cures for brain cancer.
This summer, after touring in Europe with the Pitt Men's Glee Club, Cunningham will join Venture for America, a program in which young, talented college graduates help to revitalize American cities through entrepreneurship. For two years, he will work for a start-up company in Cleveland, Providence, or New Orleans.
Cunningham was able to combine his love for engineering and music through his involvement as a cofounder of the Swanson School of Engineering's Music Engineering Laboratory. Tucked away in a quiet corner of Benedum Hall, the music laboratory is a state-of-the-art music studio housing an electric drum set, a Steinway, several microphones, a mixing board, and a large computer screen monitor. In the spring of 2012, Cunningham was approached by George Stetten to help plan and build the lab. Stetten is a professor of bioengineering in the Swanson School and a research professor in Carnegie Mellon University's Robotics Institute. The Swanson School built the music laboratory so engineering students who are interested in music engineering can access a readily available studio. Cunningham helped craft a set of rules that would ensure the lab remained a safe environment for students.
Cunningham was also one of 10 bioengineering students in the inaugural Audio Engineering class held at 7:15 a.m. every Thursday in the fall 2012 semester. "It was a one-credit honors course, and there were 10 students, give or take two or three, depending on who was awake or who could make it," he jokes.
The Musical Engineering Laboratory has been a positive learning experience for Cunningham. He has discovered not only how to run a music studio—but how to run one well. After learning about the lab's electrical makeup and how to use the equipment, Cunningham has assisted several musicians in recording their own music, including a double-bass player and a flamenco guitarist. He's also been able to lay down a few of his own tracks.
When asked why he became involved with the Musical Engineering Laboratory, Cunningham reflects on his childhood. Raised in a musical household, his passion for the arts stemmed from his musically gifted mother. He took piano lessons for years as a youth and, at age 12, was coaxed into playing bass guitar by a friend who told him, Everyone's playing guitar. The world is going to need bass players. After that, Cunningham took up the acoustic guitar and double bass, and he has been a part of four different bands in the past 10 years, including two in which he is currently active.
On campus, Cunningham is just as active, performing in such a cappella groups as the Pitt Pendulums, the Pitt Men's Glee Club, the Panther Rhythms, and Pitch Please—all while keeping up with his bioengineering coursework. He also played on the Pitt men's volleyball team until his senior year.
But as Cunningham sits in the music lab, adjusting his microphones and strumming his guitar, it is easy to tell that music is one of his biggest passions.
"No matter what I do, or where I go, I'm going to look for music opportunities along the way," he says. "And I'll always remember Pitt and how it helped me combine two of my greatest loves—engineering and music."
Cunningham pauses, looks around the lab, and says, "Four years ago, I never thought I'd be sitting in a place like this."
Other Stories From This Issue
There are no stories for the issue at this time.
On the Freedom Road

Follow a group of Pitt students on the Returning to the Roots of Civil Rights bus tour, a nine-day, 2,300-mile journey crisscrossing five states.
Day 1: The Awakening
Day 2: Deep Impressions
Day 3: Music, Montgomery, and More
Day 4: Looking Back, Looking Forward
Day 5: Learning to Remember
Day 6: The Mountaintop
Day 7: Slavery and Beyond
Day 8: Lessons to Bring Home
Day 9: Final Lessons