Senior Profile: Ohiremen Dibua Shares Importance—and Fun—of Science With K-12 Students
Anthony M. Moore
Issue Date:
April 28, 2013
Ohiremen Dibua dedicated his four years at the University of Pittsburgh to learning how to become a professional engineer and to sharing his love of science, math, and engineering with K-12 students.
"All kids love math and science; some of them just don't know it yet," chuckles Dibua, who graduates today with a Bachelor of Science degree in mechanical engineering from Pitt's Swanson School of Engineering and a minor in economics and mathematics from Pitt's Kenneth P. Dietrich School of Arts and Sciences.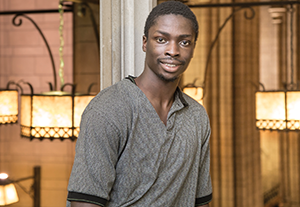 Along with hitting the books, Dibua made volunteerism an important part of his college experience. In the spring of 2011, he and two other Swanson School students cofounded Scientists, Engineers, and Mathematicians for Service, a student organization that does educational outreach to various schools and community groups in the Pittsburgh area.
The organization holds regular activities and workshops for local K-12 students in order to spark what Dibua calls "latent interests" in the science, technology, engineering, and mathematics (STEM) fields.
"It's fun for me to see kids who were once indifferent become excited about model airplanes and learn how the gadgets that they use daily actually work. These are things that I've been interested in most of my life," Dibua says.
A native of Nigeria who immigrated with his parents to Baltimore, Md., when he was 6 years old, Dibua has accumulated many honors during his time in Oakland. Awarded Pitt's Donald M. Henderson Engineering Scholarship, he enrolled at Pitt in 2009. He was inducted into Pi Tau Sigma, the international mechanical engineering honor society. He also was a finalist for both the prestigious national Harry S. Truman Scholarship and Pitt Omicron Delta Kappa Senior of the Year Award.
But it is the development and growth of Scientists, Engineers, and Mathematicians for Service of which Dibua is most proud. During his year as president of the organization, it grew to comprise more than 15 volunteers.
"As an engineering diversity educator who has worked in the field for more than 18 years, I can honestly say that Ohiremen Dibua is one of the most exceptional students that I have encountered," said Alaine M. Allen, Dibua's academic advisor and director of the Pitt EXCEL Program, a University-sponsored student recruitment and retention initiative.
"His motivation is evidenced not only by his exemplary academic record, but also by his commitment to the community and to enriching the lives of others," Allen says.
This fall, Dibua will pursue a PhD degree in mechanical engineering at Stanford University. He hopes to establish a second chapter of Scientists, Engineers, and Mathematicians for Service, this time in California. Ultimately, Dibua wants to become a tenured professor of engineering at a major college or university.
Dibua is the eldest son of two college professors—a father who teaches history in Baltimore's Morgan State University and a mother who teaches in Baltimore City Community College's Department of English, Humanities, and Visual and Performing Arts.
Dibua recalls that his parents stressed the importance of education to him and his two younger brothers.
"My father would double check every single homework assignment every single night. If he found even the slightest of errors, we had to redo the entire assignment," said Dibua. "It sounds extreme, but it taught us that we couldn't do our school work just half way. We had a standard of excellence in our home, and I don't know where I would be right now if I didn't have those kinds of high expectations growing up."
That insistence on excellence has paid major dividends for Dibua. He graduated in the top 5 percent of the 2009 graduating class of Baltimore's Perry Hall High School. As a Pitt student, he presented his research at the 2011 International Symposium on Terahertz Nanoscience in Osaka, Japan, and at Rice University's 2011 Rice Quantum Institute Summer Research Colloquium. In addition, he has interned in research labs at Pitt, Rice, and the Massachusetts Institute of Technology.
Following today's commencement exercises, Dibua will return to Baltimore to spend a few weeks with family and friends before starting a National Science Foundation summer internship.
Dibua is an avid tennis player and recreational swimmer, and he also enjoys writing poetry. He often spends hours during summers composing poems and stories or enjoying the literature of such novelists as Mark Twain, Khaled Hosseini, and Karen Miller.
As he leaves Pitt, Dibua says the greatest lesson he has learned is how to manage his time and energies.
"Schoolwork has always been my primary focus, but I've learned to maintain a balanced lifestyle in order to be the best student and engineer that I can be," says Dibua. "That means making the time for volunteering, athletics, and all of the other things that will be important throughout my life."
Other Stories From This Issue
There are no stories for the issue at this time.
On the Freedom Road

Follow a group of Pitt students on the Returning to the Roots of Civil Rights bus tour, a nine-day, 2,300-mile journey crisscrossing five states.
Day 1: The Awakening
Day 2: Deep Impressions
Day 3: Music, Montgomery, and More
Day 4: Looking Back, Looking Forward
Day 5: Learning to Remember
Day 6: The Mountaintop
Day 7: Slavery and Beyond
Day 8: Lessons to Bring Home
Day 9: Final Lessons