Senior Profile/Molly Stieber Taps the Pitt Experience to Its Fullest, Gaining State and National Platforms for Higher-Ed Funding Issues
By Patricia Lomando White
Issue Date:
April 4, 2012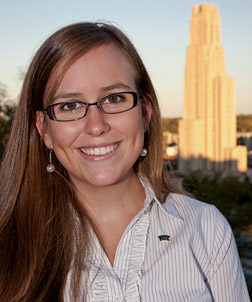 From the moment Molly Stieber stepped onto the University of Pittsburgh campus as a high school senior—she knew it was where she wanted to be. Calling her decision to attend Pitt "the best in her life," Stieber says her Pitt experience has provided her with a range of opportunities unimaginable just four years ago, including her testifying during a Pennsylvania Senate Appropriations Committee hearing and being selected to introduce U.S. Vice President Joseph Biden during his Fall 2011 visit to Pitt.
Stieber graduates today with two Bachelor of Arts degrees—in political science and in philosophy—from Pitt's Kenneth P. Dietrich School of Arts and Sciences. The Lancaster County native also will receive a Global Studies Certificate in Global Governance and Economy in the Middle Eastern Region. She is proficient in Modern Standard Arabic and has also studied the Iraqi dialect.
While a sophomore at Pitt, Stieber ran for and won membership on the Student Government Board (SGB), campaigning on a platform that advocated a move toward more electronic textbooks for Pitt students. She helped develop a relationship between Pitt students and the Book Center, founded the Book Center Student Advisory Committee, and was integral in the eventual introduction of electronic textbooks at the University.
Stieber continued her SGB activism, making a successful run for the SGB presidency and serving in that position from January 2011 to January 2012.
"Running for president was the most exciting and best time in my life," said Stieber, who through her position as SGB president became involved in student advocacy regarding Harrisburg's proposed dramatic cuts to the University's state appropriations for fiscal year 2012. Stieber is cofounder of the Pennsylvania Association of State-Related Students, which comprises students from Pitt, Penn State, Temple, and Lincoln Universities. All but Lincoln are facing a second consecutive year of proposed steep state funding cuts from Harrisburg for FY 2013.
A pivotal moment in Stieber's SGB leadership came when she was asked to testify before the state Senate's budget committee, which held a hearing in Alumni Hall last September. Her testimony made it clear that she is a woman with a mission.
"No one was prepared for the 50 percent in cuts" to Pitt's annual appropriation initially proposed by Harrisburg for the 2011-12 school year, explained Stieber. "This was a defining moment for me. I felt that those who opposed the cuts could have a voice through my efforts. I realized that I was given the opportunity to speak, and people were listening to what I had to say."
Her professional and impassioned presentation caught the attention of the budget committee as well as those in a much broader audience. Stieber was among a group of 150 people—including a few Pitt students and officials—invited to hear President Barack Obama speak about the American Jobs Act when he came to the International Brotherhood of Electrical Workers (IBEW) Union Hall on Pittsburgh's South Side last October. And, as was mentioned earlier, she also introduced Vice President Joseph Biden on his visit to the University in November.
"My advocacy work in speaking out against the cuts got me recognition and gave me confidence to introduce the vice president," noted Stieber. "When I testified before the Senate committee, I brought up difficult issues, so I wanted to say certain things when I introduced the Vice President.
"These speeches are not about me; they are bigger than me," she added. "I see this as a way of helping others."
Stieber's leadership skills took root while she was a student at Manheim Township High School, where she played varsity volleyball and joined the school newspaper, serving as its opinion editor and, ultimately, its editor-in-chief during her senior year.
Shortly after coming to Pitt, Stieber joined the Chi Omega sorority, calling it her first political experience, where she came to realize the importance of an organization's constituents. Still active in the sorority, Stieber says that she has used her sorority experience to set an example for the younger students.
"I gave a speech in January to the University's spring Greek pledges, mostly young men," said Stieber. "I told them that those [Greek] letters make you visible. Greek life is a huge driving force on campus, and I'm proud to be a part of its success."
In addition to engaging in SGB and sorority activities on campus, Stieber is a planning committee member for the nonprofit organization Community Human Services. Since 2009, she has participated in planning the organization's largest fundraiser, "Sleep-In for the Homeless." Her efforts earned her Community Human Services of Pittsburgh's 2010 Home Is Where the Heart Is Award, which recognizes community heroes who work to make the Pittsburgh community a better place.
Stieber's dedication and drive can be seen in all aspects of her life, including academics. In addition to earning two degrees, she is proficient in Arabic and has served as an undergraduate teaching assistant during Spring Term for three sections of Arabic 2 through Pitt's Less-Commonly Taught Languages Center, noting that the best way to learn is to teach.
Her hobbies include running, singing, and recreational intramural volleyball, which she's played since coming to Pitt.
And what does that future hold? Stieber plans to head to Washington, D.C., for a prestigious summer internship. But stay tuned, for it is likely that Stieber—vivacious and outspoken—will be making headlines of her own some day.
Other Stories From This Issue
There are no stories for the issue at this time.
On the Freedom Road

Follow a group of Pitt students on the Returning to the Roots of Civil Rights bus tour, a nine-day, 2,300-mile journey crisscrossing five states.
Day 1: The Awakening
Day 2: Deep Impressions
Day 3: Music, Montgomery, and More
Day 4: Looking Back, Looking Forward
Day 5: Learning to Remember
Day 6: The Mountaintop
Day 7: Slavery and Beyond
Day 8: Lessons to Bring Home
Day 9: Final Lessons