SHRS-led Initiative Will Research Spinal Cord Injuries
By Megan Grote Quatrini
Issue Date:
October 15, 2007
$4.75M federal grant launches new center here


A new center at the University of Pittsburgh will be dedicated to researching innovative technologies designed to help people with spinal cord injuries.
The Rehabilitation Engineering Research Center (RERC) on Spinal Cord Injury will be launched with a $4.75 million grant from the U.S. Department of Education's National Institute on Disability and Rehabilitation Research. The grant was announced Friday.
David M. Brienza, professor of rehabilitation science and technology at the University of Pittsburgh, will serve as the director of the RERC, which was designed by Pitt's School of Health and Rehabilitation Sciences (SHRS) to address significant issues for people with spinal cord injury.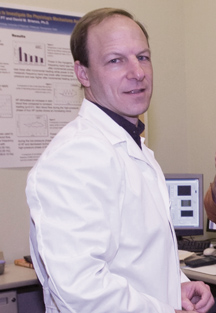 David M. Brienza
The RERC team and its collaborators will include Pitt's Department of Rehabilitation Science and Technology, the Department of Physical Medicine and Rehabilitation, the McGowan Institute for Regenerative Medicine, and the Department of Occupational Therapy at the University of Pittsburgh.
Other partners will include Case Western Reserve University, Northwestern University, Baylor College of Medicine, IBM, and Immunetrics Inc., a company based on Pittsburgh's South Side that creates computer models of human responses to inflammatory diseases.
Several University of Pittsburgh faculty members serve as advisors to Immunetrics, which was founded by Timothy R. Billiar, George Vance Foster Professor and chair of the Department of Surgery in Pitt's School of Medicine; Gilles Clermont, assistant professor of critical care medicine at Pitt; Mitchell Fink, chair of the Department of Critical Care Medicine; and Yoram Vodovotz, professor of surgery.
Spinal cord injuries result in a particularly debilitating array of conditions that compromise mobility, accessibility, social interactions, employment, and other important dimensions of life. One critical focus of the RERC's research will be to create mathematical models of inflammation and healing, which can vary extensively among individuals, Brienza said.
These mathematical models may be used to develop novel technologies for detecting pressure ulcers and preventing shoulder injuries among wheelchair users, to improve evaluation of bladder function and musculoskeletal injuries, and to assess therapies for individual patients, he said.
"We believe that the occurrence of pressure ulcers, urinary tract infection, and musculoskeletal injuries that stem from spinal cord injury can be attributed to systemic inflammation," Brienza said. "We also believe that it is necessary to understand and be able to predict responses to inflammation in order to develop novel, patient-specific therapies for spinal cord injury."
In addition, the RERC will disseminate information, train future researchers, and transfer technology concepts to manufacturers.
Faculty from the Departments of Surgery and Critical Care Medicine at the University, collaborating with SHRS researchers, have pioneered the computational approaches to develop and calibrate models of the inflammatory process.
"We now have four substantial grants that are based on computational simulation and modeling inflammation," said Clifford E. Brubaker, dean of the SHRS. "I believe that this research will have important and pervasive influences on the formulation of new therapeutic procedures and the practice of rehabilitation."
The Department of Rehabilitation Science and Technology (RST) was established within SHRS in 1994. RST was created to provide leadership in research, education, and clinical practice related to the rehabilitation of individuals with disabilities.
The department currently houses a clinical center for assistive technology as well as several national research centers focused on improving critical technology that enables people with disabilities to go about their daily lives.
Other Stories From This Issue
There are no stories for the issue at this time.
On the Freedom Road

Follow a group of Pitt students on the Returning to the Roots of Civil Rights bus tour, a nine-day, 2,300-mile journey crisscrossing five states.
Day 1: The Awakening
Day 2: Deep Impressions
Day 3: Music, Montgomery, and More
Day 4: Looking Back, Looking Forward
Day 5: Learning to Remember
Day 6: The Mountaintop
Day 7: Slavery and Beyond
Day 8: Lessons to Bring Home
Day 9: Final Lessons