Sichuan University-Pittsburgh Institute Welcomes First Class
Issue Date:
October 12, 2015
University of Pittsburgh Chancellor Patrick Gallagher led a Pitt delegation to Beijing and Chengdu for numerous high-level meetings with officials in China's Ministry of Education, the National Health and Family Planning Commission, the Sichuan University-Pittsburgh Institute, and several prominent Chinese universities and medical facilities. The Sept. 19-26 trip also included discussions with leading business people and venture capitalists—and with Pitt alumni in Beijing and Taipei, Taiwan.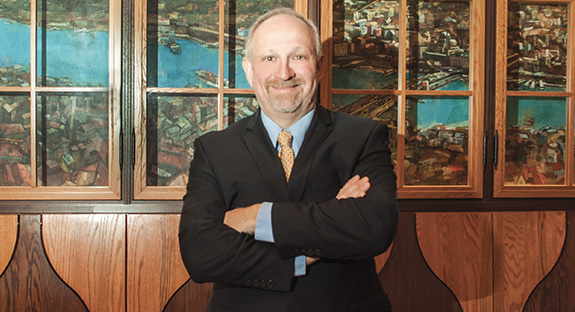 Accompanying Chancellor Gallagher to both Beijing and Chengdu were Pitt's Ariel Armony, senior director of international programs, and director, University Center for International Studies (UCIS); James Cook, acting director, Asian Studies Center; Michele Heryford, director, Pitt Confucius Institute; and Jason Kane, director, UCIS international constituent relations. Joining the delegation in Chengdu were Gerald Holder, U.S. Steel Dean of Engineering, Swanson School of Engineering; Minking Chyu, dean, Sichuan University-Pittsburgh Institute, and associate dean for international initiatives, Swanson School of Engineering; and Lawrence Feick, professor, Joseph M. Katz Graduate School of Business, and former UCIS director. Charles Bogosta, president, UPMC's International Services Division, traveled with the delegation for two days of meetings in Beijing.
The Pitt Chronicle's Jane-Ellen Robinet spoke with Ariel Armony, Pitt's senior director of international programs, about the trip, its accomplishments, and what it portends for Pitt in China.
Why did the Pitt delegation make this trip?
The trip's purpose was multifold. We welcomed the first class of engineering students to the Sichuan University-Pittsburgh Institute in Chengdu; built upon relationships established during Chinese Vice Premier Liu Yandong's visit to Pitt in June; and developed new or existing relationships with top-tier universities (Tsinghua, Beijing Normal, Renmin/People's universities as well as Peking Union Medical College Hospital). In addition, we met with some of our prominent alumni, including Frank Ning, a Katz alumnus and chair of COFCO Group, one of China's largest conglomerates. Jason [Kane] and I also traveled to Taipei for an alumni gathering there.
Tell us about the opening ceremony at Sichuan University-Pittsburgh Institute.
Chancellor Gallagher delivered a warm introduction to the first class of nearly 100 students and their parents. He conveyed Pitt's strengths as a powerhouse in research and education. He also introduced them to concepts like Roc, our panther mascot, and our love of sports. The students loved it, and he was well received. The chancellor met with the mayor of Chengdu after the ceremony while the rest of the Pitt delegation talked with the students and their parents during a reception. The students were surprised that we were so approachable.
Also worth noting is the role that our partnership with Sichuan University may have on the future of higher education reform in China. One focus of the Sichuan University-Pittsburgh Institute is to develop students' interactive learning, critical thinking, and innovation skills. During the matriculation ceremony, a speech by Sichuan University President Xie Heping emphasized these elements. He said such thinking is a very important need for China, where much of education is based upon rote learning and memorization. He said the Sichuan University-Pittsburgh Institute wants to train students who ask good and relevant questions—and even questions that have no answers yet.
What is Pitt's reputation in China?
We witnessed firsthand that the Pitt brand is very strong in China. We are quite well perceived across various sectors in China, and we are extremely well positioned for developing and expanding our partnerships.
What other partnerships is Pitt exploring in China?
I know the chancellor is very interested in identifying a couple of good models for our international partnerships. For the time being, we are deepening some partnerships that already exist.
At Tsinghua Medical School, for example, we are looking at expanding a program to train physician scientists. We had a meeting at Beijing Normal University, a leader in education training in China, where we discussed expanding cooperation in early childhood education. Alan Lesgold, dean of Pitt's School of Education, will travel there in December to follow up. In addition, we met with the president and leaders of Renmin University of China, which has become a top university in the areas of politics and economics. There we signed a memorandum on a student exchange program and possible future collaborations. We also discussed expanding our collaboration with Sichuan University.
We spoke with many top-level officials at premier institutions in China. We went with UPMC's Charles Bogosta to Peking Union Medical College Hospital, the premier hospital in China, where we are looking at collaborating on training programs and research. We visited Beijing's Tsinghua University Science Park, or TusPark, which is interested in discussing collaboration with us. TusPark is very interested in offering Pitt a space in its park, and it also has an investment arm, a large venture fund. We have to see whether this is a good model for us. It's a new approach and needs to be considered carefully because the chancellor is committed to developing innovation here in Pittsburgh. We need to see whether these agendas in China serve the agenda we have here.
How would you assess the trip, and what did you learn?
We consider the trip successful because we had a very strategic approach. We wanted to target different sectors, which are essentially connected, such as engineering, health sciences, education, and social sciences. We held meetings with high-ranking officials in health and education, Hanban (headquarters for the Confucius Institutes), and the China Scholarship Council. Our alumni gathering in Taipei was a wonderful event. We have a very strong alumni association in Taiwan, with a great leadership and very successful professionals in a variety of fields.
We learned a great deal in our discussions during the visit. Our chancellor is talking about strategic partnerships and trying to connect knowledge to economic development. We know that things are moving quickly in China. It's encouraging that the universities and entities we visited are enthusiastic about working with Pitt.
Other Stories From This Issue
There are no stories for the issue at this time.
On the Freedom Road

Follow a group of Pitt students on the Returning to the Roots of Civil Rights bus tour, a nine-day, 2,300-mile journey crisscrossing five states.
Day 1: The Awakening
Day 2: Deep Impressions
Day 3: Music, Montgomery, and More
Day 4: Looking Back, Looking Forward
Day 5: Learning to Remember
Day 6: The Mountaintop
Day 7: Slavery and Beyond
Day 8: Lessons to Bring Home
Day 9: Final Lessons