Simon Brown, History and Philosophy Student, Awarded Beinecke Scholarship
By Anthony M. Moore
Issue Date:
April 14, 2014
University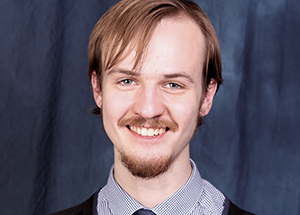 of Pittsburgh junior Simon Brown has been awarded a 2014 Beinecke Scholarship, a national award intended to enable highly motivated students to pursue graduate study in the arts, humanities, and social sciences.
A native of Cranberry Township, Pa., Brown is one of only 20 students in the nation to be chosen for the prestigious award. As a Beinecke Scholar, he will receive $4,000 upon completion of undergraduate study at Pitt as well as an additional $30,000 while attending graduate school. Through the scholarship, Brown plans to earn a PhD degree in history with a specific focus on research into the interdisciplinary history of education and science in Europe between the 15th and 18th centuries.
"From the beginning of his undergraduate career, Simon stood out among talented peers for his first-rate intellect, his appreciation of the humanities, his ability to communicate his ideas, and his passion for learning with others," said University Honors College Dean Edward M. Stricker. "Simon epitomizes the core values of the University Honors College: academic attainment, intellectual curiosity, and development of a social consciousness. His academic performance, leadership, and brilliant potential as a historian and scholar, are befitting of this prestigious award."
Brown's undergraduate research endeavors have focused on early modern intellectual history. This summer he will use the University Honors College's Off-Campus Research Award to conduct archival research at the University of Oxford and the University of Cambridge. Through the Honors College's Brackenridge Research Fellowship in the summer of 2012 as well as in the spring of 2013, he conducted an extensive study into philosopher Thomas Hobbes' theory of historical change.
Brown is majoring in history, history and philosophy of science, and philosophy and will earn a Bachelor of Arts degree from the Kenneth P. Dietrich School of Arts and Sciences. He also is pursuing a Bachelor of Philosophy degree in history from the University Honors College.
Brown currently serves as a teaching assistant in the course "Computational Methods in the Humanities" for David J. Birnbaum, chair of Pitt's Slavic Languages and Literatures Department. He also was a research assistant for Distinguished University Professor of Philosophy Nicholas Rescher as well as a teaching assistant in the course "English Origins of American Law" for Janelle Greenberg, a professor of history and the academic integrity officer and assistant dean of the Dietrich School. Greenberg also supervised Brown's Brackenridge Research projects and serves as the advisor for his bachelor of philosophy thesis.
The founder of "Education and Edibles," a book club funded by Pitt's University Honors College, Brown has worked as an editor for the Pitt Political Review and been a biweekly columnist for The Pitt News. In addition, Brown serves as an ambassador for the University Honors College and a member of the Honors Student Advisory Board.
Brown's community service endeavors have included serving as a tutor in the Pittsburgh Public Schools through Pitt's Center for Urban Education as well as a mentor for the nonprofit educational organization Higher Achievement.
He was nominated for the Beinecke Scholarship with assistance from Pitt's University Honors College, which advises Pitt undergraduates and alumni who are interested in pursuing national and international awards. In addition to the Beinecke Scholarship, Brown's awards and distinctions include Pitt's Chancellor's Undergraduate Teaching Fellowship as well as the Pittsburgh Foundation's Thomas H. and Sarah Jane McIntosh Award.
The Beinecke Scholarship Program was established in 1971 by the Board of Directors of The Sperry and Hutchinson Company to honor Edwin, Frederick, and Walter Beinecke. The board created an endowment to provide substantial scholarships for the graduate education of young men and women of exceptional promise. Since 1975, the program has selected more than 500 college juniors from more than 100 different undergraduate institutions for support of graduate study at any accredited university.
Other Stories From This Issue
There are no stories for the issue at this time.
On the Freedom Road

Follow a group of Pitt students on the Returning to the Roots of Civil Rights bus tour, a nine-day, 2,300-mile journey crisscrossing five states.
Day 1: The Awakening
Day 2: Deep Impressions
Day 3: Music, Montgomery, and More
Day 4: Looking Back, Looking Forward
Day 5: Learning to Remember
Day 6: The Mountaintop
Day 7: Slavery and Beyond
Day 8: Lessons to Bring Home
Day 9: Final Lessons