By Sharon S. Blake
Issue Date:
March 25, 2013
School of Social Work's Rosemary Rinella offers invaluable expertise, an essential 'human touch' during 45 years at Pitt
Rosemary Rinella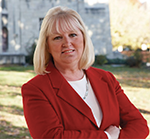 is marking her 45th year in Pitt's School of Social Work, where she has held executive-assistant positions with four deans, including the current dean, Larry E. Davis. It's a job, she says, that is perfect for a "people person" like her.
Rinella was a 17-year-old high school student in 1968 when she applied for work at the University through its Personnel Department. As chance would have it, a girlfriend employed in the School of Social Work had asked Rinella to stop by prior to the job interview. During their conversation, Rinella was introduced to the then-dean's assistant, who mentioned that the school was searching for a new staff member. Before she knew it, Rinella was tapping away on a manual Royal typewriter, taking a typing test. Then she was asked to type a sample memo. It was error-free—and Rinella was hired on the spot.
During her first year, Rinella was an assistant to the late William H. McCullough, who served as the School of Social Work dean from 1968 to 1970. She worked at a fast clip: scheduling all of the dean's appointments; typing his speeches, correspondence, and grant proposals; and scheduling and preparing itineraries for his travel. During her second year, Rinella assumed more responsibilities as executive secretary to the dean, and before she knew it, her Pitt career as the unflappable go-to person for successive School of Social Work deans was off and running.
The Royal typewriter was replaced first by an electric typewriter, then by an early, now-obsolete word processor, and most recently by a sleek iMac. She no longer is required to drive to work on weekends, armed with her steno pad, to take the minutes at meetings about curriculum changes—a typical duty in her early years, though Rinella admits she still uses traditional shorthand. Now she only works weekends when there's a meeting about a major conference, and minutes are only required when the school's Board of Visitors has its reporting meeting with the provost.
The deans Rinella has served during her tenure at Pitt include, in addition to McCullough and Davis (dean since 2001), Morton Coleman (interim dean, 1970-72) and the late David E. Epperson (1972-2001). And as the deans changed, so did Rinella's titles: secretary to the dean, executive secretary to the dean, administrative assistant to the dean and office manager, to her current position, assistant to the dean and manager of personnel and administrative services.
Coleman, emeritus director of Pitt's Institute of Politics, says Rinella simply stood out in terms of her competency. "This is a young woman who was mature beyond her years and extremely capable. She took on a major responsibility, and she was great."
Rinella says the best part of her job is interacting with the multitude of people whose tasks lead them to the Cathedral's 21st floor—either on foot or by phone. Some are master's- and PhD-degree candidates, who pop in periodically to see the dean. Others might be any of the school's 28 faculty members or 28 staffers. Or a phone call might come in from a guest speaker for whom Rinella is handling travel, hotel, and transportation pick-up arrangements.
The frenetic pace of Rinella's office reminds her of her childhood years in her family's Duquesne home. The youngest of nine children in a working-class family, Rinella was surrounded by people from all walks of life. And today, she thrives on hustle and bustle.
"I remember when we were expanding the school and putting administrative offices on the 21st floor," she recalls, adding that the school's space has mushroomed from one to four floors. "I was the only woman at the table—meeting with the plumbers, architects, and engineers. I helped plan the whole suite, from the paint color to the furniture."
Paying attention to every detail with solid dependability also has been Rinella's role at home, where special health challenges arose in the 1990s. Her husband, Dean Rinella (A&S '77), became ill in 1996, and the following year, her 9-year-old son Sean was diagnosed with a serious condition that went into remission quickly but Sean remained in treatment for three years.
Throughout it all, Rinella says she had a "priceless support network" in the School of Social Work, where the deans, faculty, and staff became her "second family."
Her ability to successfully manage the details of any production, no matter how large or challenging, was there for all to appreciate during the School of Social Work's major Race in America conference, held in June 2010 on Pitt's campus. It was attended by more than 1,200 educators and social workers from throughout the nation.
"That conference had a lot of moving parts," Rinella says, recalling the myriad phone calls and e-mails that were required to organize the three-day event featuring 40 national speakers as well as experts panels. It was Rinella's persistent phone calls that finally landed civil-rights leader Julian Bond as the event's keynote speaker. The conference was deemed a success, and Rinella says that ever since its conclusion, people have been asking Dean Davis for advice on conference coordination.
Davis is only too happy to give much of the credit to Rinella.
"Rosie is politically astute," he says, "and I appreciate that more all the time. Her political instincts tell her what should or should not be done . . . and how it should be done." In addition, Rinella's knowledge of the University's inner-workings is "invaluable," he adds.
Rinella serves as assistant editor of Bridges, the School of Social Work's biannual magazine. It is a challenge she embraces, compiling School of Social Work news from the prior six months and helping to select the magazine's photos.
Rinella juggles a number of duties, from serving on the school's Human Relations Liaison Committee to working closely with Social Work's marketing director, as well as with University Marketing Communications within Pitt's Office of Public Affairs. As the School of Social Work's go-to person, she also helps to book guest speakers for the Center on Race and Social Problems.
"I feel like I'm the running back of the school . . . and Rosie is the quarterback," Davis says.
Yet no matter how busy Rinella may be, she always leaves time to focus on life's most important connections: her families at home and work.
"That's my Baby Wall," Rinella says, pointing to a row of filing cabinets directly in front of her desk. Newborn baby portraits—of little ones recently born to staff and faculty members—adorn the cabinets' sides.
Rinella's own son, Sean (A&S '09, GSPH '10), has a master's degree in epidemiology from Pitt's Graduate School of Public Health and aspires to attend medical school. Her daughter, Jennifer, works for a medical supply company in Monroeville.
In her spare time, Rinella volunteers and and raises funds for the Leukemia and Lymphoma Society. Sean, who has been speaking at fundraising dinners since he was a pre-teen, often joins her.
One recent afternoon, Rinella returns to the proof pages of Bridges lying on her desk. There were edits to make, phones to answer, and dilemmas to resolve. A bit of the workday remains, and Rinella—the School of Social Work's skilled quarterback—still has much to do.
Other Stories From This Issue
There are no stories for the issue at this time.
On the Freedom Road

Follow a group of Pitt students on the Returning to the Roots of Civil Rights bus tour, a nine-day, 2,300-mile journey crisscrossing five states.
Day 1: The Awakening
Day 2: Deep Impressions
Day 3: Music, Montgomery, and More
Day 4: Looking Back, Looking Forward
Day 5: Learning to Remember
Day 6: The Mountaintop
Day 7: Slavery and Beyond
Day 8: Lessons to Bring Home
Day 9: Final Lessons