SLIM's Success: Pitt Students Helping to Improve Health Care in Malawi
Issue Date:
October 8, 2007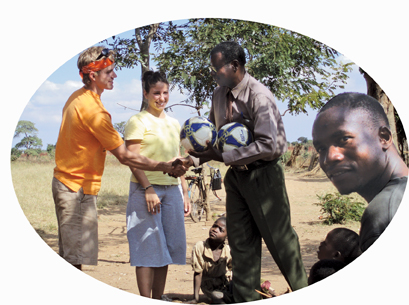 Above, from left: Pitt School of Arts and Sciences senior Nathan Riley and junior Julie Dodos; a local school master; and freelance HIV educator Charles Mponda, who was the translator for much of the Pitt trip to Malawi.
Many people hear about health crises in Africa and wonder how they can help. A Pitt undergraduate organization called Student Leaders in International Medicine (SLIM) is taking action by working with community-based organizations (CBOs) in Malawi, a country in southeastern Africa where the average life expectancy is 41 years and where 14 percent of the population is infected with HIV/AIDS.
SLIM members spent four weeks in Malawi this past summer, investigating how the group could help the CBOs in their efforts to combat HIV/AIDS by empowering Malawians to avoid high-risk activities, assisting those who are infected to obtain treatment, and caring for orphaned children.
"Malawi is a pretty overwhelming place when you first arrive, because there is nothing there," said Nathan Riley, a founding member of SLIM and a senior School of Arts and Sciences Spanish major who was among the group that traveled to Malawi's capital city, Lilongwe, to meet with locally led CBOs. "The cities are few and far between," and villagers must travel great distances to reach HIV/AIDS clinics, Riley noted, adding that a single clinic may serve as many as 100,000 people and therefore struggles to treat everyone who walks through the door.
The students' networking efforts prior to their trip led them to Paradiso Home-Based Care, a Malawian CBO that provides HIV education, home-based AIDS care, and care for orphans and vulnerable children. Paradiso put SLIM in touch with four other CBOs, whose directors met with SLIM members.
"One of the major problems surrounding HIV/AIDS in Malawi is stigma," Riley said. "You can't have anyone find out that you are HIV-positive. If you do, you are completely rejected by society and even by family, in extreme cases."
Even the most successful CBOs operate on little or no regular funding, SLIM members found. When they do receive funding, CBOs often must use it to meet short-term needs such as providing food for orphans rather than investing the money in income-generating activities or long-term agricultural development projects to sustain their programs, according to Riley.
CBOs, created and led by local people to care for the citizens of their towns and villages, are the gateways to rural communities, which are where HIV is most prevalent, said Riley. Not only do CBO volunteers speak the native language, but they are experienced with HIV/AIDS issues in Malawi and understand cultural differences between Westerners and Malawians, he added.
Because of the competition for limited resources, CBOs hesitate to share ideas, failures, and successes with one another, even though they all share the same goals, said Riley. An example of this attitude is evident in Paradiso's recipe for "Power Drink," a home remedy made with garlic, ginger, lemon juice, and honey. The CBO claimed the concoction helped to boost the immune system of people with HIV/AIDS, enabling them to seek treatment, Riley said. Unfortunately, Paradiso has kept the recipe secret in order to better compete against other CBOs for limited funds, according to Riley.
SLIM's solution to this lack of cooperation was to form a network named Mpaluti comprising the five CBOs with which they were working. The network's success would rely upon individual CBOs' willingness to share information—maximizing their resources and promoting teamwork.
One of SLIM's first victories was convincing Paradiso to share its Power Drink recipe with the other four CBOs, said Riley. SLIM's work with the Mpaluti network also led to ideas for better managing gardens and educating villagers about the importance of a nutritious diet, he added.
SLIM looks forward to more victories in the future, thanks to promising proposals being drafted by CBOs in their network, Riley said. All five CBOs in Mpaluti have submitted proposals to SLIM outlining income-generating projects for which they need seed funding. SLIM members will continue to pursue funding for these projects throughout the school year.
Riley said SLIM members will return to Malawi next summer to continue their work with the CBOs.
Founded in August 2006, SLIM raised all funding for its Project Malawi from private donors and through fundraising activities that included a 5K run/walk and photo exhibition.
For more information on SLIM and Project Malawi, contact Program Director Nathan Riley at slim.pitt@gmail.com.
Below: AIDS orphans cared for by Mchenga, a community-based organization in Maliri, a community just outside of Lilongwe, the capital city of Malawi.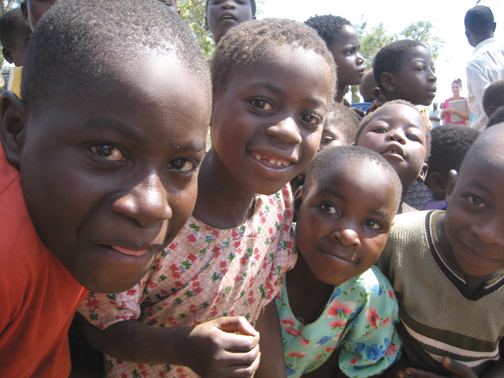 Other Stories From This Issue
There are no stories for the issue at this time.
On the Freedom Road

Follow a group of Pitt students on the Returning to the Roots of Civil Rights bus tour, a nine-day, 2,300-mile journey crisscrossing five states.
Day 1: The Awakening
Day 2: Deep Impressions
Day 3: Music, Montgomery, and More
Day 4: Looking Back, Looking Forward
Day 5: Learning to Remember
Day 6: The Mountaintop
Day 7: Slavery and Beyond
Day 8: Lessons to Bring Home
Day 9: Final Lessons