Social Work's Lynn Coghill: A Different Kind of Grace
By Sharon S. Blake
Issue Date:
October 12, 2015
(At press time, the Pitt Chronicle learned that Lynn Coghill was named Social Worker of the Year by the National Association of Social Workers, Pennsylvania Chapter. She will receive the honor later this week during the organization's 2015 annual conference in State College, Pa.)
Lynn Coghill slept for three nights on a cot in a Philadelphia college gymnasium. Each morning, she walked several city blocks to her deployment site—a medical tent staffed with doctors, nurses, EMTs, and other care workers. During her 12-hour shifts, she tended to anyone needing help, including a man who had attempted suicide and a woman who was short of breath.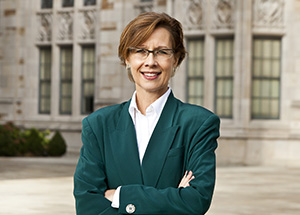 As hundreds of thousands of people crammed into Center City Philadelphia to catch a glimpse of Pope Francis late last month, the routine was all in a day's work for Coghill, a social worker and director of Pitt's Master of Social Work program. Events like this, with super large crowds, are typically accompanied by medical assistance and careworker support.
It wasn't the first time Coghill, a behavioral health specialist, volunteered to share her expertise in treating anxiety disorders and, in particular, panic disorders. When Hurricane Katrina slammed ashore in New Orleans in 2005, Coghill and a cadre of other volunteers headed south. They spent three arduous weeks feeding the hungry and staffing public stations offering social services and aid.
It's a far cry from Coghill's earlier career as a professional ballet dancer. She graced several stages from 1979 to 1983, including the Pittsburgh Ballet Theatre and other companies in cities from Milwaukee to San Antonio.
"It was wonderful," she said. But as the birthdays ticked by, retirement from the dance world seemed inevitable. "Thirty was looming."
Coghill—who earned a bachelor of arts in social ecology at UCLA Irvine—decided to pursue a master's degree in social work, encouraged by a neighbor who was a social worker. She completed her degree at Pitt and then established a private counseling practice in Monroeville. In 2006, she returned to the University of Pittsburgh, on the faculty, to direct the School of Social Work's MSW program.
But don't expect to find this faculty member glued to a desk or classroom podium. The trenches call. And her memories are vivid.
In New Orleans during Katrina, she recalled, "When we drove in, I didn't even feel as though I was in the U.S. anymore but in a South American country following a coup. The city was destroyed. I had a Red Cross debit card with me but there was nowhere, at first, to buy gas or food."
At one shelter, a nine-year-old boy whose family had lost everything mentioned that it was his birthday. Coghill set off to a nearby store with her debit card and returned with toys, decorations, and snacks, Soon, everyone at the shelter was celebrating his birthday.
"That's behavioral health," said Coghill. "People are in a crisis, and you're trying to restore normalcy in the midst of chaos. We brought the routine back to normal, and that helps ground people."
A native of Burnt Hills, New York, Coghill grew up in an altruistic household. Her father was a volunteer for a United Methodist mission project that provided supplies and generators to communities left without power by brutal winter storms. Her mother set up Red Cross blood drives for 35 years. Her brother conducts prison ministry, and he and his wife are also volunteer firefighters. "It's in the Coghill DNA," she said.
In her ongoing private practice, this energetic former dancer actually treats ballerinas who struggle with a range of challenges from performance anxiety to eating disorders. But it's the fieldwork that provides the biggest chance of providing comfort to those with immediate needs.In large crowds or at disaster sites, there's almost no limit to what she and her peers can do.
"Social workers are more holistically trained," she said. "We provide so many services in nontraditional ways. It makes us a good match for those kinds of situations. … there are a million ways to help people."
Other Stories From This Issue
There are no stories for the issue at this time.
On the Freedom Road

Follow a group of Pitt students on the Returning to the Roots of Civil Rights bus tour, a nine-day, 2,300-mile journey crisscrossing five states.
Day 1: The Awakening
Day 2: Deep Impressions
Day 3: Music, Montgomery, and More
Day 4: Looking Back, Looking Forward
Day 5: Learning to Remember
Day 6: The Mountaintop
Day 7: Slavery and Beyond
Day 8: Lessons to Bring Home
Day 9: Final Lessons