Southwestern Pennsylvania Teachers, Community Leaders Gather
By Cara Masset
Issue Date:
October 7, 2013
The University of Pittsburgh hosted a workshop Sept. 24 to introduce the Gates Millennium Scholars Program to representatives from school districts and community organizations throughout Southwestern Pennsylvania. The prestigious national scholarship and leadership development program was established in 1999 by a $1.6 billion grant from the Bill & Melinda Gates Foundation and is administered by the United Negro College Fund.
"The University of Pittsburgh has been fortunate to be the school of choice for a number of high-achieving Gates Scholars from outside of the Pittsburgh region. In working with the Gates Millennium Scholars Program, we learned that very few Gates Scholars come from this area," said Pitt Chancellor Mark A. Nordenberg. "As an institution dedicated to the education of the next generation of leaders, and one that prides itself on being a partner with the community, we wanted to ensure that students in the Pittsburgh region have the opportunity to compete for this unique form of recognition and support."
The workshop in Alumni Hall's J. W. Connolly Ballroom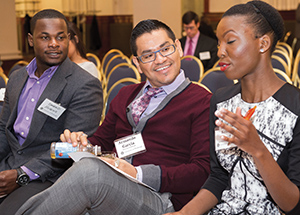 included a panel discussion with Gates Scholar alumni, among them Armando García, Pitt assistant professor of Hispanic languages and literatures. García became the first person in his immediate family to graduate from high school, college, and graduate school, thanks in part to the Gates Millennium Scholarship he received after successfully completing an application given to him by his high school calculus teacher. García earned a bachelor's degree in ethnic studies and comparative literature from Brown University and a PhD in Hispanic literatures and cultures from Cornell University.
"Being a Gates Scholar at Brown allowed me to be introduced to different programs whose goal is to increase the number of minorities in academia," he said. "Receiving support from faculty members and the Gates Foundation has paved the way for me to be where I am now."
The Gates Millennium Scholars Program works to promote academic excellence and provide opportunities for outstanding underrepresented students to reach their highest potential by:
• Reducing financial barriers for African American, American Indian/Alaska Native, Asian Pacific Islander American, and Hispanic American students with high academic and leadership promise who have significant financial need;
• Increasing the representation of these target groups in the disciplines of computer science, education, engineering, library science, mathematics, public health, and the sciences, where these groups are severely underrepresented;
• Developing a diversified cadre of future leaders for America by facilitating successful completion of bachelor's, master's, and doctoral degrees; and
• Providing seamless support from undergraduate through doctoral programs for students selected as Gates Millennium Scholars entering target disciplines.
Each year, 1,000 talented students are selected by the Gates Millennium Scholars Program to receive a good-through-graduation scholarship to use at the college or university of their choice. The Program also provides funding so that Gates Scholars can pursue advanced graduate studies. Gates Millennium Scholars also receive personal and professional development, along with academic support, through leadership programs.
Visit www.gmsp.org for more information about the Gates Millennium Scholars Program.
Other Stories From This Issue
There are no stories for the issue at this time.
On the Freedom Road

Follow a group of Pitt students on the Returning to the Roots of Civil Rights bus tour, a nine-day, 2,300-mile journey crisscrossing five states.
Day 1: The Awakening
Day 2: Deep Impressions
Day 3: Music, Montgomery, and More
Day 4: Looking Back, Looking Forward
Day 5: Learning to Remember
Day 6: The Mountaintop
Day 7: Slavery and Beyond
Day 8: Lessons to Bring Home
Day 9: Final Lessons