A Student Perspective: Light Up Pitt's Brutalism Architecture
By E. Anna Thomas, Class of 2018
Issue Date:
November 17, 2016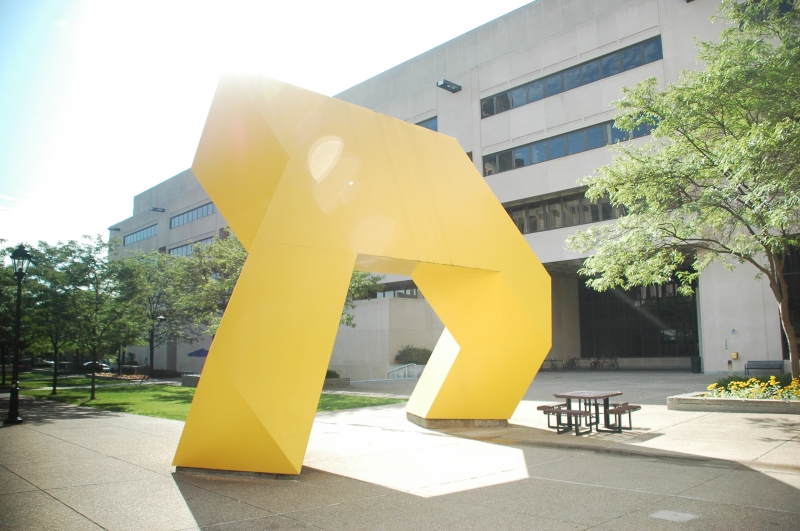 I first encountered the sculpture, Light Up, as any prospective Pitt student would—on the lower campus walking tour as we passed through Posvar Hall. Our Pathfinder guide made the token joke about how the sculpture was made by a Penn State grad in the semblance of a giraffe, and that Penn State grads have no idea what a giraffe is supposed to look like. Thus, I was initially inclined to dislike Light Up.
The sculpture only resembles a giraffe in that it is a vibrant yellow with a hulking body suspended on two legs. The legs are stout rather than slender and the sharp angles of the sculpture quickly chase away the impression of animal form. Light Up is situated on the concrete patio between Posvar Hall and Hillman Library. It has resided there since it was donated to the University by the Westinghouse Electric Company in 1988. Westinghouse originally commissioned the work from artist Tony Smith in 1971 to sit in the plaza of the company's corporate headquarters in downtown Pittsburgh.
In my time at Pitt, I had regarded Light Up with disdain: I found it unpleasing to the eye, in a very odd place on campus, and just too damn yellow. However, as a result of my recent investigation for an assignment in Studio Arts instructor JoAnna Commandaros's Sculpture Studio 1 course, my opinion of it has changed entirely. I am now quite fond of the piece.
At my instructor's behest, I looked at the work with fresh eyes and saw much I had not noticed before. Light Up is chunky, angular, and looming, much like the architecture that surrounds it. The brutalist gray buildings are rigid, unyielding, and severe. Light Up seems to mock them with its obnoxiously cheerful coat of yellow paint. The heavy sculpture uses its whimsical arch to make fun of blocky Posvar Hall. It ridicules the straight lines of Hillman Library with its crooked planes. For me, Light Up has transformed from an inconsequential space filler into a large, cheerful comedian.
This vision continued to change as I watched a student walk through Light Up's arch. The sculpture turned back into an animal, but not a giraffe. This animal was some kind of friendly giant meandering through the streets of Oakland. The animal twisted with curiosity to see what tiny creature had wandered underneath it. In this capacity, the sculpture seemed both playful and protective. I now regard Light Up as an ally in this sometimes stringent urban atmosphere.
Here's what I propose: we need to honor this sculpture with a tradition—if rubbing the nose of the bronze panther brings good luck on tests, perhaps a walk under the Light Up sculpture will light up ideas, creativity, and innovation.
Photo courtesy of the Office of Public Art
Other Stories From This Issue
There are no stories for the issue at this time.
On the Freedom Road

Follow a group of Pitt students on the Returning to the Roots of Civil Rights bus tour, a nine-day, 2,300-mile journey crisscrossing five states.
Day 1: The Awakening
Day 2: Deep Impressions
Day 3: Music, Montgomery, and More
Day 4: Looking Back, Looking Forward
Day 5: Learning to Remember
Day 6: The Mountaintop
Day 7: Slavery and Beyond
Day 8: Lessons to Bring Home
Day 9: Final Lessons