StudentProfile/David Totten
By Amanda Leff
Issue Date:
April 29, 2007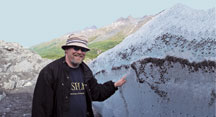 This former radio journalist enrolled in Pitt's GSPIA to prepare for a career in public service
During his 10 years as a radio journalist in Alaska, David Totten reported on issues ranging from aviation safety above the rugged Alaskan landscape ("Those mountains are littered with broken planes," he notes) to the impact on indigenous Inuit people of the melting ice pack near the Arctic Circle; as the ice melts, Inuit villages literally are breaking loose and sinking into the ocean.
As news director of KENI-AM Anchorage/News 650 and in covering economic development issues for the Alaska Public Radio Network, Totten also attended many midnight sessions of the Anchorage Assembly and reported on such urban planning efforts as the Anchorage 2020 Comprehensive Plan, which sought input from Anchorage residents on how they wanted their city to develop over the next two decades.
Over time, Totten grew interested in participating in city planning and economic development projects, not just reporting on them. That interest led him to enroll in Pitt's Graduate School of Public and International Affairs (GSPIA), from which he today will receive his master's degree in public administration.
"I wanted to take part in some of the exciting projects that the people I was interviewing were doing," Totten explains. "I had covered city and state politics heavily and wanted a chance to be involved in running a city or region, bringing in some of the exciting new advances in e-government and digital democracy."
A Tuscon, Ariz., native who grew up in California, Totten studied screenwriting at California State University at Northridge before switching his major to journalism and enrolling at the University of Alaska, Anchorage. Like screenwriting, he reasoned, journalism offered the chance to tell stories.
As his interest in journalism waned and he began looking at prospective graduate schools, GSPIA rose to the top of his list because of its cross-disciplinary curriculum. "I really like that they have the international focus as well as the [focus on] public administration," he says.
According to Totten, Pittsburgh is a great place to study how cities work and how communities are built. The city is a "living laboratory on urban and regional affairs," he says. "Pittsburgh has a lot going for it, and a lot of changes ahead of it. It's a neat place to see where things are working and where they aren't working."
Totten is most interested in urbanism, regional approaches to problems, and "smart growth," which seeks to combat urban sprawl. "These are all things that Pittsburgh is striving towards," he says. "The people here get excited about new ideas and are willing to try new things."
At Pitt, Totten has indulged his appetite for urban and regional affairs through a variety of projects, including his work at the University's Community Outreach Partnership Center (COPC). Totten was involved with one of the center's main projects, the Pittsburgh Neighborhood and Community Information System, created for nonprofit and community-building organizations. The Web-based system displays such indicators as vacant properties, crime reports, liquor licenses, and erosion risk for Pittsburgh's neighborhoods. Users must complete training sessions before they can secure a password for access to the system.
Totten helped to develop a database for COPC managers that tracks those who have completed the training programs. He also assists in the marketing of new training programs to new and prospective users. In addition, he recently completed a program evaluation of COPC. Totten and his evaluation group assessed COPC based on various community-building goals, including connectedness, identity, participation, trust, and visioning/planning.
Last summer, Totten did research on how to incorporate land-use policy to revitalize an underperforming shopping center in the borough of Crafton. He confronted challenging issues, including the fact that the shopping center crosses the Crafton borough line into Ingram; also, a 17-acre parking lot made it difficult to get from one end of the shopping center to the other. In assessing the revitalization project, Totten worked with the shopping center's owners, individual store owners, and officials from Crafton and Ingram. He also conducted a survey to find out what purposes the shopping center's customers wanted it to serve. Totten recommended that the shopping center get involved with the Main Street program, a nonprofit organization that revitalizes downtown shopping districts. He also suggested that a comprehensive plan be established in cooperation with Ingram.
"The borough manager told me that my report helped push them into holding a joint borough council meeting," Totten says. "So if nothing else, we can get more cooperation between boroughs."
Totten says his journalism background has helped him at Pitt in a variety of ways. Not only has it made him a clear and concise writer of reports, term papers, and essay tests, he says, but it has taught him to take nothing at face value and to question everything. He says he also has learned the importance of looking for connections. "Whose mind do you have to change to enact a policy?" he asks himself as he goes about his work. "How will one policy connect another?"
As a reporter, Totten would report on new stories each day. He says his work in GSPIA has the same flow. "I start on a project, I finish a project, I move on to the next one. It never gets boring. There is always something new," he says.
Other Stories From This Issue
There are no stories for the issue at this time.
On the Freedom Road

Follow a group of Pitt students on the Returning to the Roots of Civil Rights bus tour, a nine-day, 2,300-mile journey crisscrossing five states.
Day 1: The Awakening
Day 2: Deep Impressions
Day 3: Music, Montgomery, and More
Day 4: Looking Back, Looking Forward
Day 5: Learning to Remember
Day 6: The Mountaintop
Day 7: Slavery and Beyond
Day 8: Lessons to Bring Home
Day 9: Final Lessons