StudentProfile/Dawn Hartman
By Sharon S. Blake
Issue Date:
April 29, 2007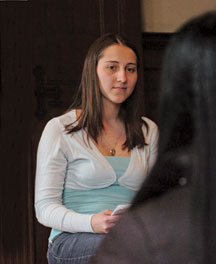 Psychology major's academic achievements defy a stereotype about foster children
Dawn Hartman will receive a bachelor's degree in psychology from Pitt today with a G.P.A. of just under 3.7.
Not bad for a young woman who shouldered an unusual burden during adolescence—namely, running a household and caring for three younger siblings.
Hartman's father died suddenly when she was 14, and when her mother became too despondent to care for her children, Dawn stepped in. Shopping, cooking, cleaning, and running errands became the norm for Hartman, whose siblings were 9, 8, and 6 years old at the time. Unfortunately, Hartman's schoolwork suffered, and she entered foster care at age 16.
Suddenly, after two years of playing the role of a parent, Hartman was separated from her siblings and expected to conform to a 10 p.m. curfew. She found it difficult to surrender her independence. "When you're a foster child, you don't have the same faith in adults that other people do," says Hartman, a fast-talking, focused young woman.
Hartman's mother died the following year, but Hartman persevered, earning a 4.0 grade average at Reading (Pa.) High School. Her SAT scores were slightly below what Pitt required, but an essay she submitted as part of the application process—describing her home life—earned her admission to the University's School of Arts and Sciences.
Among her Pitt academic accomplishments was serving as a teaching assistant, rare for an undergraduate. This spring, she taught two recitations of the course Russian Fairy Tales, with a total of 40 students. This, while holding down a a job as a waitress at Pamela's Restaurant in Squirrel Hill.
Simply by completing her degree here, Hartman beat the odds against foster children succeeding in higher education. Only half of all foster children complete high school, according to the National Association of Social Workers; only 11 percent pursue postsecondary education, and, of those, 4-7 percent graduate. Hartman discovered those bleak statistics for herself while interning this year in the Allegheny County Department of Human Services, working with teens transitioning out of foster care.
"Some foster children don't have the financial resources for college," Hartman says. "Often, they've moved from foster home to foster home, which means moving to a lot of different school districts. People want them to go to college, and sometimes they get accepted, but then they realize they just can't handle it."
While Hartman was interning at the Department of Human Services, she was interviewed by a young film student producing a documentary on foster children. Only late in the interview with the filmmaker did Hartman reveal that she herself had been in foster care.
"The filmmaker was really intrigued by that and wanted to have me as part of her documentary," says Hartman. "It's me and another person she's following around."
The filmmaker has interviewed Hartman at home, in the classroom, and while conducting a workshop at The Bridge, a downtown transition organization for foster teens. Hartman says she's reluctant to talk about her experience in foster care because many people pigeonhole foster children and teens as troublesome. She's been on the receiving end of rude and misinformed comments more than once, she says.
"I forgive people for their ignorance because there's not enough known about foster care, especially in the college arena. There are not enough foster care kids here for people to develop good thoughts about," Hartman says, adding that she hasn't met one other person at Pitt who, to her knowledge, had been in foster care.
Hartman believes she has found her professional niche in community service. During her years at Pitt, she has taught and read to young children through the Jumpstart early-education project, worked at a YMCA day camp, performed community service work during an alternative spring break, and tutored Somali refugee children in language, social, and cultural skills.
"These children had only been in the United States for three years," Hartman explains. "Some of them were 12 or 13 years old before they got any kind of schooling. I was trying to bridge the gap between what they knew and what they needed to know."
Mary Lou Kline, who teaches business courses at Reading Area Community College, became Dawn's mentor when Dawn was 14 through the Mentors for Berks Youth organization.
"It was like finding your soulmate in life," Kline says of her relationship with Dawn over the past nine years. "The events leading up to her mother's passing, through the funeral and a complex foster-care situation…Dawn's composure and focus were incredibly mature." Kline and at least 20 other friends and relatives from the Reading area plan to attend Pitt's commencement ceremony today to celebrate with Dawn.
Reflecting on her four years at Pitt, Hartman says her time abroad—studying at the University of Auckland in New Zealand, with side trips to Australia, Thailand, England, and China—was the highlight. Her original purpose in traveling Down Under was to take a break from public service and waitressing work, focus on her studies, and reflect on where she wanted to go with her life. But she found she couldn't limit herself only to academics.
"It just ate at me not to be doing any service work at all, so I actually worked for the University of Auckland's volunteer office, trying to get people to do community service around New Zealand," she recalls.
Dawn says the trip to New Zealand opened her eyes about her goals in life.
"It helped me realize my desire for service is more than breaking away from a stereotype" of foster children, she says. "It's my passion and my calling in life."
Other Stories From This Issue
There are no stories for the issue at this time.
On the Freedom Road

Follow a group of Pitt students on the Returning to the Roots of Civil Rights bus tour, a nine-day, 2,300-mile journey crisscrossing five states.
Day 1: The Awakening
Day 2: Deep Impressions
Day 3: Music, Montgomery, and More
Day 4: Looking Back, Looking Forward
Day 5: Learning to Remember
Day 6: The Mountaintop
Day 7: Slavery and Beyond
Day 8: Lessons to Bring Home
Day 9: Final Lessons