StudentProfile/Solomon Quaynor
By Morgan Kelly
Issue Date:
April 29, 2007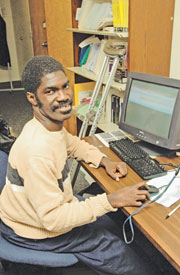 This biostatistics graduate student refused to allow physical disabilities and cultural prejudice to interfere with his pursuit of a health-sciences career
In keeping with the culture of his native Ghana, Solomon Quaynor modestly prefers not to talk about himself. The reason he agrees to be interviewed, he says, is so he can thank the people who have helped him.
Quaynor, 34, has a condition similar to cerebral palsy that limits his movement and coordination. He gets around with the aid of crutches and a mobility scooter. In Ghana, he says, many people with physical disabilities find their options limited to learning such trades as basket weaving, or they end up as beggars.
Instead, Quaynor will receive his Master of Science degree in biostatistics from the University of Pittsburgh today. He plans to pursue his Ph.D. degree at Pitt in human genetics.
Quaynor says he has earned his academic degrees—which also include a Bachelor of Science degree in zoology at Kent State and a Master of Arts degree in English at Oklahoma State—in order to survive. That's all. The accolades, he says, should go to his family, who supported and encouraged him, and to the instructors who have looked past his physical limitations.
"There are many people who have gotten me to where I am now. If I mentioned names, I would leave some out, and you don't have enough space to write them down anyway," Quaynor says with a deep laugh and a shy smile. "I can't call my academic career a 'great achievement' because I did what I had to do. I would rather express gratitude to the people who supported me than talk about myself."
Quaynor was born in Accra, Ghana's capital, to a family of medical professionals. He dreamed of becoming a doctor like his father. But, in Ghana, Quaynor's intelligence and desire could not overcome societal assumptions about people with serious physical disabilities—more benignly, that they are weaklings to be sheltered and protected.
"When you have a culture that says certain people belong in certain categories, it's not easy to surmount that," he says.
Quaynor's father insisted that his son attend regular school. Aside from a rough beginning in elementary school ("Kids can be cruel, no matter what the country," Quaynor points out), Quaynor proved himself to be a good student. His instructors and the school's headmistress supported and encouraged him, and, eventually, his classmates came to know him as Solomon Quaynor, not just a kid with a disability.
But when Quaynor entered high school, he found himself excluded from activities and events in which people assumed he could not or should not participate.
"I can't speak as to why the difference between grade school and high school was so stark, but it was more painful," he recalls.
In the 10th grade, Quaynor tried out for the drama club, certain that he would be rebuffed. After all, he told himself, how many Shakespearean roles were written for kids on crutches? But the drama teacher gave him a chance. Quaynor stayed in the club for the rest of high school, exhibiting talents for soliloquy, projection (despite his otherwise reserved demeanor), and dramatic writing. Although public speaking still makes him nervous, Quaynor credits his theatrical experience with helping him to give academic presentations in college.
"The ability to command a stage is a very important skill," Quaynor says in his hushed but sturdy West African patois. "What I learned in that drama group has helped me ever since. That teacher told me much later that at first she was not sure about me. I'm glad she gave me a chance. Some others might not have."
As challenging as life was for him in Ghana, at least there Quaynor could depend on his family's support. It wasn't until 1991, when he began his studies at Kent State University—including lab courses that were extremely demanding for him, physically—that he realized just how much that support had meant. "Once I got here and was without my family, I wanted to give up," he confides. "I didn't realize how important the emotional support was until I didn't have it. If I had grown up in a different family, I probably would have given up.
"I haven't had an easy time at all since I came to the United States, but I knew others would suffer if I failed," Quaynor adds. "If I had gotten this far and failed, some people in Ghana would have said to my family, 'We told you so. What was the point of you taking him to school?'"
So, Quaynor persevered. After graduating from Kent State in 1996, he spent two years conducting postundergraduate research. In 1999, in a sharp departure from his original ambition of becoming a doctor, he enrolled at Oklahoma State to study English. An advisor had suggested that he combine his flair for science and his writing talent (honed during his drama club days) to write science textbooks.
After graduating from Oklahoma State, Quaynor discovered biostatistics. In that field, he says, he can assist in diagnosing genetic diseases by finding correlations between particular disorders and the genes and genetic flaws that might cause them.
"Let's say you start with 1,000 genes," he says, excitedly. "Someone like me can whittle that down to 25 or 50 genes, then whittle it down even further. I wish I would have thought of what I wanted to do earlier." Because it's computer-based, biostatistics gives Quaynor access to the medical field without pushing his physical limitations.
Quaynor enrolled as a biostatics graduate student in Pitt's Graduate School of Public Health in 2004, spending the bulk of his days this year in a computer lab in Parran Hall. He has participated in some student activities at Pitt, most notably as an ambassador for the University's Office of International Services last year, meeting with incoming students.
After spending most of the last 16 years in school, Quaynor remains only a few years from the health-sciences career he yearned for as a child. He hopes, after completing his doctoral studies at Pitt, to work for an international health organization or teach and conduct research at a university. Quaynor is considering remaining in Pittsburgh after completing his doctoral studies. He does not want to go anywhere else, he says—unless it's back to Ghana.
Quaynor has not returned since leaving in 1991 to study in the United States. He loves his country, misses it, and shares its rich culture with non-Ghanaians when he can. But he vowed 16 years ago not to return home until he could prove wrong that element of his culture that had perceived him as helpless.
"I can't go back empty-handed," Quaynor declares. "I left Ghana a very headstrong kid who thought he could do anything. The issue of my disability being an issue was never okay with me. I resolved to get to the highest level of education I possibly could.
"Now, I'm this close."
Other Stories From This Issue
There are no stories for the issue at this time.
On the Freedom Road

Follow a group of Pitt students on the Returning to the Roots of Civil Rights bus tour, a nine-day, 2,300-mile journey crisscrossing five states.
Day 1: The Awakening
Day 2: Deep Impressions
Day 3: Music, Montgomery, and More
Day 4: Looking Back, Looking Forward
Day 5: Learning to Remember
Day 6: The Mountaintop
Day 7: Slavery and Beyond
Day 8: Lessons to Bring Home
Day 9: Final Lessons