StudentProfile/Varia Permyashkin
By Bruce Steele
Issue Date:
April 29, 2007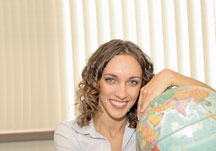 Born in Kazakhstan and raised in Lewisburg, Pa., she came to Pitt to pursue her passion for learning languages
Please.
Thank you.
Hello.
Goodbye.
Those were the only English words that Varia Permyashkin's parents knew when they emigrated from Kazakhstan to the United States in 1989, bringing with them Varia and her younger brother, Aleksandr.
Varia, who was 5 years old at the time, spoke no English at all.
Placed in a private school in Lewisburg, Pa., by the Pentecostal church that had sponsored her family's move first to Vienna, then Rome, and finally to the United States, Permyashkin initially felt lost. "In Lewisburg, I was the only foreigner in the entire school," she says. "I remember that I had trouble communicating with my teacher. She would try to tell me things, and I would just laugh and be comfortably clueless. It was bad. But she was kind and patient.
"Because they didn't know English yet, my parents couldn't help me with homework assignments, so I basically had to teach myself. It took me two weeks to learn enough English to keep up with the rest of my class."
Two weeks?
"Remember, learning languages comes easily to young children," says Permyashkin, who will graduate from Pitt today with a bachelor's degree in linguistics. "Some of my classes here have focused on how quickly kids, with their still-developing brains, can absorb new languages when they're surrounded by people who are speaking it and when they're reading a lot" in the new language.
Permyashkin's parents, ethnic Russians and Pentecostal Christians who left the Soviet Union to escape religious persecution, did not allow a television in their house. So, family members learned English by conversing with their new American neighbors, classmates, and coworkers, and by reading.
"As a girl, I read a lot—a lot," recalls Permyashkin, who today speaks unaccented English but carries herself and dresses with an elegance more characteristic of Slavic women than their U.S. counterparts. "I read the entire 'Baby-Sitters Club' series" of children's books by Ann M. Martin. "I just read a lot of 'girly' things, you know? A lot of series. I really enjoyed series of books."
Permyashkin believes her current love of studying languages was inspired by her intense childhood effort to master English. In addition to being fluent in English and Russian (still spoken in the Permyashkins' Lewisburg home by Varia, her parents, and her 11 siblings), Permyashkin speaks and writes Modern Greek (she visited Greece last summer to polish her skills in that language), Spanish, and Sanskrit.
"The truth is that linguistics was not my major of choice," Permyashkin confides. "I ended up taking it because there was no such major as 'study a bunch of foreign languages.' I took linguistics as a core major, something to make my various language studies possible."
Lewisburg is the home of Bucknell University, Permyashkin points out, "and half of the students at the high school I attended go on to Bucknell. But I wanted to get away from Lewisburg, which is small and very bland. When I first visited Pitt, I'd had no experience of city life, and it was a little intimidating. But soon, I fell in love with this University. Here, I didn't feel exotic or awkward. There are so many other foreign-born students at Pitt. I've made friends with students from all over the world here—from Korea, Brazil, France, Norway, Denmark, India… .
"When I first came to Pitt, I lived in Holland Hall. It's a very quiet building, all girls, but I made my best friendships there. I'm still friends with those girls."
Today, Permyashkin shares a Shadyside apartment with a cousin named Oxanna. "We're best friends, we grew up together, and we've been roommates since our freshman year," says Permyashkin, adding that she occasionally zips over to Squirrel Hill and its three Russian food stores when she's craving home-style treats.
Not only was Pitt her first choice among universities to attend, it was the only school Permyashkin applied to. "I like to make my life complicated sometimes," she says with a laugh, preferring not to think what she would have done if Pitt had rejected her. "I wanted to go to a big, urban school, and I was looking for someplace that offered Spanish, Russian, and a lot of less commonly offered languages. And Pitt offers a crazy number of languages," including more than a dozen—Arabic, Hindi, Irish Gaelic, and Modern Greek among them—that are taught through the linguistics department's Less Commonly Taught Languages Center.
Permyashkin studied Sanskrit through an independent-study arrangement with a professor in Pitt's Department of Classics. "I've made a lot of Indian friends since coming to Pittsburgh. I was interested in their culture, and some Indian languages still use Sanskrit script. So, I figured if I studied Sanskrit, maybe I could in the future study other Indian languages that also use that script," she explains.
Working 20 hours per week as an immigration document manager in Pitt's Office of International Services, Permyashkin helps foreign-born students with visa applications and other paperwork—complex and potentially confusing stuff in post-9/11 America. "Working in that office has been educational as well as personally rewarding for me," she says. "By talking with students from countries like Indonesia and various African countries, I'm learning about their cultures. It's also helping me to develop my ear for accents. For example, if I hear someone speaking with an Eastern European accent, I can adjust my English to sound more like theirs so they don't find it so difficult understanding me."
When she's not studying or working in the International Services office, Permyashkin volunteers to tutor fourth- and fifth-graders at Breachmenders Ministries, a nonsectarian community-development organization that serves low-income families in West Oakland and the Hill District. "It's very rewarding work," she says. "I've enjoyed tutoring, and I may pursue a career in teaching English to immigrants.
"Actually, I haven't decided on a career yet. I'm waiting to hear back from several companies I've contacted about job possibilities. I'm hoping to find work on the West Coast because it's more ethnically diverse than the Eastern United States, and I think there are more language-oriented job opportunities out there. Also, I've lived almost my whole life in the Eastern part of the country, and I'd like to make a dramatic relocation while I'm still unattached."
Permyashkin today will become the first member of her family to graduate from college. But, with 11 younger brothers and sisters, she almost certainly won't be the last, she says. Aleksandr, the oldest of her siblings, is completing his sophomore year in Pitt's School of Arts and Sciences.
"Pitt, for me, has been an inspirational place," Permyashkin says. "I'm really glad I came here."
Other Stories From This Issue
There are no stories for the issue at this time.
On the Freedom Road

Follow a group of Pitt students on the Returning to the Roots of Civil Rights bus tour, a nine-day, 2,300-mile journey crisscrossing five states.
Day 1: The Awakening
Day 2: Deep Impressions
Day 3: Music, Montgomery, and More
Day 4: Looking Back, Looking Forward
Day 5: Learning to Remember
Day 6: The Mountaintop
Day 7: Slavery and Beyond
Day 8: Lessons to Bring Home
Day 9: Final Lessons