Students and Teachers Share Their Art Forms In The Poetic Classroom
By Adam Reger
Issue Date:
November 25, 2013
His body / like a watermelon / big and green / mows through his enemies like a John Deere.
Thanks to a new book collecting the poetry and lessons of Western Pennsylvania students and teachers, student writing like the simile above—a description of The Incredible Hulk written by a middle-school student—is now available to the reading public.
The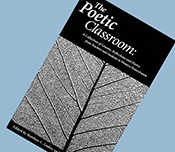 Poetic Classroom: A Collection of Lessons, Reflections, and Poetry from Teachers and Students in Western Pennsylvania (Autumn House Press, 2013) grew out of poetry workshops held as part of the Western Pennsylvania Writing Project, an initiative of the University of Pittsburgh's School of Education.
Focused on students of all ages, The Poetic Classroom offers detailed lesson plans for writing activities, with more than 75 student poems as examples. The lines above were written in class exercises with Sue Carris and John Young, teachers at Jefferson Middle School in the Mount Lebanon School District, and presented in the chapter "Comic Simile and Metaphor Portraits: Harnessing Middle School Energy for the Greater Poetic Good."
The book, coedited by current Western Pennsylvania Writing Project Fellow and former School of Education faculty member Matthew C. Luskey and Carlow University adjunct faculty member Christine Aikens Wolfe, stemmed from discussions between Luskey and Autumn House Press editors. Impressed by the then-recently published The Working Poet: 75 Writing Exercises and a Poetry Anthology (Autumn House Press, 2009), Luskey conceived of a series of responses to the exercises and poetry included in that book.
The Poetic Classroom marks the culmination of a multiyear grant designed to elicit those responses and to develop kid-friendly writing exercises from them. During the first year of the grant, Cj Coleman coordinated initial poetry workshops. She is a published poet, codirector of the Writing Project's Summer Institute, and a Pittsburgh Public Schools teacher. A bevy of notable Pittsburgh poets, including Pitt Professor of English Terrance Hayes, led teachers affiliated with the Western Pennsylvania Writing Project in composing their own poems using exercises and poems from The Working Poet as prompts. During the second year, the teachers reflected on that experience and adapted the exercises they'd completed in the poetry workshops to teach poetry writing to their own students. As cofacilitators of the Teacher Research project, Writing Project Fellows Christine Wolfe and Ella Macklin worked closely with teachers, offering feedback on lesson plans, reflective narratives, and student samples. The Poetic Classroom collects the results of those classroom experiences.
"It's a book written from another book. It's a book of adaptation. And really when you think about it, teaching is adaptation," said Stephanie McConachie, acting director of the Western Pennsylvania Writing Project and visiting assistant professor in the School of Education.
The Poetic Classroom offers lesson plans for students in elementary school through college. The book also dedicates several chapters to lesson plans for students with "exceptionalities," such as a lesson asking students to compose anagrams from the Latin names of animals, encouraging them to think about "words buried within words."
The book's variety also extends to subject matter, with lessons such as "Poetry about Elements from the Periodic Table," by Pittsburgh Creative and Performing Arts 6-12 chemistry teacher Roxane Pearsall. That lesson tasked students with writing poems based on individual elements from the periodic table.
By asking students to approach the periodic table creatively and with a focus on observation, Pearsall hoped to better engage students in learning about chemistry. One poem completed during this unit, "Sodium and Its Chemistry" by then-10th-grader Ra'naa Billingsley, begins
The element I select is sodium.
My father places it on a podium.
His blood pressure's too high,
but he pays it no mind.
So at dinner, the sodium is
what me and my sisters must hide.
The project also included graduate students pursuing Master of Arts in Teaching degrees from Pitt's School of Education. In the course Teaching Writing taught by Amanda Godley, a professor in the school's Department of Instruction and Learning, the master's degree students wrote poetry in response to exercises from The Working Poet. The students, who were engaged in teaching in area schools, then adapted the exercises for use in their own classrooms.
"Students first engaged in one of the poetry activities, then engaged in revising the poem in multiple ways. They asked, 'What happens if I change it this way or that way?'" said Godley. "That got them thinking about all the possibilities that might exist for that piece of poetry. Then we debriefed about what they had learned about poetry writing and how they might alter that same poetry activity in their own classes."
Acquiring a sense of the possibilities in revising a piece of writing is helpful in teaching academic writing to younger students as well, Godley said: "It gets students to think about revision as more than just fixing errors but also reworking, reimagining their work."
On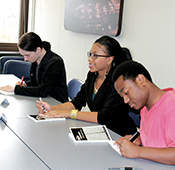 Nov. 2, the Western Pennsylvania Writing Project held a book launch in Posvar Hall, hosting more than 50 young poets, family members, and teacher authors for an event that featured poetry readings and an opportunity for student writers to autograph copies of the book containing their works. The students were seated at tables where they awaited autograph requests from fans.
"I had put out 35 chairs," said McConachie, "but we ran out of chairs. It was just a wonderful event."
Funding for the three-year project that produced The Poetic Classroom was provided by The Grable Foundation, The Frick Educational Fund of the Buhl Foundation, and the National Writing Project.
The Western Pennsylvania Writing Project, an integral part of the University's School of Education, works to improve the teaching and learning of writing through the professional development of teachers. Writing Project programs are teacher-centered and teacher-led. Work is based on the importance of teachers' engagement in their own writing and reflections on teaching. The project's Summer Institute is a program for teachers to enhance their professional growth and develop their skills as teacher-leaders. The institute is open to teachers of kindergarten through college in all disciplines. The Writing Project also sponsors winter and summer Young Writers Institutes in four Pittsburgh area locations, open to students in grades four through 12.
Other Stories From This Issue
There are no stories for the issue at this time.
On the Freedom Road

Follow a group of Pitt students on the Returning to the Roots of Civil Rights bus tour, a nine-day, 2,300-mile journey crisscrossing five states.
Day 1: The Awakening
Day 2: Deep Impressions
Day 3: Music, Montgomery, and More
Day 4: Looking Back, Looking Forward
Day 5: Learning to Remember
Day 6: The Mountaintop
Day 7: Slavery and Beyond
Day 8: Lessons to Bring Home
Day 9: Final Lessons