Students Convene for the Sake of the Environment
By Joe Miksch
Issue Date:
April 28, 2014
On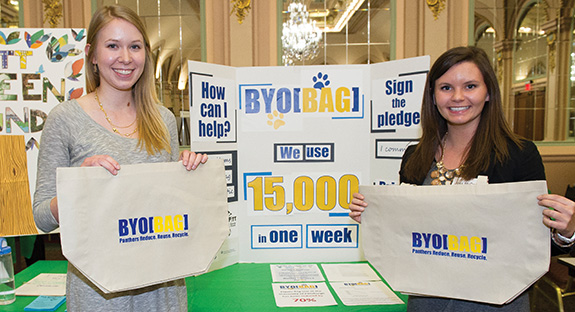 a cool April 10, the William Pitt Union Ballroom turned a shade of green for the Seventh Annual Student Sustainability Symposium.
Throughout the day, about 100 environmentally conscious Pitt community members visited the symposium—titled "Changing the Way We Think to Create the World We Want"—to learn about student-led projects and ideas intended to make the University of Pittsburgh an even greener campus.
Poster presentations touted composting lessons, a proposed University-based thrift store, and "taking back the tap," a project to reduce the use of plastic water bottles. Roundtable discussions included chats about a sustainable food education program in Pittsburgh schools, expanded recycling at the Petersen Events Center, and a new standards checklist for sustainable off-campus housing. And presentations touched on regional air quality, the drive to serve more local and ecologically sound food on campus, and efforts to reduce plastic bag usage at Pitt.
"No one wakes up in the morning and says to themselves, 'How can I make the world worse off today?'" said symposium co-organizer Jess McDonald. "Yet, in our everyday choices, we do just that. I think that the Sustainability Symposium is a great way for students to become aware of how their behaviors affect the world around them."
McDonald planned the event with fellow students Shannon Achille, a junior in the School of Heath and Rehabilitation Sciences, and Elizabeth Gombert, a senior majoring in environmental studies like McDonald.
Keynote speaker Mark Dixon—a former Silicon Valley denizen turned documentarian (his film "YERT: Your Environmental Road Trip" won 27 awards from 26 film festivals)—offered his perspective on how to live a fully human and environmentally sound life.
"We can measure our success by asking, 'How independent of the [fossil fuel] extractive economy have we become?'" he told the audience. "We need to make conservation the consequence of production."
Further, he said, we need to think of our lives as part of an ecosystem rather than keeping ourselves isolated in metaphorical boxes labeled "work," "home," "shop," and "play." Otherwise, he warned, we risk losing our "soul and our spirit."
McDonald herself has pushed sustainability at Pitt forward by organizing a BYO[BAG] initiative, which has reduced plastic bag use at campus dining locations. She also is involved with Grounds for Growth, a project at the Oakland Bakery and Market that collects and reuses spent coffee grounds.
BYO[BAG], McDonald says, has cut students' weekly consumption of plastic bags from 15,000 to 4,000. Students, she says, have an allowance of 15 bags per semester on their Pitt identification cards. After that allotment is used, each additional bag costs $.25.
"This really shows how one individual decision to not take a plastic bag can have a large positive collective impact," she says. "That idea is what the symposium is all about."
The symposium was cosponsored by the Environmental Studies Program in Pitt's Department of Geology and Planetary Science in the Kenneth P. Dietrich School of Arts and Sciences and by Free the Planet, Pitt's largest environmental student organization.
The annual student symposium was initiated in 2007 in response to the 2007 Rachel Carson Legacy Challenge issued by the Rachel Carson Homestead Association.
Other Stories From This Issue
There are no stories for the issue at this time.
On the Freedom Road

Follow a group of Pitt students on the Returning to the Roots of Civil Rights bus tour, a nine-day, 2,300-mile journey crisscrossing five states.
Day 1: The Awakening
Day 2: Deep Impressions
Day 3: Music, Montgomery, and More
Day 4: Looking Back, Looking Forward
Day 5: Learning to Remember
Day 6: The Mountaintop
Day 7: Slavery and Beyond
Day 8: Lessons to Bring Home
Day 9: Final Lessons