Students Win First Place, Investment for Start-up
By Joe Miksch
Issue Date:
March 24, 2014
When student Mark Visco arrived at the University of Pittsburgh, he felt, for the first time, that he was the captain of his fate. But he quickly realized he could use some help steering the ship.
"I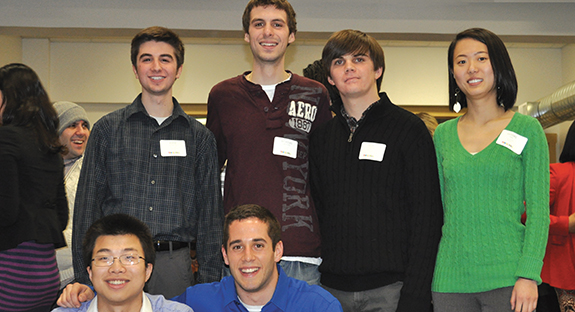 had many ideas on what I wanted to accomplish in the ensuing years of college," Visco says. "The problem was that, for the first time in my life, I was responsible for crafting my own future. What I needed was to find a resource that would nudge me along from the beginning of my time at Pitt until graduation and make sure that I was developing my career."
Visco, a fifth-year senior majoring in marketing and psychology, discovered that such resources were indeed available; but, he thought, perhaps he could figure out a new approach. That's how he created his future.
Visco is the founder of MeshNet, a nascent start-up company that's developing software to help college students set goals and explore career opportunities. MeshNet, which Visco is developing with a team of six other Pitt undergraduates, one graduate student, and one recent alumnus, is quickly sailing from an idea into a commercially viable business.
Recently, MeshNet earned first place in the "Business Bout" business-plan program hosted by Thrill Mill, a Pittsburgh-based start-up incubator founded in 2012. MeshNet, along with 12 other winning teams chosen from 80 applicants, were recognized March 5 at Thrill Mill's invitation-only "Start-up Class Kickoff Event" at its offices in East Liberty, where Pittsburgh Mayor Bill Peduto formally announced MeshNet's first-place victory.
In addition to a $25,000 investment, MeshNet has earned a six-week entrepreneurship course at Thrill Mill, a six-month consulting relationship with Pittsburgh business firm C-Leveled, and yearlong access to the Thrill Mill office space, mentorship program, and potential investors.
Visco can hardly wait to get started. "I truly feel that this is one of the most instrumental pieces we have on our plate at the moment," he says. "The experience and network that Thrill Mill brings certainly surpass the amount of professional and entrepreneurial experience of our team. What they offer is extremely valuable."
MeshNet got started last year when Mark Visco and his triplet-brother and Pitt alumnus, Dom Visco (ENGR '13), decided to enter Pitt's innovator-seeking Randall Family Big Idea Competition, where they met a few of the other budding entrepreneurs who would become team members. The Viscos also tapped into their network of Pitt friends, rounding out the team. Although MeshNet didn't place in that competition, it helped the team to hone their idea.
"It takes many students a year, two years, or even longer to craft a precise vision for their journey after college," Visco says. "MeshNet is a big data software platform that is able to align students with targeted, worthwhile goals, and then recommend a detailed course of action to increase their likelihood of success.
"As they pursue these tasks," he continues, "students in need of assistance can be easily matched with a relevant mentor: a career counselor, professional in the industry, or even a fellow student. MeshNet also provides universities with deep insight into their student talent and allows them to improve strategic decision making regarding their career development efforts."
The start-up venture has yet to launch its software—a beta version should be ready for prospective customers in the fall—but its story (and information for potential investors) can be found at the company's website, www.meshnetenterprises.com
"ThrillMill was thrilled—pun intended—by the enthusiasm of the MeshNet team," says Babs Carryer, who will be teaching the Thrill Mill entrepreneurship course. "The team possesses members skilled in business and members skilled in technology, which means that they can build a product and market it to customers. MeshNet is also addressing a real need in the marketplace. The current system for career counseling at universities is done the same way today that it was 30 years ago. That system is ripe for re-invention."
Carryer also teaches entrepreneurship classes for faculty, researchers, and graduate students on behalf of Pitt's Office of Technology Management and leads the Randall Family Big Idea Competition hosted by Pitt's Innovation Institute. Visco, who is an intern for this year's Big Idea competition, has earned the notice of the Innovation Institute.
"Mark Visco and his entrepreneurial team are representative of the efforts by the University of Pittsburgh Innovation Institute to foster a strong culture of innovation and entrepreneurship here through education, guidance, and many other resources," said Marc Malandro, associate vice chancellor for technology management and commercialization and interim director of the Innovation Institute. "We're excited for Mark in his recent successes and are grateful for his desire to participate in such activities."
In addition to the Visco brothers, the MeshNet team members include Pitt undergraduate students Adam Coimbra, computer science and accounting major; Nick Amoscato, computer science and music; Jie Chen, accounting; Alex LaFroscia, computer science; Bill Wang, computer science and finance; Lutong Yang, marketing and finance; and graduate student Xue Huichao, who is pursuing a PhD in computer science.
Twelve other teams will join Meshnet as members of Thrill Mill's second class. Each of these start-ups receive a $5,000 investment along with access to Thrill Mill's 5,000-square-foot incubator for one full year, including a full suite of offerings ranging from the entrepreneurship course to an "entrepreneur-in-residence" partnership with C-Leveled and an expansive network of mentors and advisors. Several of these start-ups include the following five Pitt students and alumnus:
LUV Water, creator of a water purification device
Brian Yankello, Kenneth P. Dietrich School of Arts and Sciences
KREIDE, a website providing educational compliance information to NCAA member institutions
Stephanie Kunkel, School of Law
Alumnus Kathryn Imler (LAW '13, BUS '13G)
Because, third-party online commenting system
Osama Alghanmi, School of Health and Rehabilitation Sciences
Gilbert Liu, College of Business Administration
Tameraonline, online cosmetics distributor
Tamera Szijarto, Joseph M. Katz Graduate School of Business
Visit http://thrillmill.com to learn more about Thrill Mill, the new class of start-ups, and opportunities to get involved.
Other Stories From This Issue
There are no stories for the issue at this time.
On the Freedom Road

Follow a group of Pitt students on the Returning to the Roots of Civil Rights bus tour, a nine-day, 2,300-mile journey crisscrossing five states.
Day 1: The Awakening
Day 2: Deep Impressions
Day 3: Music, Montgomery, and More
Day 4: Looking Back, Looking Forward
Day 5: Learning to Remember
Day 6: The Mountaintop
Day 7: Slavery and Beyond
Day 8: Lessons to Bring Home
Day 9: Final Lessons