Surplus Property: A Silent Side of Sustainability
By Adam Reger
Issue Date:
August 23, 2011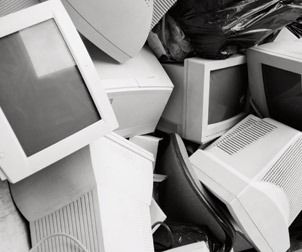 Some important sustainability practices at the University of Pittsburgh are often drowned out by the cacophony of sounds from drills, jackhammers, and large trucks at University's construction sites.
In fact, by the time scaffolding and dumpsters appear outside a construction site, a major component of Pitt's program of salvaging construction waste has already occurred. The University's Surplus Property unit has inspected the space, transporting all reusable items—lamps, furniture, and electronics, as well as surplus building materials and fixtures—to its warehouse in Point Breeze.
"Surplus Property does a really good job of reclaiming a lot of material before it hits the landfill," said William Mitchell, senior manager of custodial services for Pitt's Office of Facilities Management. Once a construction project begins, Facilities Management closely supervises its progress, marking a number of materials for recycling.
"Concrete blocks, asphalt, mixed metals, iron, and steel are all sorted and taken to a recycler," Mitchell said. "You name it—if it can be recycled, we try to recycle it."
Created in 1980, Surplus Property embodies the "reuse" component of the environmentalist mantra "reduce, reuse, recycle." After removing salvageable items from the construction site, the department redistributes them in several ways. One is through a departmental "wish list"—a form that faculty and staff submit via the Web site  (www.surplus.pitt.edu/wishlist.php) to request particular items obtained by Surplus Property. "We are constantly reviewing the requests from the Web site wish list," said Thomas Heidkamp, manager of surplus property. "We have a high rate of success in finding items to fill those requests."
The Surplus Property warehouse is open to Pitt students, staff, and faculty. Visitors can shop long aisles of tall metal filing cabinets, library desks, and office chairs, all taken from University classrooms and offices. A number of specialty items also are available, including laboratory equipment and computers—which the Surplus Property department tests before making available.
Surplus Property also plays an important role in Pitt's "e-waste" recycling program, which began in 2002 and collects from 72,000 to 132,000 pounds of discarded technology each year, Heidkamp said. A walk around the Point Breeze facility reveals the "waste in waiting." Four giant bins of printer cartridges await shipment to a recycler. A tower of nonfunctioning computer monitors rests on a wooden shipping pallet, awaiting shipment to a contractor to be dismantled. Nearby, an enormous bin holds wires stripped from computer units. Another bin contains several dozen circuit boards. All of these complex materials are to be dismantled and their components—metal, glass, plastic, and wires—recycled, Heidkamp said. In many cases, parts from nonworking computers are salvaged for sale or to be used for repairing other units.
While the percentage of construction waste recycled varies with each project, minimum recycling percentages are specified for many larger projects, especially those seeking Leadership in Energy and Environmental Design (LEED) certification. Mitchell noted that on the Benedum Hall renovation project—which is targeted to attain the elite LEED Gold certification—more than 75 percent of construction waste has been recycled—3,200 tons to date. Similarly, the new addition to the Chevron Science Center, which is seeking LEED Silver certification, has recycled more than 97 percent of its construction waste.
Another key component of Pitt's program of recycling construction waste is to hold hired subcontractors accountable. "We expect detailed reports of the [waste] weights that have been recycled and the actual amount of landfill waste that's been generated as part of any project," Mitchell explained.
Facilities Management does not set minimum requirements for contractors to recycle on all projects, but "we expect that they try to be as sustainable as possible and to minimize how much material goes into the waste stream," Mitchell added.
Mitchell said he is optimistic about Pitt's continued progress in recycling its construction waste. "But the overall goal is waste minimization," he said. "If we can get to that point, our recycling stats won't look as good because we'll have less waste overall. But it also means we're not sending as much waste to the landfills, so it's worth it."
Other Stories From This Issue
There are no stories for the issue at this time.
On the Freedom Road

Follow a group of Pitt students on the Returning to the Roots of Civil Rights bus tour, a nine-day, 2,300-mile journey crisscrossing five states.
Day 1: The Awakening
Day 2: Deep Impressions
Day 3: Music, Montgomery, and More
Day 4: Looking Back, Looking Forward
Day 5: Learning to Remember
Day 6: The Mountaintop
Day 7: Slavery and Beyond
Day 8: Lessons to Bring Home
Day 9: Final Lessons