Sustainable Dining is Personal at University with Corey Hawk, Market Central Executive Chef
By Laura Clark
Issue Date:
May 11, 2015
During the school year, the bustle of Market Central, Pitt's busiest dining facility, can resemble New York City's Grand Central Station. Hungry students flit in and out of the Litchfield Towers dining room, pausing at tables, perusing the steaming food stations, all while thumbing through their phones. The kitchens are even busier, preparing a variety of meals that rival a cruise ship buffet—hamburgers and pizza, of course, but also grilled ratatouille or a tapas table.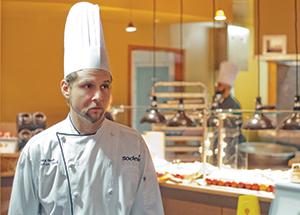 On a normal school day, Market Central serves more than 6,000 meals. Planning and producing that volume and variety are a huge challenge—and that's one of the reasons Corey Hawk loves his job. He's the executive chef of Market Central, which is operated by food service provider Sodexo. Hawk is responsible for planning Market Central's menus and coordinating food production—the majority of which is done fresh and daily on site.
But Chef Corey, as the students call him, brings much more to Pitt's table than food. He also champions sustainable dining, ensuring that Pitt's food is good for the body, the environment, and the local economy, too. He engages daily with students, educating them and enriching the Pitt community's relationship with food. "Sustainability is really just responsibility," says Hawk, with a characteristic smile.
His contributions mesh with Pitt's emphasis on environmental stewardship. Yet, Hawk has been "green" long before the word came to represent more than a color. Buying, selling, and eating locally produced foods came naturally to him. He was born near Titusville, Pa., to a family of butchers on one side and farmers on the other.
"My family purchased local, and I grew up eating local—that's just how things were. That's how I fell in love with food. I didn't really have a choice," he says.
Instilled with a passion for food, Hawk studied the culinary arts at Johnson & Wales University before making a name for himself as an accomplished catering chef for several high-end resorts and restaurants in the South. When he returned to the Pittsburgh area in 2002, Sodexo hired him as Pitt's Executive Catering Chef before moving him into his current position.
Hawk's locavore upbringing sets the agenda in how he chooses foods. He has taken the lead in working with Pitt students on The Real Food Challenge, a national campaign to push university dining facilities to stock locally sourced, healthy, and ecologically responsible fare, says Abdou Cole, resident district manager for Sodexo.
"We try to use locally produced goods and support the community whenever we can," Cole notes.
Doing so can mean working beyond the kitchen.
Hawk, for example, often communicates directly with regional farmers to learn which crops are doing well and when they will be ripe. He then designs parts of Market Central's menu around those foods. Last fall, one local grower produced a bumper crop of red bell peppers, which Hawk and his colleagues transformed into basmati rice-stuffed peppers with a roasted red pepper cream sauce.
His efforts ensure the provision of the freshest foods, and they lower Market Central's "carbon footprint:" the environmental costs of transporting and preserving goods over long distances.
Hawk's "Meet the Farmer" events encourage students to consider the sources of their food. Local growers are invited to campus at least once a semester to present their produce in Market Central. The farmers share information about their work and goods, while Hawk features their produce in his dishes.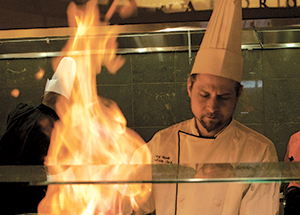 "Chef Corey is so helpful and accessible," says senior communication major Abby Zurschmit. "And you can tell that he's also really passionate. You can just see it in his eyes—he loves what he does and he loves food, and that comes across."
Zurschmit met Hawk in the fall 2014 semester through her work as the cochair of the Food Committee, a group facilitated by Sodexo and the Student Government Board to increase student involvement in the foods served on Pitt's campus. For each monthly committee meeting, Hawk prepares a free, three-course meal. Then, as participants chow down, he, Abdou Cole, and other members of the Sodexo management team report on developments and changes in Dining Services, many spurred by discussions during previous committee meetings.
Keeping students engaged is a big part of what makes Hawk's sustainability initiatives so successful. In 2009, for example, the chef, with the help of diners, was instrumental in instituting "trayless dining" at Market Central. This is an environmentally friendly approach that reduces food waste by encouraging students to select only the plates of food they can carry with their hands (instead of pile on a tray), which also reduces the later use of water and detergent for dishwashing because fewer plates are used.
Hawk set up a weighing station in front of the dining room's tray return area so students could learn about food waste. "Students returning their trays after eating meals were asked to hand over their trays, and the uneaten food was weighed and recorded. At the end of one week, students learned that that they were wasting about 3,000 pounds of food a week," Cole recalls.
The switch to trayless dining has resulted in as much as a 36 percent reduction in food waste overall at Pitt.
But what happens to the extra (untouched) food that never leaves the kitchen? Hawk has a hand in that, too. He is the mentor and Dining Services partner of the campus group Food Rescue Heroes. With Hawk's facilitation, students make daily visits to each campus dining hall at closing time to collect leftovers and deliver them to area food banks.
These efforts to help give back aren't Hawk's first. In 2010, he took a brief break from Pitt to work for the Greater Pittsburgh Community Food Bank. There, he helped to establish The Community Table, which aids chefs and food service companies in preparing fresh and healthy meals for Pittsburgh's hungry. But it wasn't long before Hawk returned to Market Central to continue engaging with young people, many of whom are looking to make a difference in the world through food.
"The value of what Corey does with our students is immeasurable," says Cole. "His work to help make Dining Services even more sustainable is invaluable."
"Corey is such a great asset to our campus. He is passionate about food and really cares about his customers—a winning combination for a chef," adds Jim Earle, Pitt assistant vice chancellor for business.
"I like what I do here a lot," says Hawk. "It's a challenge. There's the daily responsibility of supporting the environment and the local economy, finding the best way and the right products to do that, while also servicing the needs of the student. It's really our goal to give anyone who comes in to Market Central a better day."
Other Stories From This Issue
There are no stories for the issue at this time.
On the Freedom Road

Follow a group of Pitt students on the Returning to the Roots of Civil Rights bus tour, a nine-day, 2,300-mile journey crisscrossing five states.
Day 1: The Awakening
Day 2: Deep Impressions
Day 3: Music, Montgomery, and More
Day 4: Looking Back, Looking Forward
Day 5: Learning to Remember
Day 6: The Mountaintop
Day 7: Slavery and Beyond
Day 8: Lessons to Bring Home
Day 9: Final Lessons