Teaching Fair Wednesday Explores Cutting-Edge Methods, Innovations
By John Fedele
Issue Date:
November 5, 2007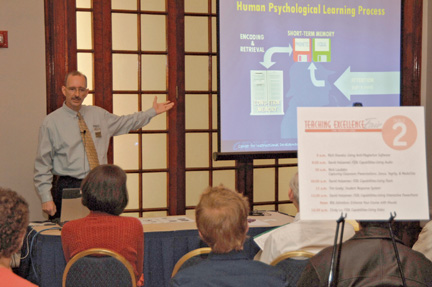 Above: At the sixth-annual Teaching Excellence Fair, held Nov. 8, 2006, Bill Johnston, manager of electronic graphics and design for Pitt's Center for Instructional Development & Distance Education, hosted a session called "Enhance Your Course With Visuals," describing how to engage students in lectures and discussions with handouts, slides, and interactive displays.

Cutting-edge teaching methods, innovations, and technologies will be featured at the University of Pittsburgh's annual Teaching Excellence Fair from 9 a.m. to 1 p.m. Wednesday in the J.W. Connolly Ballroom, Alumni Hall.
Sponsored by the Provost's Advisory Council on Instructional Excellence and coordinated by Pitt's Center for Instructional Development & Distance Education (CIDDE), the fair celebrates faculty initiatives and innovations related to teaching and the use of instructional technology.
"The Teaching Excellence Fair celebrates the many important teaching initiatives at the University of Pittsburgh and thereby illustrates the important role of teaching at our University," said Provost and Senior Vice Chancellor James V. Maher.
The provost added: "The fair will feature the projects funded annually under the auspices of the Provost's Advisory Council on Instructional Excellence's Innovation in Education awards program. I encourage all faculty to take advantage of this special event."
The fair will feature small-group discussions on teaching and learning facilitated by faculty who have been recognized for their teaching excellence, informative sessions on teaching-related topics such as promoting student motivation and developing a teaching portfolio, and demonstrations of new instructional support software and technical resources, including Blackboard's new content system, the Student Response System for classroom feedback and assessment, and antiplagiarism software.
The 2007-08 fair includes a discussion with Joe Grabowski, professor of chemistry, on the Innovation in Education grants program and application process.
The fair will feature the following faculty presentations by 2006-07 Innovation in Education grantees, who will explain their prize-winning teaching projects.
Internationalizing an Undergraduate Curriculum—Larry Shuman, Jay Rajgopal, and Bopaya Bidanda, Department of Industrial Engineering, School of Engineering.
A Hands-on Approach to Nanoscience—Ping Furlan, Department of Chemistry, University of Pittsburgh at Titusville.
Globalization and History—Richard Oestreicher and Christian Gerlach, Department of History, School of Arts and Sciences.
Instruction + Practice + Feedback = Ability: An Equation for Success in Improving Students' Oral Presentations—Karen Curto, Department of Biological Sciences, School of Arts and Sciences, and Trudy Bayer, now at Slippery Rock University.
The Studio for Creativity: Writing on the Water—Fiona Cheong, Department of English, School of Arts and Sciences.
Bridging the Ethics Gap Through International Dialogue—Valerie Swigart, Department of Health Promotion and Development, School of Nursing.
Computer-Assisted Learning: Bringing Real World Decisions Into the Classroom—Rhonda Rea, Kristine Schonder, and Neal Benedict, Department of Pharmacy and Therapeutics, School of Pharmacy.
Image and (Con) Text: Photographs of Teenie Harris in Historical Setting—Laurence Glasco, Department of History, School of Arts and Sciences.
Other Stories From This Issue
There are no stories for the issue at this time.
On the Freedom Road

Follow a group of Pitt students on the Returning to the Roots of Civil Rights bus tour, a nine-day, 2,300-mile journey crisscrossing five states.
Day 1: The Awakening
Day 2: Deep Impressions
Day 3: Music, Montgomery, and More
Day 4: Looking Back, Looking Forward
Day 5: Learning to Remember
Day 6: The Mountaintop
Day 7: Slavery and Beyond
Day 8: Lessons to Bring Home
Day 9: Final Lessons