Thomas E. Starzl, 'Father of Transplantation,' Dies at 90
Issue Date:
March 8, 2017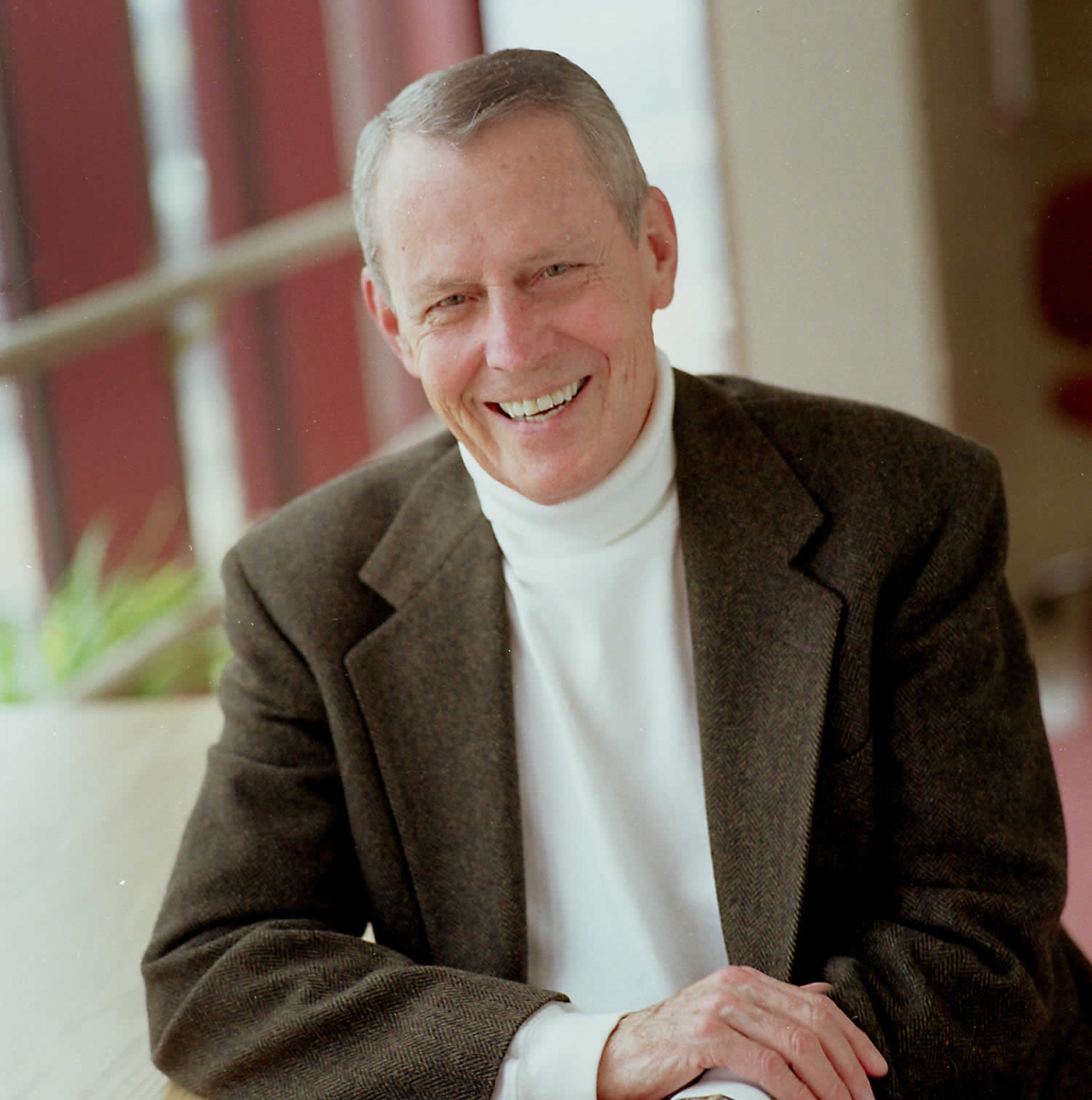 Thomas E. Starzl, known as the "father of transplantation" for his role in pioneering and advancing organ transplantation from a risky, rare procedure to an accessible surgery for the neediest patients, died peacefully Saturday, March 4, 2017, at his home in Pittsburgh.
Starzl is survived by his wife of 36 years, Joy Starzl, of Pittsburgh, son Timothy (Bimla) of Boulder, Colo., and a grandchild Ravi Starzl (Natalie) of Pittsburgh. He was preceded in death by a daughter, Rebecca Starzl, and a son, Thomas F. Starzl.
His family issued the following statement:
"Thomas Starzl was many things to many people. He was a pioneer, a legend, a great human, and a great humanitarian. He was a force of nature that swept all those around him into his orbit, challenging those that surrounded him to strive to match his superhuman feats of focus, will, and compassion. His work in neuroscience, metabolism, transplantation, and immunology has brought life and hope to countless patients, and his teaching in these areas has spread that capacity for good to countless practitioners and researchers everywhere. With determination and irresistible resolve, Thomas Starzl advanced medicine through his intuition and uncanny insight into both the technical and human aspects of even the most challenging problems. Even more extraordinary was his ability to gift that capacity to those around him, allowing his students and colleagues to discover the right stuff within themselves. Nobody who spent time with Thomas Starzl could remain unaffected.
Thomas Starzl is a globally recognized pioneer in science and medicine, but beyond that mantle, he was simply known and loved for the person that he was. He was husband and soulmate to Joy Starzl, father to Tim Starzl (Bimla), Thomas F. Starzl and Rebecca Starzl, grandfather to Ravi Starzl (Natalie), and godparent to Lamont Chatman and Angela Ford. He was deeply loved for his tremendous wit, humor and sensitivity. His traits of humility, keen observation and seemingly limitless memory fused to create a unique personality that was at the same time inspiring and comforting. His drive to always remain in motion led him on grand adventures around the world, from his beloved Colorado Rockies to the Sea of Japan, from the tundra of northern Finland to the beaches of Monaco. He had an expansive knowledge and appreciation for all music, from classical to modern jazz. He enjoyed watching and analyzing movies, often researching their production and topic matter for hours, both before and after repeated viewings. He raised and cared for many canine companions, including Bevo, Thor, Maggie, Tiki, Shelby, Basta, Chooloo, and Ophelia. Their unconditional love was matched only by his own love for them. He will be greatly missed."
Starzl joined the University of Pittsburgh School of Medicine in 1981 as professor of surgery and led the team of surgeons who performed Pittsburgh's first liver transplant. Thirty liver transplants were performed that year, launching the liver transplant program here — the only one in the nation at the time.
Until he retired from clinical and surgical service in 1991, Starzl served as chief of transplantation services at Presbyterian University Hospital (now UPMC Presbyterian), Children's Hospital of Pittsburgh (now Children's Hospital of Pittsburgh of UPMC), and the Veterans Administration Hospital in Pittsburgh, overseeing the largest and busiest transplant program in the world. He then assumed the title of director of the University of Pittsburgh Transplantation Institute, which was renamed the Thomas E. Starzl Transplantation Institute in 1996. Since 1996, Starzl held the titles of Distinguished Service Professor of Surgery at the University of Pittsburgh and director emeritus of UPMC's Thomas E. Starzl Transplantation Institute.
Starzl performed the world's first liver transplant in 1963 and the first successful liver transplant in 1967, both while at the University of Colorado. Despite prevailing worldwide pessimism regarding the ability to transplant allogenic (non-identical) human kidneys, he successfully combined azathioprine and corticosteroids in allogenic kidney transplants performed in 1962 and 1963, leading to the largest series of kidney transplants and invigorating clinical attempts throughout the world.
In addition to developing azathioprine and corticosteroid immunosuppression, Starzl later introduced anti-lymphocyte globulin and cyclosporine to prevent organ rejection. It was this development in 1980 that advanced transplantation from an experimental procedure to an accepted form of treatment for patients with end-stage liver, kidney, and heart disease. It also allowed surgeons to explore the feasibility of transplanting other organs, such as the pancreas and lung.
In 1989, Starzl announced the first-time use of FK506 (tacrolimus) as a more effective anti-rejection agent. FK506 greatly improved patient and graft survival rates for liver and other organ transplants and made intestinal transplantation possible for the first time. Five years later, FK506 was approved for clinical use by the U.S. Food and Drug Administration.
Under Starzl's leadership, the Thomas E. Starzl Transplantation Institute also researched the feasibility of cross-species, or xenotransplantation, for addressing the chronic shortage of human organs. In 1992 and 1993, his team made history when surgeons performed two baboon-to-human liver transplants. Starzl himself performed six baboon-to-human kidney transplants in 1963 and 1964 and the world's first chimpanzee liver xenotransplants in three children between 1969 and 1974.
A major focus of Starzl's later research was transplant tolerance and chimerism — the existence of cells from both the donor and recipient. His work in this area offered significant contributions to the understanding of transplant immunology, particularly with respect to how and why organs are accepted.
Starzl was the recipient of more than 200 awards and honors, including the Lasker-DeBakey Clinical Medical Research Award from the Albert and Mary Lasker Foundation in 2012; the Presidential National Medal of Science, the nation's highest scientific honor; the David M. Hume Memorial Award from the National Kidney Foundation; the Brookdale Award in Medicine presented by the American Medical Association Board of Trustees and the Brookdale Foundation; the Sheen Prize from the American College of Surgeons; the Bigelow Medal from the Boston Surgical Society; the Medallion for Scientific Achievement presented by the American Surgical Association; the William Beaumont Prize from the American Gastroenterological Association; the Peter Medawar Prize of The Transplant Society; the Jacobson Innovation Award of the American College of Surgeons; the International Chiron Award from the Italian Academy of Science; the Lannelongue International Medal from the Academie Nationale De Chirurgie (National Academy of Surgery, France); the King Faisal International Prize for Medicine from Riyadh, Kingdom of Saudi Arabia; the Rhoads Medal of the American Philosophical Society; the Prince Mahidol Award from Mahidol University at Salaya, Bangkok, Thailand; the Gustav O. Lienhard Award from the Institute of Medicine; and 26 honorary doctorates from universities around the world.
Starzl's national and international endeavors included membership in more than 60 professional and scientific organizations. He served as president of the Transplantation Society, founding president of the American Society of Transplant Surgeons, and founding president of the Transplant Recipients International Organization. In 1992, he was inducted as one of only five American members into the prestigious National French Academy of Medicine. A sought-after speaker, Starzl gave more than 1,300 presentations at major meetings throughout the world. He belonged to the editorial boards of 40 professional publications and authored or co-authored more than 2,200 scientific articles, four books, and 300 book chapters.
According to the Institute for Scientific Information (ISI), Starzl for a time averaged one paper every 7.3 days, making him one of the most prolific scientists in the world. In 1999, ISI identified him as the most cited scientist in the field of clinical medicine, a measure of his work's lasting influence and utility. The book, 1,000 Years, 1,000 People: Ranking the Men and Women Who Shaped the Millennium, ranked Starzl 213th on its list of the 1,000 people having the greatest influence on the world in the preceding 1,000 years.
Starzl's autobiography, The Puzzle People: Memoirs of a Transplant Surgeon, was published by the University of Pittsburgh Press in 1992. Translations have been published in Italian, Japanese, Korean, and Spanish. All author's royalties are donated to the Transplant Recipients International Organization.
Starzl was born March 11, 1926, in LeMars, Iowa, the son of newspaper editor and science fiction writer Rome Starzl and mother Anna Laura Fitzgerald.
He attended Westminster College in Fulton, Mo., where he earned his bachelor's degree in biology. He went on to the Northwestern University Medical School in Chicago, where in 1950 he received a master's degree in anatomy and in 1952 earned both a doctoral degree in neurophysiology and a medical degree with distinction.
Following postgraduate work at Johns Hopkins Hospital in Baltimore, Starzl pursued his interest in surgery and research with a fellowship and residencies at Johns Hopkins, the University of Miami, and the Veterans Administration Research Hospital in Chicago. He was a Markle Scholar in Medical Science, a distinguished honor bestowed annually to a small group of exceptionally promising young physicians in academic medicine. Starzl served on the faculty of Northwestern University from 1958 to 1961 and joined the University of Colorado School of Medicine as an associate professor in surgery in 1962. He was promoted to professor in 1964 and served as chairman of the department of surgery from 1972 to 1980.
Regarding Starzl:
"Tom Starzl was a man of unsurpassed intellect, passion, and courage whose work opened up a new frontier in science and forever changed modern medicine. He will be remembered for many things, but perhaps most importantly for the countless lives he saved through his pioneering work. We at Pitt have lost a friend and colleague who took the University to new heights of recognition and achievement -- Patrick Gallagher, chancellor, University of Pittsburgh
"Starzl's pioneering work in organ transplantation set the standard for innovation and excellence at UPMC. An extraordinarily skilled and compassionate surgeon and brilliant researcher, he brought hope to the sickest of the sick, a legacy that we continue to build on today." -- Jeffrey A. Romoff, president and CEO, UPMC
"Tom Starzl's tremendous respect and affection for his patients became the life force of his career. Countless lives were saved through his advances in technique and his pioneering work to prevent organ rejection. There is not a transplant surgeon worldwide who has not, in some way, been influenced by his work." -- Arthur S. Levine, M.D., University of Pittsburgh senior vice chancellor for the health sciences and John and Gertrude Petersen Dean of the University of Pittsburgh School of Medicine
"Tom Starzl devoted his life to the cause of human health and advanced the field of medicine in ways that were unimaginable to most. He applied a combination of extraordinary talent and steely determination to build an unparalleled record of impact as a uniquely gifted surgeon, a visionary researcher, a prolific scholar and the single most influential teacher in the groundbreaking field of organ transplantation. In the process, he became a hero to countless transplant patients, their families and their physicians, while also playing a key role in the elevation of Pitt and in the transformation of Pittsburgh." -- Mark A. Nordenberg, chancellor emeritus, University of Pittsburgh
"Words cannot convey how deeply saddened we all are with the passing of Starzl. It's impossible to quantify the magnitude of his contributions to the field of transplant. I feel so deeply honored and privileged to have had the opportunity to know him personally over the last few years. The world has lost today the greatest figure in the history of transplant, and I have lost my greatest mentor. The Starzl Transplant Institute will continue to work tirelessly to carry on his rich legacy." -- Abhinav Humar, clinical director of the Thomas E. Starzl Transplantation Institute and chief of the Division of Transplantation in the Division of Surgery at UPMC
Other Stories From This Issue
There are no stories for the issue at this time.
On the Freedom Road

Follow a group of Pitt students on the Returning to the Roots of Civil Rights bus tour, a nine-day, 2,300-mile journey crisscrossing five states.
Day 1: The Awakening
Day 2: Deep Impressions
Day 3: Music, Montgomery, and More
Day 4: Looking Back, Looking Forward
Day 5: Learning to Remember
Day 6: The Mountaintop
Day 7: Slavery and Beyond
Day 8: Lessons to Bring Home
Day 9: Final Lessons