Thornburgh Family Awarded Spirit of L'Arche Award
By Anthony Moore
Issue Date:
November 17, 2016
Former Pennsylvania Governor and U.S. Attorney General Dick Thornburgh (LAW '57) and his wife and son, Ginny and Peter Thornburgh, have been honored with the Spirit of L'Arche Award from L'Arche USA. The faith-based nonprofit organization recognized the trio earlier this month during the University of Pittsburgh's 2016 Thornburgh Family Lecture on Disability Law and Policy.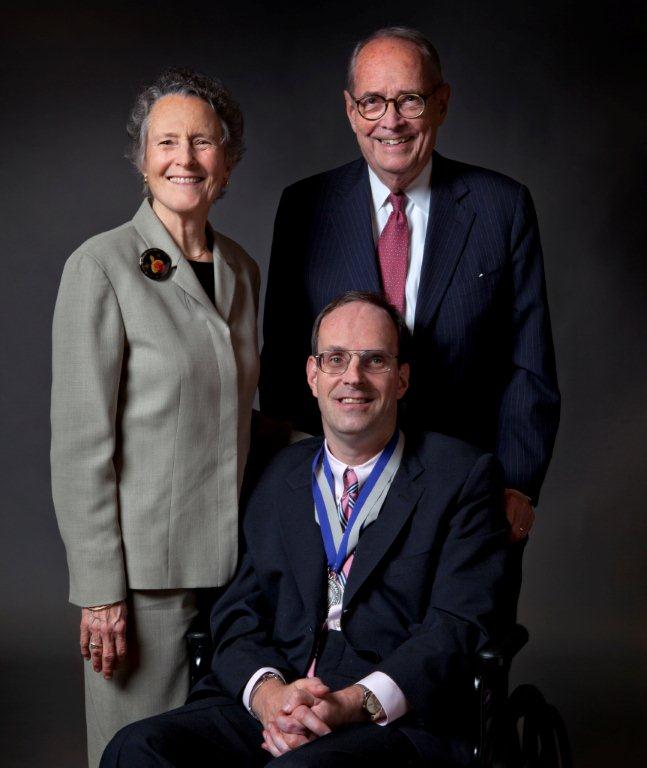 The award recognizes individuals who have contributed significantly to the lives of people living with intellectual disabilities. L'Arche communities in the United States provide homes and work spaces for people with and without intellectual disabilities. The first L'Arche USA community was founded in Erie, Pa., in 1972; today, there are 18 established communities located in 15 states and the District of Columbia.
"Receipt of the Spirit of L'Arche Award with my beloved wife, Ginny, and son, Peter, is a great honor and privilege," said Dick Thornburgh, who established Pitt's Dick Thornburgh Forum for Law and Public Policy in 2007 to provide opportunities to foster public education and civic action on important public policy issues. "Through the Thornburgh Family Lecture on Disability Law and Policy, my family hopes to bring public attention and resources to the abilities and concerns of Americans with disabilities."
Dick Thornburgh, a Pitt Trustee Emeritus, served two terms as the governor of the Commonwealth of Pennsylvania, from 1979 to 1987. He was the U.S. Attorney General from 1988 to 1991, serving under Presidents Ronald Reagan and George H.W. Bush. As Attorney General, he played an integral role in the enactment of the 1990 Americans with Disabilities Act. In 2002, he was awarded the Wiley A. Branton Award, in recognition of his commitment to the civil rights of people with disabilities, by the Washington Lawyers' Committee for Civil Rights and Urban Affairs.
Ginny Thornburgh has also spent her life working with and for people with disabilities. She is the former director of the American Association of People with Disabilities Interfaith Initiative. In that role, she worked to educate faith-based organizations on how to fully include children and adults with disabilities in all aspects of congregational life. In 1992, Ginny and Dick Thornburgh both spoke at the Vatican Conference on Disabilities in Rome.
Peter Thornburgh, who has intellectual and physical disabilities, is active in his community and church. Friends from across the nation send him aluminum can tabs, which he then gives to the Ronald McDonald House for recycling into cash. For more than 20 years, Peter has volunteered with the Central Pennsylvania Food Bank.
The Thornburgh Family Lecture Series on Disability Law and Policy is sponsored by The Dick Thornburgh Forum for Law and Public Policy at Pitt. This lecture was co-sponsored by Pitt's School of Law and School of Health and Rehabilitation Sciences with support from the Office of the Chancellor. The series was created through the generosity of Dick and Ginny Thornburgh as 2003 recipients of a $50,000 Henry B. Betts Award. Previous speakers have included former Pennsylvania Governor Thomas J. Ridge, former Iowa Senator Tom Harkin, and Joyce Bender, former chair of both the American Association of People with Disabilities and the National Epilepsy Foundation.
Other Stories From This Issue
There are no stories for the issue at this time.
On the Freedom Road

Follow a group of Pitt students on the Returning to the Roots of Civil Rights bus tour, a nine-day, 2,300-mile journey crisscrossing five states.
Day 1: The Awakening
Day 2: Deep Impressions
Day 3: Music, Montgomery, and More
Day 4: Looking Back, Looking Forward
Day 5: Learning to Remember
Day 6: The Mountaintop
Day 7: Slavery and Beyond
Day 8: Lessons to Bring Home
Day 9: Final Lessons