Time Capsules: Hidden Cornerstones of History
by Laura Clark
Issue Date:
January 12, 2015
Pitt's Oakland campus is studded with older buildings hinting at the University's long and vibrant past. Yet few are aware of the historical treasure troves hidden deep within.
"Anytime you're walking through campus, you're likely passing by a couple of time capsules," explained Zach Brodt, records manager at Pitt's Archives Service Center in Point Breeze. Fueled by a colleague's inquiry about whether Pitt ever laid time capsules, Brodt recently went digging. He found evidence of a long University history of placing meaningful material in building cornerstones to preserve the past for future generations. Most often, he said, capsules were intended to represent a specific school or area of study.
Many of these time capsules remain sealed, but a few have been opened, Brodt said. For instance, the Archives Service Center possesses the complete contents of the 1910 Pennsylvania Hall capsule. In June of that year, Chancellor Samuel B. McCormick laid the cornerstone of Pennsylvania Hall, which was the third building erected on the University's Oakland campus and designated as the Pitt School of Medicine's home. The capsule's contents, which were remarkably well preserved in a copper box, were revealed in 2000 when then-Chancellor Mark A. Nordenberg opened the capsule during a Medical Alumni Association event. Among the items were University catalogs, local newspapers, graduation requirements for medical students, reports on faculty—and foldout panorama photos of early 20th century Oakland, revealing a much sparser and rural-looking campus than exists today. The building was demolished in 1998 and replaced by a residence hall with the same name on Pitt's upper campus, adjacent to the Petersen Events Center.
Additionally, the University's archives hold materials from a capsule laid in 1854 when Pitt was based Downtown. Among the capsule's contents were a list of the 1854 Board of Trustees members, the estimated construction costs of the "new" University building at Ross and Diamond streets, and a note (written almost a decade before the Civil War) reading: "In the seventy-ninth year of the Republic of the 'United States of America', - God save the Union and abolish all slavery."
Other structures hosting unopened time capsules include:
Thaw Hall: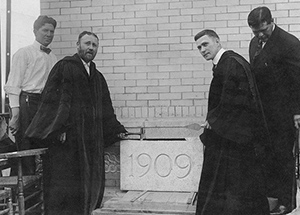 Originally built to hold the School of Engineering, Thaw is the oldest University-commissioned building on campus, and it still holds a time capsule laid in the cornerstone in 1909. Its contents are thought to include local newspapers, a University catalogue, issues of Popular Mechanics and Science magazines, and postcards depicting Pittsburgh's biggest industries.
The Cathedral of Learning: Pitt's most iconic building holds multiple time capsules. Many of the Nationality Rooms have their own cornerstones holding soil and other materials from their representative countries. A cornerstone laid in the Commons Room in 1937 holds a capsule given as a gift by that year's graduating class, with instructions not to open it until 2437—500 years after its interment.
The Pitt Panther: In 2000, the Pitt Program Council placed a time capsule in the base of the statue next to the William Pitt Union. Its opening is scheduled for 2050, and it contains photos and materials related to Greek life at Pitt.
"It seems to be a Pittsburgh thing in general," said Brodt of the University's past and present penchant for preservation. "Everyone was pretty aware of the significance of Pittsburgh, and we still like to promote that whenever we can. Time capsules are a great way to do that."
To learn more about Pitt time capsules or to view digital copies of the University's collection of historical documents, visit pittarchives.tumblr.com or documenting.pitt.edu.
Other Stories From This Issue
There are no stories for the issue at this time.
On the Freedom Road

Follow a group of Pitt students on the Returning to the Roots of Civil Rights bus tour, a nine-day, 2,300-mile journey crisscrossing five states.
Day 1: The Awakening
Day 2: Deep Impressions
Day 3: Music, Montgomery, and More
Day 4: Looking Back, Looking Forward
Day 5: Learning to Remember
Day 6: The Mountaintop
Day 7: Slavery and Beyond
Day 8: Lessons to Bring Home
Day 9: Final Lessons