Tom Ridge to Speak at Commencement April 29
By Sharon S. Blake
Issue Date:
April 2, 2007
Former Pennsylvania governor was also first Secretary of the U.S. Department of Homeland Security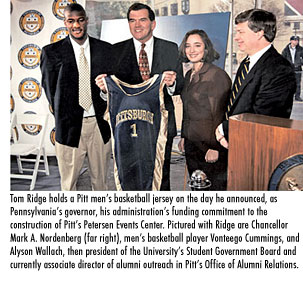 Tom Ridge, the first Secretary of the U.S. Department of Homeland Security and the Governor of Pennsylvania from 1995 to 2001, will be the featured speaker at Pitt's 2007 Commencement on April 29. The ceremony will begin at 1 p.m. in the Petersen Events Center.
During his two terms as governor, Ridge placed a high priority on university research as a key to regional economic development, launching such initiatives as the Pittsburgh Digital Greenhouse and the Pittsburgh Life Sciences Greenhouse. Pitt was a founding member of both initiatives.
Ridge also implemented a program that continues to provide a predictable flow of state support for capital projects at Pitt and Pennsylvania's other state-related universities, and he committed the funds that made construction of the University's Petersen Events Center possible.
"Governor Ridge always demonstrated a real appreciation for the special role played by Pennsylvania's public research universities. As a result, we worked together on a broad range of projects, many of them tied to technology-based economic development," said Pitt Chancellor Mark A. Nordenberg.
"The University of Pittsburgh also benefited directly from his sense of fairness," Nordenberg continued. "In the mid-1990s, Penn State already had opened its Jordan Center, and the Liacouras Center at Temple University was nearing completion. Fairly or not, Pitt's failure to move forward with such a facility of its own had come to be viewed by many as a public symbol of a stalled institution. Even before I was formally in office, then, a group of trustees and I met with the governor to press our case for state support for a similar project at Pitt. Without his commitment, the Petersen Center never could have been built. It seems particularly fitting, then, that this commencement ceremony, featuring him as our principal speaker, will be the very first event that Governor Ridge has attended in the Petersen Center."
President George W. Bush named Ridge Assistant to the President at the new Office of Homeland Security in the weeks following the Sept. 11, 2001, terrorist attacks. His charge was to develop and coordinate a national strategy to strengthen the United States against terrorist threats or attacks. When the U.S. Department of Homeland Security was formally created in 2003, Ridge became its first secretary. He worked with more than 180,000 employees from a combined 22 agencies to create a department that facilitated the flow of people and goods; instituted layered security at air, land, and seaports; developed a unified national response and recovery plan; protected critical infrastructure; and integrated new technology and improved information-sharing worldwide.
Before 9/11, Ridge was twice elected governor of Pennsylvania. His aggressive technology strategy helped fuel the state's advances in economic development, education, health, and the environment. Ridge cut taxes every year he was in office. To ensure Pennsylvania was home to the jobs of the future, Ridge created industry-led greenhouse initiatives in advanced computing technologies and the life sciences.
He signed into law the Education Empowerment Act, to help more than a quarter-million children in Pennsylvania's lowest-performing schools. His education technology initiatives brought learning to Pennsylvanians, anytime and anywhere, from preschool to adult education.
During his years as governor, the number of children receiving free or low-cost health care through Pennsylvania's nationally recognized Children's Health Insurance Program increased by 145 percent.
Governor Ridge's Land Recycling Program is a national model. He won passage of "Growing Greener," to make Pennsylvania's largest environmental investment ever, nearly $650 million.
Born on Aug. 26, 1945, in Pittsburgh's Steel Valley, Ridge was raised in a working-class family in veterans' public housing in Erie. He earned a scholarship to Harvard University, graduating with honors in 1967. After his first year at The Dickinson School of Law at Pennsylvania State University, he was drafted into the U.S. Army. He served as an infantry staff sergeant in Vietnam, earning the Bronze Star for Valor, the Combat Infantry Badge, and the Vietnamese Cross of Gallantry.
After returning to Pennsylvania, he earned his law degree at Dickinson law school and was in private practice before becoming assistant district attorney in Erie County. He was elected to U.S. Congress in 1982, serving as the first enlisted Vietnam combat veteran in the U.S. House of Representatives. He was re-elected to that position five times.
After more than 25 years in public service, Ridge now consults on a range of issues, including security, international relations, economic development, civil institution-building, technology, and education. He serves on public and private boards and is chair of the National Organization on Disability. His nonprofit work includes service with the Council for Competitiveness, the Center for Excellence in Government, and the Center for the Study of the Presidency. He continues to contribute to matters concerning veterans, and, along with Gen. Tommy Franks, serves as national cochair of the Flight 93 Memorial Fundraising Campaign.
Throughout his career, Ridge has received numerous awards, including the Woodrow Wilson Award, the Veterans of Foreign Wars' Dwight D. Eisenhower Award, the John F. Kennedy National Award, the Ellis Island Medal of Honor, the American Bar Association's John Marshall Award, the National Guard's Harry S. Truman Award, the Pennsylvania Wildlife Federation's Conservationist of the Year Award, the U.S.-Mexico Chamber of Commerce's Good Neighbor Award, the American Cancer Society's National Medal of Honor, the Mister Rogers Award, the Champion of Public Television Award, the Intrepid Freedom Award, and the Esperanza Leadership Award.
Ridge and his wife, Michele (SLIS '72), the former executive director of the Erie County Library system, reside in Washington, D.C., and have two children, Lesley and Tommy.
Other Stories From This Issue
There are no stories for the issue at this time.
On the Freedom Road

Follow a group of Pitt students on the Returning to the Roots of Civil Rights bus tour, a nine-day, 2,300-mile journey crisscrossing five states.
Day 1: The Awakening
Day 2: Deep Impressions
Day 3: Music, Montgomery, and More
Day 4: Looking Back, Looking Forward
Day 5: Learning to Remember
Day 6: The Mountaintop
Day 7: Slavery and Beyond
Day 8: Lessons to Bring Home
Day 9: Final Lessons