Trustees Approve $34.7 Million for Campus Construction and Renovation
By John Fedele
Issue Date:
April 11, 2016
The Property and Facilities Committee of the University of Pittsburgh's Board of Trustees has approved seven renovation and upgrade projects totaling $34.7 million, in addition to four leases. The projects are expected to create 186 construction jobs and 74 support jobs. The leases will generate $284,162 annually in property taxes for local government.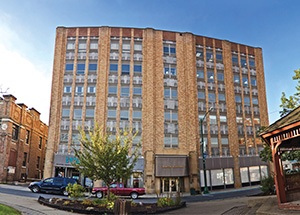 The highlight of the projects is the creation of the Marilyn Horne Museum and Exhibit Center at the Bradford campus' Seneca Building. Horne, an internationally renowned opera singer, is a Bradford native and is donating her archives to Pitt. The museum will display a portion of that collection of musical compositions and recordings, photographs, costumes, and posters.
The $5.7 million project is made possible through a $3 million grant that the McKean County Industrial Development Authority received from the Commonwealth of Pennsylvania's Redevelopment Assistance Capital Program. The completed project will include classroom space, a recital area, and a café, along with building-infrastructure upgrades to the mechanical, electrical, and plumbing systems.
Other projects approved by the committee include:
• $4.5 million in renovations and mechanical upgrades for the 12th floor of the Cathedral of Learning;
• $2.8 million in upgrades to the Chevron Science Center electrical substation;
• $5.3 million for interior renovations, mechanical upgrades, and a new synthetic turf floor for the Cost Sports Center;
• $6.5 million to renovate the College Park Apartments on the Johnstown campus;
• $2.6 million for exterior and roof renovations to the Space Research Coordination Center; and
• $7.2 million for renovations of the 10th floor of the Thomas E. Starzl Biomedical Science Tower for the Department of Immunology.
The four leases approved were:
• A three-year lease with a five-year renewal option for the Department of Environmental and Occupational Health in the Graduate School of Public Health for 36,699 square feet of laboratory and office space at 100 Technology Drive;
• A five-year lease renewal, with additional five-year option, for Pitt's English Language Institute for 11,294 square feet of space in the Parkvale Building, 200 Meyran Ave.;
• A 10-year lease for the Department of Family Medicine to occupy 6,313 square feet in Schenley Place, 4420 Bayard St.; and
• A 10-year lease for the Epidemiology Data Center in the Department of Epidemiology to occupy 16,569 square feet in Schenley Place, 4420 Bayard St.
Other Stories From This Issue
There are no stories for the issue at this time.
On the Freedom Road

Follow a group of Pitt students on the Returning to the Roots of Civil Rights bus tour, a nine-day, 2,300-mile journey crisscrossing five states.
Day 1: The Awakening
Day 2: Deep Impressions
Day 3: Music, Montgomery, and More
Day 4: Looking Back, Looking Forward
Day 5: Learning to Remember
Day 6: The Mountaintop
Day 7: Slavery and Beyond
Day 8: Lessons to Bring Home
Day 9: Final Lessons